Archive: December, 2011
Matt Katz
The New Jersey gov campaigned with his man for 2012, Mitt Romney, in Iowa on Friday. Here's a recap:
The threat: As our Tom Fitzgerald reported, Christie threatened the crowds in Iowa: "I'm in a good mood this morning. I'm feeling happy and upbeat. I love being with Mitt and Ann. But let me tell you, you disappoint me Tuesday, you don't do what you're supposed to do Tuesday for Mitt Romney, I will be back, Jersey-style, people. I will be back." (Video here.)
The surrogate: Romney then flew off to New Hampshire, which hosts its primary a week from Tuesday, leaving Christie with the Romney 2012 bus and Romney's wife, Ann. Christie held two more Romney campaign events elsewhere in the state where he packed the house, the Star-Ledger reported.
The counter-attack: Surging former Pa. Gov. Rick Santorum hit at Christie on a conservative radio show, saying he liked Christie, but... "He's a fun guy, he's an interesting guy, but he's certainly not a conservative Republican. But that's the kind of folks Mitt Romey is attracting, and why he's bringing him out here is he's trying to get the establishment Republicans."
Matt Katz
In case you missed it, there's been some alleged fall-out from our story earlier this week analyzing Gov. Christie's numbers on his proposal to ban sick-leave payouts. From today's paper:
A Democratic state senator says his constituents woke up to automated political phone calls after he complained to Republican Gov. Christie's office about the accuracy of the governor's statistics on a key agenda item.
A spokesman for the New Jersey Republican Committee, which funded the calls, said he would not discuss their timing due to strategic concerns but said several Democratic legislators had been targeted, not just State Sen. Paul Sarlo (D., Bergen).
Matt Katz
In today's paper I took a closer look at some of the big statistics that Gov. Christie uses to justify his plan to end the practice of paying retiring public employees for unused sick days. By phone, by email and by comments, I saw a strong reaction to the article, with many readers saying that it's irrelevant if Christie's numbers aren't exact because the practice is inherently corrupt and must end regardless. Others said they are glad we're fact-checking politicians' arguments.
Christie himself also chimed in. His office sent out an email this morning reiterating that they are using conservative estimates on the cost of accrued sick-time for taxpayers.
And after I wrote this on Twitter this morning -- "Not all in Jersey cash in unlimited sick days. More than 1/4 of towns don't do it & 28% of skul districts have low caps" -- the governor (or one of his aides) tweeted back: "That means 75 percent of towns and 72% of school bds pay 4 not being sick! We need to band this practice! Support my zero means zero plan"
Matt Katz
Cops in Camden have argued that Camden County is only pursuing a county takeover of the police force in order to break the unions, as my colleague Darran Simon noted out today. To that end, at a press conference today where Gov. Christie announced a major shake-up of his senior staff (his chief of staff and chief counsel are being replaced), I asked why he thought there'd be cost savings by going to the county force model.
Christie said his staff is helping with the takeover. He is confident it will happen because all the significant South Jersey political players are behind it. And to make up for shortfalls in policing due to layoffs, state police will remain in the city until the county creates its force. Here's the exchange:
My Question: How do you know that it will save money? That's a question that's out there. The Timoney report didn't indicate it definitely would. Is it because [police] salaries are definitely going to be lowered? Is it because they're going to pay more toward their benefits? Is that what it comes down to, changing the contracts?
Matt Katz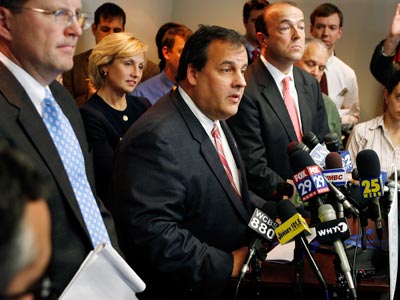 Gov. Christie held a press conference this morning to announce a number of major changes to his senior staff. Christie stayed in his comfort zone in naming replacements, drawing heavily from the attorneys who worked for him when he was U.S. Attorney.
Chief of Staff Rich Bagger, a former state senator, will return to the private sector to take a top position at Celgene Corporation.

Deputy Chief Counsel Kevin O'Dowd, who worked with Christie as a prosecutor at the U.S. Attorney's Office, becomes the chief of staff. He is married to Health Comissioner Mary O'Dowd.

Director of Homeland Security and Preparedness Charles McKenna, another former Christie colleague at the U.S. Attorney's Office, will be Christie's chief counsel. McKenna replaces Jeff Chiesa, who will become Attorney General. McKenna's replacement has yet to be named.

Deborah Gramiccioni, a former prosecutor whom I profiled here in her capacity as head of the Authorities Unit, will become Deputy Chief of Staff for Policy, replacing Wayne Hasenbalg, who goes on to lead the New Jersey Sports and Exposition Authority. Regina Egea, chief of staff to the treasurer, takes over as head of the Authorities Unit.

Paul Matey, the governor's senior counsel and another former lawyer at the U.S. Attorney's Office, becomes deputy chief counsel.
The moves coincide with other recent changes in the cabinet, including the departure of Attorney General Paula Dow to the Port Authority of New York and New Jersey (and eventually a judgeship). Board of Public Utilities President Lee Solomon, who left to return to the bench in Camden County, was replaced by Robert Hanna. Department of Community Affairs Lori Grifa left to return to practicing law; she was replaced by Rich Constable. And Maj. Glenn Rieth, head of the Department of Military and Veteran Affairs, recently resigned after he was seen having sexual contact with a female aide. He was replaced by Brig. Gen. Michael Cunniff.
Matt Katz
Click here the full story in Thursday's paper about the strangest town hall of the year.
SPOTSWOOD — A 12-year-old tells Gov. Christie he was unfairly busted at school for bullying because the "Jewish community" "controls" the school board. A woman who says she's a victim of a conspiracy asks the governor for a job.
And a retired teacher, who says she was a former teacher-of-the-year, advises the governor not to change the tenure system because otherwise teachers will have to have sex with their bosses to keep their jobs.
Matt Katz
Baring the teeth of an attack dog and the charm of a professional schmoozer, Gov. Christie appeared on MSNBC this morning to push his GOP presidential nominee, Mitt Romney. And at every turn, whether in his attacks on Romney rival Newt Gingrich or in the way he teased the "Morning Joe" cast, he demonstrated just how remarkably different he is from Romney himself.
The appearance was prompted by a text message that Christie, a regular "Morning Joe" watcher, sent to host Joe Scarborough last week questioning him for the show's supposed liberal bias: "Who's next this morning on 'Morning Joe' to talk about the GOP race, [liberal fundraiser] George Soros?"
But once on the show Christie criticized Obama's political style more than his liberal policies, suggesting that legislators don't make good presidents because they don't have experience compromising to get things done.
Visit msnbc.com for breaking news, world news, and news about the economy
Matt Katz
As I spent much of the lame-duck legislative session changing diapers on paternity leave, the Legislature moved on dozens of bills -- but all but ignored the Christie agenda.
Even though the Republican governor had called 2011 the "year of education reform," the Legislature met yesterday for the last time in 2011 without so much as a vote on Christie's major education initiatives.
And even though the Republican governor had hit the town hall, press conference and speaking circuit riding Dems for sick-leave reform, Christie also failed to push that through. The gov doesn't think public employees should be able to cash in for their unused sick pay; Democrats have sought to cap the take-away at $7,500.