Archive: November, 2012
Matt Katz
In Case You Missed It, I took a look back at the gov's week that was -- and wondered what it could mean for his future, specifically in the 2016 presidential race. I'm out of the office for a few weeks -- but I'll be back long before 2016, so chew on this for now:
From a man who had consistently and pointedly contrasted himself with the inhabitant in the White House, the words were startling to hear.
"The president has been outstanding," Gov. Christie said, and he "deserves great credit," because his administration has been "excellent."
Matt Katz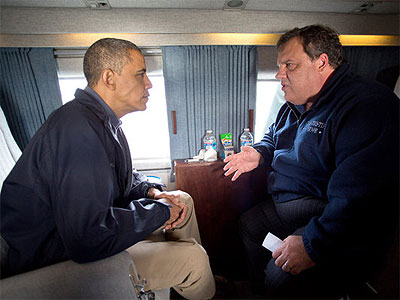 Did Gov. Christie praise President Obama last week, as the conspiracy theory goes, in order to throw Mitt Romney under the bus and clear the field for himself in 2016?
Consider this, conspiracy theorists:
In September 2011, long before the presidential campaign had begun, Obama and Christie toured New Jersey in the aftermath of another storm, Hurricane Irene. Afterward, Christie held a news conference, and the words he chose are remarkably similar to the ones he so controversially bestowed on Obama last week in the wake of Sandy.
Matt Katz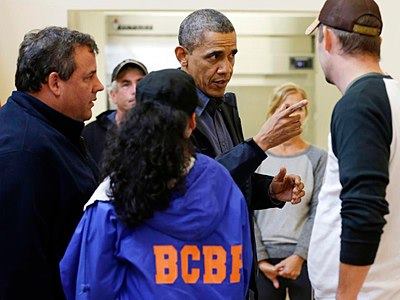 The leading man of what perhaps was the presidential campaign's most intriguing subplot stepped into public view the morning after the election wearing a now-trademark blue fleece and warning of an approaching nor'easter.
With an epic storm having crippled part of his state and another on the way, Gov. Christie was still in disaster mode Wednesday morning, allowing him to easily deflect the many questions that circulated after fellow Republican Mitt Romney lost his bid for the presidency.
Was he responsible for Romney's loss after he buddied up with President Obama last week? No. Was he running for president in 2016? He loves his job now. And what about reelection next year?
Matt Katz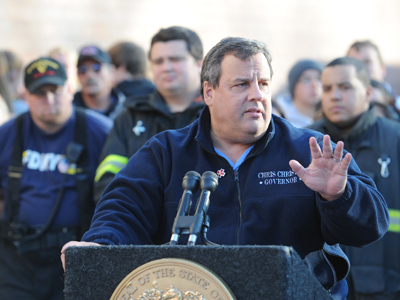 And on the seventh day after the storm, President Obama called Gov. Christie from Air Force One and put Bruce Springsteen on the phone.
In a compelling footnote to an extraordinary week, Obama called while en route to a campaign event with Springsteen. Although the Democratic rocker has a notoriously frosty relationship with the Republican governor, Springsteen apparently appreciated the love Christie has displayed this past week for their shared home state.
Because not only did they chat on the phone Monday, according to the governor, but Springsteen gave him a hug at the Sandy benefit telethon Friday night. He told Christie he was proud of him.
Matt Katz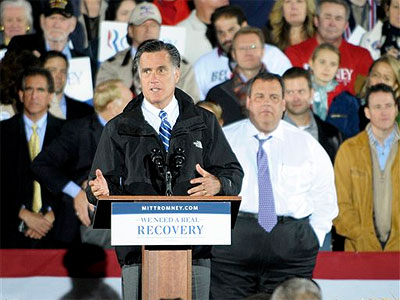 In an oddly-timed, anonymously-sourced article in Politico this morning, Mitt Romney "campaign insiders" say that Gov. Christie was Romney's first choice to be his running mate.
In a matter of two weeks in August, though, Romney switched to Paul Ryan. The reasons given include that Christie was late to a couple of campaign events, indicating he might not be a disciplined running mate, and because he was "too much about himself." There was also concern that he was too brash and would display too much "raw emotion" (gasp!) in the West Wing.
From the story:
Matt Katz
In Case You Missed It, here's our piece in today's paper on a remarkable day in New Jersey history:
In a scene filled with symbolic significance both for flood-ravaged Jersey Shore residents and the politics-crazed media, President Obama joined Gov. Christie on Wednesday for an aerial and ground tour of Sandy's wrath.
Their bipartisan afternoon hugging Brigantine residents and surveying the state's coastline from Marine One came just six days before the Democratic president faces a neck-and-neck election against Republican Mitt Romney. The pairing elicited shock online and on TV, but gratitude on the ground.
Matt Katz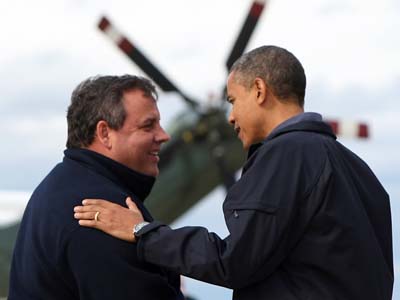 The internets are atwitter today, scratching their collective head to grapple with the fact that a big-name Republican and the biggest-name Democrat HUNG OUT YESTERDAY at the Jersey Shore.
The most obvious explanation is that New Jersey is in a lot of pain right now, needs a lot of hands and a lot of cash. No one in America has more access to what Christie needs to help his state than Obama. And by all early indications, Obama is helping. He called Christie at midnight on Tuesday, roused him out of bed:
POTUS: Chris, Barack here. What do you need?