Archive: September, 2011
Matt Katz
In case you missed it, this article appeared in Sunday's Inquirer and on Philly.com.
Gov. Christie may have declared this the "year of education reform," but for legislators, this is the year of reelection.
Amid campaign fund-raising and door-knocking this fall, legislators are only sporadically convening to consider bills. That means Christie's efforts to overhaul public education have slowed until after November.
Matt Katz
UNION TWP. -- Gov. Christie returned to the town hall circuit today to hammer at Democrats on a topic he hasn't talked about in quite some time: ethics reform.
Christie stood in front of a poster displaying the number of days that have passed since he offered a package of ethics reform bill to the legislature (376). That's the same type of prop he used in his roving town halls earlier this year to push health and pension benefits reform.

The message underneath today's poster read: "DAYS OF ANYTHING BUT ETHICS REFORM"
Matt Katz
The governor has asked New York to "take back" the New Yorkers who star in MTV's smash-hit "Jersey Shore."
"We don't want them," Christie has said, calling the show a disgusting interpretation of life on the Jersey Shore.

So when the Star-Ledger reported this week that the state Economic Development Authority approved a $420,000 tax credit for the 2009 production of the first season in Seaside Heights, it created something of a Situation.
Matt Katz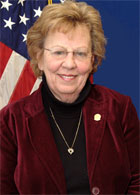 Gov. Christie doesn't think you need to know if he takes his wife to a birthday dinner in New York. Or if he takes his kids to his alma mater, the University of Delaware, for a football game.
Or if he goes to Philadelphia's Ritz-Carlton, as he did last week, for a Republican Governors Association gathering.
But State Sen. Loretta Weinberg (D., Bergen) wants to know. She is introducing a bill Monday that would mandate the governor alert legislative leaders any time the governor leaves the state.
Matt Katz
Click here for the full story in Friday's Inquirer.
The Christie administration said today that it has ended a regulatory "nightmare" by eliminating the state's unpopular affordable housing agency, but advocates called the move an illegal give-away to political allies.
In late June, when Trenton was focused on approving a new budget, Gov. Christie announced several reorganization plans of state government, including the elimination of the independent Council on Affordable Housing and the transfer of its functions to the Department of Community Affairs. The details of this change were released this afternoon.
Matt Katz
Fall-out over Gov. Christie's secret June trip to Colorado continued today, with Democratic State President Steve Sweeney taking a swipe at the gov for his priorities.
And this time, the issue wasn't his squabble with Democratic Assembly Speaker Sheila Oliver.

Christie was at Sharp School in Cherry Hill this morning touting education reform -- that's his theme for the week -- and shortly thereafter, Sweeney released a statement referencing the conservative financiers, the Koch brothers, who held the Colorado meeting where Christie was keynote speaker. Sweeney wrote:
Matt Katz
In the video below, Gov. Christie formally opens New Jersey's 9/11 memorial at Liberty State Park in Jersey City. It is a compelling place, and it has particular meaning for the governor, whose wife was two blocks from Ground Zero on the morning of the attacks. The state's political leadership was there this morning, as were thousands of New Jerseyans who lost someone in the attacks.
"Their lives mattered, and still matter to us today," Christie said. "That's why we built this memorial...We will never leave them, and we will never, ever, forget."
I wrote about the memorial, and Christie's connection to Sept. 11, in Friday's paper. Click here for that story.
Matt Katz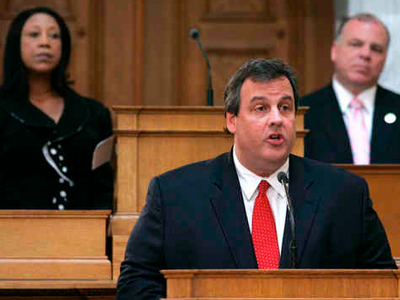 Did Gov. Christie lose his most important Democratic allies this summer?
Both State Senate President Steve Sweeney and Assembly Speaker Sheila Oliver, after siding with the governor against the wishes of their base on health and pension reform for public workers, have now turned on him using quite colorful language.
First up was Sweeney, who was so angry over what he described as Christie's mean-spirited budget cuts at the end of June that he called the governor a "bully," "punk" and "rotten prick."