Archive: June, 2011
Matt Katz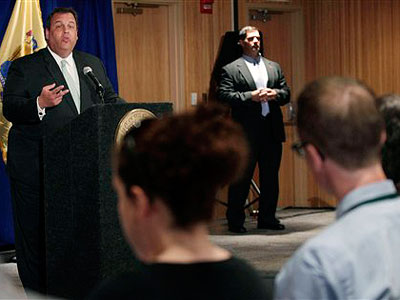 You won't find me reporting on the many, many polls that are taken about the governor, but today's Quinnipiac Poll is interesting because it backs up recent trends showing a dip in Gov. Christie's approval ratings. Christie has a 44 percent approval and 47 percent disapproval rating, according to the poll, his lowest since his term began.
Disapproval ratings are high among women, at 54 percent, and Democrats, at 75 percent.
Voters like Christie as a person (49 percent) more than they like his policies (45 percent). It should be noted that his approval ratings are higher than many other governors -- including Pennsylvania Gov. Corbett (R), Connecticut Gov. Dannel Malloy (D) and Ohio Gov. Kasich (R).
Matt Katz
The protests against Gov. Christie's historic pension and health benefits bill are going on now in Trenton, and the unions have certainly gotten creative. There was a march across the Calhoun Street Bridge - the second "Battle of Trenton" - led by Revolutionary-era reenactors, including a Ben Franklin. There's also a Tent City set up on the back lawn of the Statehouse, with more than 100 neatly lined tents and a "graveyard" for the death of collective bargaining.
Like last week, there's a supersized inflatable rat. There was dancing to Twister Sister's "We're Not Gonna Take It" and marching to Billy Joel's "We Didn't Start The Fire."

Still, there's probably only about 1, 000 people here, which is a smaller crowd than last week's protest. School is still in session in New Jersey, so that might have affected the number of teachers who made it out to Trenton.

Matt Katz
As Trenton considers historic pension-and-benefits reform legislation today, reporters for the governtment-operated TV and radio network, NJN, continue to follow the story -- until the clock runs out.
My story on that in yesterday's paper:
TRENTON - Legislators met in a raucous hearing room to consider extraordinary cuts to public-employee benefits. Protesters were arrested en masse. One union leader called Gov. Christie a Nazi.
Matt Katz
Today wraps up what by any measure was a great week for the Christie Camp. If you haven't heard, the gov is well on his way to getting public employees to pay more for their health benefits and pensions, which he has sought since the beginning of his term. If the bill passes next week, it would be considered one of the key successes of Christie's term, because it cuts spending and goes after an "entitlement" program that conservatives believe has gotten too fat. It also, theoretically, will lower taxes.
Not only that, but Christie sat back and watched a Democratic Civil War this week over the bill, with Democratic power brokers like George E. Norcross III (and the South Jersey legislators he is allied with) defying the wishes of the labor unions, which have traditionally been the backbone of Democratic support. Such a fissure could pay dividends for Christie down the line.
As PolitickerNJ.com put it in naming Christie one of this week's winners: "The governor had the added imperial amusement this week of being able to witness the gladiatorial spectacle of Democrats cannibalizing one another. Certainly, Christie likes to be able to land his own punches, but even the typically brash leader recognized the injudiciousness of convening a press conference while his opposition was busy beating up on itself."
Matt Katz
The all-out war between the Democratic Party in New Jersey and its most traditional base of support and money, the teacher's union, had been at skirmish-level for a while.

Today it begins for real.
The NJEA, the major NJ teacher's union and the state's most powerful lobby, released a TV ad this morning in the Philadelphia, New York and New Jersey markets attacking not only the highest elected Democrat in the state, Senate President Stephen Sweeney (D., Gloucester), but also one of his patrons, George E. Norcross III, who has run the Democrats' South Jersey operation for two decades.

Matt Katz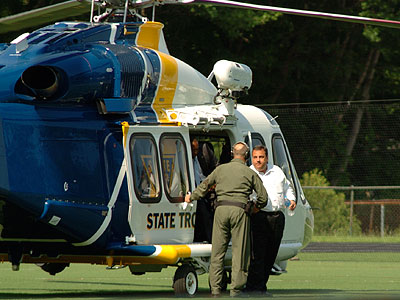 "We multitask."
That, according to the superintendent of the state police, is why the transport of governors via helicopter is not a waste of time or money.
I'm at a hearing right now convened by New Jersey Assembly Democrats to discuss Gov. Christie's highly controversial and highly publicized helicopter trips to two of his son's high school playoff baseball games.
Matt Katz
Gov. Christie told CNN's Piers Morgan tonight that even though his Catholic religion sees homosexuality differently, "for me, personally, I don't look at someone who is homosexual as a sinner." The Republican governor and highly-coveted GOP contender for president added he thinks people are born gay. He opposes gay marriage, and favors civil unions.

Also on the show, his son, Andrew, 17 -- the one whose game Christie arrived at in a helicopter -- said he wasn't bothered by the chopper. "I was really just happy that he was coming to the game...Maybe it was a good intimidation tactic."

And yet beyond that, despite the CNN name and the prime-time slot and the full hour availed to British interviewer Piers Morgan, very little new or insightful surfaced about the governor. Obviously, we here at Christie Chronicles know the governor better than most outside of New Jersey, but Piers! C'mon! This was more chit-chat than interview.

Matt Katz
My story yesterday on the InPolitics page of The Inquirer dealt with how Gov. Christie has staked out positions that appeal to national conservatives and yet provide him cover with the moderates in New Jersey who swing elections.
One reader, Joe, wrote: "Actually I think you missed a third path, which Christie is actually trying to use his national attention to shift the political debate in GOP to fiscal conservatism as the core plank and less focus/ litmus tests on culture wars (which is certainly a loser issue in NJ and frankly he doesn't seem to relish personally even if he is right of center)."
Here's the story: