Archive: May, 2011
Matt Katz
Looks like the Christies might not have been effected by the controversial millionaire's tax (which affects incomes higher than $500,000).
The governor and his wife, Mary Pat, released their financial disclosure statements this week. Mary Pat works part-time as a vice president at Cantor Fitzgerald investment bank in New York and earned between $250,000 and $500,000. Last year, she earned more than $500,000. Christie makes $175,000 as governor.
The Christies also have more than a half-million dollars in real estate, and have between $100,000 and $250,000 in royalty rights from Listerine mouthwash, which is produced by New Jersey's Johnson & Johnson.
Matt Katz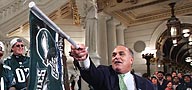 He took on public unions early in his term in a way his predecessors didn't or wouldn't. He quickly found himself on national magazine covers and morning shows, with politicos speculating that he would achieve higher office after saving his government from fiscal collapse.
He looked like an Everyman and he spoke like an Everyman. Even though his mouth sometimes got him into trouble, he didn't stop using it.
And in between the politicking and pontificating, he somehow found time to host sports talk shows.
Matt Katz
The New Jersey Teacher of the Year has penned an editorial on her union's web site, here, about her private meeting with Gov. Christie -- and she has some choice, tough words for the governor.
Christie is traveling throughout the state to meet with small groups of educators behind closed doors to discuss his plans to radically change the education system in New Jersey, and Teacher of the Year Danielle Kovach, who works in Sussex County, scored a meeting:
I felt like a kid about to take on the schoolyard bully. My rush of excitement was overtaken by childhood nerves as I walked onto the campus of the College of New Jersey, our meeting place. I did not know what to expect. All I knew was that teachers wanted a seat at the table, and I had gotten one.

Matt Katz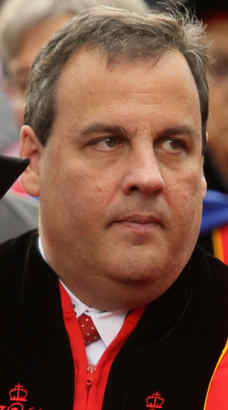 Gov. Christie offered a vision for a "second American century" and a justification for his hard-charging governance in a commencement address at Seton Hall University this morning.
Christie advised students to be "disruptors" in their lives - invoking the headline of a recent profile about Christie in The New York Times Magazine. And indeed, a few at the Izod Center at the Meadowlands did just that, disrupting the governor with a smattering of boos when he was introduced. Additionally, there were some screams from the stands down towards the graduates, apparently just shout outs to their relatives graduating, although one person yelled "shut up!" mid-speech. Three graduates walked out as the speech began, but there was no widespread protest or back-turning, as some at the university had suspected might happen. The governor ignored the disruptions and got a standing ovation from, according to my guesstimate, 40 percent of the graduates.

"I see a disruptor as someone who is willing to challenge the status quo...someone who is willing to mix it up, dare a culture of complacency," Christie said. "What we're describing is the challenge that lays before an educated person."
Matt Katz
The Christie camp is refuting a report last night from CBS News - and mentioned here on Philly.com by Tom Fitzgerald - that Gov. Christie has told Indiana Gov. Mitch Daniels that he will endorse him if he runs for president.
Calling it "entirely premature," and "speculation," Christie's top political strategist, Mike DuHaime, said this morning that the gov "has not made a decision about who he would endorse."
We know that Christie likes Daniels and his budget-cutting ways, and we know that Christie figures to be a serious kingmaker in the GOP race for the nomination. But the report - based on anonymous sources, without any context as to where the sources are from - made me skeptical. Christie will likely hold his cards on this matter for a while longer.
Speaking this afternoon in front of a well-heeled group of Chinese-Americans in an ornate ballroom at the Waldorf Astoria on Park Avenue in New York City, Gov. Christie said President Obama was "playing politics" instead of dealing with the looming issue of cutting entitlement programs.
Christie was the keynote speaker for the Committee of 100, a leadership organization of prominent Chinese-Americans. He was given a glowing introduction by Deborah Wong Yang, a former US Attorney from California and a friend of the gov's. She said: "The persona that you see on TV is the same personality that you see when the cameras are off."
Christie began by educating the crowd on New Jersey's fiscal situation, and culling from his standard stump speech about how he prevented Democratic attempts to increase taxes. He also said he opened offices to attract business in Shanghai and the United Kingdom, and planned to open more around the world.
Matt Katz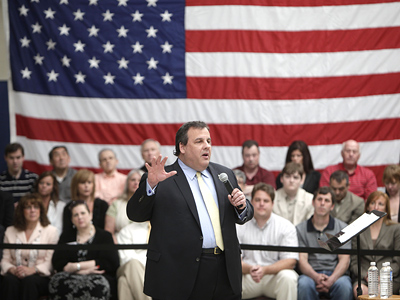 With Gov. Christie leading a new Zogby presidential poll of GOP voters, I asked the gov yesterday why he's meeting with Iowa fundraisers May 31 at the governor's mansion in Princeton if he's not, as he keeps saying, running for president.
"You're saying if I'm not running for president I shouldn't have dinner with them?" Christie asked. "Ya know, I gotta eat. Why not eat with them?"
One of the Iowans is expected to tell Christie that he has a "call to duty" to run, according to Real Clear Politics. Christie said he'll listen, but he's not running. And he's not enough of a "self-important ass" to be tired of questions about whether he's running for president.
Matt Katz
Blocks from the White House this morning, Gov. Christie said the Obama administration's education plan, Race For The Top, "has been a catalyst for change." (This, despite the fact that a Christie administration mistake led to New Jersey losing $400 million in education reform funding from the "Race For The Top" program.)
While praising Obama for change, Christie said the teachers' unions "are the people to blame for lack of change."

Taking his education reform crusade on the road, Gov. Christie made his remarks this morning at The George Washington University (my alma mater, by the way, Go Colonials!) for a forum sponsored by a social action campaign connected to the documentary "Waiting For Superman," which explores the failures of public education in the country.