Archive: February, 2012
Matt Katz
Gov. Christie has "conditionally vetoed" the gay marriage bill that landed on his desk by rejecting gay marriage but offering a solution that he says will preserve civil rights.
His solution is to hire an ombudsman to monitor civil unions. Same-sex couples have been allowed to enter into civil unions since 2007, but it has been widely criticized as ineffective.
In a statement, Christie said: "I have been just as adamant that same-sex couples in a civil union deserve the very same rights and benefits enjoyed by married couples – as well as the strict enforcement of those rights and benefits...To that end, I include in my conditional veto the creation of a strong Ombudsman for Civil Unions to carry on New Jersey's strong tradition of tolerance and fairness. The Ombudsman will be charged with increasing awareness of the law regarding civil unions, will provide a clear point of contact for those who have questions or concerns and will be required to report any evidence of the law being violated. In this way, we can ensure equal treatment under the law."
Matt Katz
After announcing his intention Tuesday of ordering flags flown at half-staff to mark the death of New Jerseyan Whitney Houston, Christie has signed an executive order doing just that. (Flags will be lowered Friday, not Saturday as previously reported.)
Christie is standing by his decision despite the unexpected controversy that it has brought. A Philly.com poll shows tremendous opposition to the move, and the number of comments on my last blog post broke a Christie Chronicles record. (Also, my voicemail is blowing up.)
It should be noted that Christie also issued an executive order Thursday that orders state buildings to fly flags at half-staff next Tuesday to "honor the service and sacrifice of United States Marine Lance Corporal Osbrany Montes De Oca," a North Jersey native who "tragically lost his life while supporting combat operations in Helmand Province, Afghanistan."
Matt Katz
UPDATE: For the full story in today's paper -- and more assorted commentary -- click here.
Does the death of Whitney Houston justify a gubernatorial order to fly the American and New Jersey flags at half-staff?
That is the Christie Controversy Of The Week. Gov. Christie announced yesterday at a press conference yesterday that flags would be lowered for one day -- Saturday, the day of her funeral -- to honor a New Jerseyan who was "an important part of the cultural fabric of this state."
Poll: Houston, we have a problem

(3512 votes)
Matt Katz
UPDATE: To read the full story in Wednesday's paper, click here.
Gov. Christie, a former federal prosecutor, wants a constitutional amendment on the ballot in November to change the state's bail laws so violent offenders are kept in jail before their trials.
The change would mirror federal practice, and bring New Jersey in line with other states that give judges more leeway in forbidding bail for the accused. Detention would be allowed if a judge determines that bail could either lead to further violence or increase the likelihood that a defendant doesn't return to court.
Matt Katz
At a press conference last week, the gov rocked a pin on his lapel -- the New Jersey flag and Israeli flag, flapping together. I asked him about it.
Christie said it was from the New Jersey-Israel Commission, and "there's no greater, deeper meaning to the pin other than this is the one I chose to wear this week."
But three nights before, in a closed-door New York speech, Christie spoke to a regional meeting of AIPAC, the dominant pro-Israel lobbying organization in the U.S. And as the text of that speech leaked out, the conservativemedia has seen a bunch of "greater, deeper meaning."
Matt Katz
In what PolitickerNJ.com described as the "Numbnuts Summit," Democratic Assemblyman Reed Gusciora, who was called "numb nuts" by Gov. Christie last week, met with the governor yesterday for 45 minutes.
I caught up with the openly gay advocate of the same-sex marriage bill outside the governor's office after the meeting. The assemblyman was positively positive about the Republican gov; he was either suitably charmed by the charmer-in-chief or suitably satisfied that their war of words last week was over.
The meeting was "great" and "very cordial." He added: "We both agreed to disagree."
Matt Katz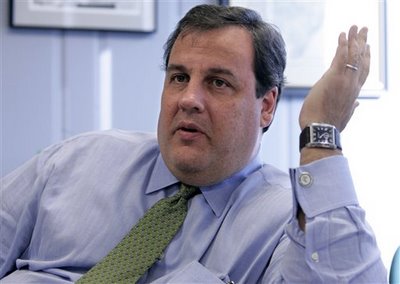 UPDATE: Now, the NJEA leader wants CHRISTIE to resign. Here's our full story in Thursday's paper.
WESTFIELD - Gov. Christie today called for the resignation of a leader of the state's largest teacher's union in the wake of the union leader's seemingly dismissive remark about poor children in failing school districts.
"Life's not always fair," said New Jersey Education Association executive director Vincent Giordano on a program that aired earlier this week on NJTV (see video below).
Watch New Jersey Capitol Report with Steve Adubato & Rafael Pi Roman Ep.181 on PBS. See more from New Jersey Capitol Report.
Matt Katz
In case you missed it, today I reported that yes, Gov. Christie will be at the SuperBowl today to watch the New "Jersey" Giants, but no, he is not a Giants fan...
Imagine free luxury-box seats at every game. Imagine unfettered access to team ownership and talking trades as a cohost on sports radio.
Imagine being the most powerful sports fan in New Jersey.