Maddie Hanna

, Inquirer Staff Writer

Gov. Christie made Hurricane Sandy a focal point Sunday in New Hampshire, returning to the 2012 storm to tout his reception of President Obama at the Jersey Shore as a mark of leadership.

Highlighting a moment that still rankles some in his party, the Republican governor said at a town-hall meeting in Peterborough that "when the president of the United States shows up, you do two things. You treat him with respect, and you show him the problems and ask him for help."

"If the third thing you wanted me to do was wear my Romney sweatshirt, sorry, I wasn't going to do it," Christie said.
Maddie Hanna

, Inquirer Staff Writer
On the presidential campaign trail, Gov. Christie touts his relationship with Senate President Stephen Sweeney as proof of how he'd bridge the partisan divide in Washington. "Steve is my friend," Christie told voters in Iowa last weekend – though, he added, they fight.
On Christie's NJ 101.5 radio show Tuesday night, there was no goodwill on display toward Sweeney. Instead, the governor unloaded over a proposal the Gloucester County Democrat announced Monday that would amend the New Jersey constitution to force the state to make quarterly payments into its chronically underfunded public worker pension system.
"Where are you getting the $3 billion dollars? Where are you getting it?" Christie said on the Ask the Governor show. Christie has vetoed money for the pension system, despite signing a law that required the state to increase its contributions; he has objected to Democrats funding the payments through tax increases on income over $1 million and corporations.
Andrew Seidman
Even as terrorist attacks in Paris and elsewhere have underscored the threat posed by the so-called Islamic State, Gov. Christie says the United States' bigger foe is Iran.
"I believe Iran is moving toward obtaining a nuclear weapon," Christie said in an interview published Friday with the Atlantic's Jeffrey Goldberg. "I have no proof at this point that ISIS is moving toward obtaining weapons of mass destruction."
Christie, a Republican presidential candidate, also said he was "fascinated" by some Republicans' and political analysts' assessment that Florida Sen. Marco Rubio could be president. Rubio is courting many of the same establishment-type supporters and voters as Christie.
Maddie Hanna

, Inquirer Staff Writer

After months of hitting the presidential campaign trail in New Hampshire, Gov. Christie got a boost in a new poll of that state's voters.

Christie is at 10 percent among New Hampshire GOP primary voters in a poll released Thursday by Public Policy Polling. While that level of support puts Christie at fourth in the horse race, the governor is up from 3 percent — a ninth-place standing — in mid-October.

"The clear momentum candidate in New Hampshire is Chris Christie," PPP wrote in the poll release.
Christie now has the highest favorability rating in New Hampshire of any GOP candidate, PPP said, with 61 percent of the state's Republican voters favorable toward him and 22 percent unfavorable.
Maddie Hanna

, Inquirer Staff Writer
Gov. Christie has said he believes climate change is real. But "I don't buy the fact that it's a crisis," he said Tuesday.
"The climate's always changing and we cannot say our activity doesn't contribute to changing the climate. What I'm saying is it's not a crisis," Christie said on MSNBC's Morning Joe, which went to Concord, N.H., to interview the governor, who is riding a new wave of endorsements this week in the state that hosts the first presidential primary.
Asked what scientists he was relying on for that assessment, Christie said, "I didn't say I was relying on any scientists. I don't see evidence. I don't see evidence that it's a crisis."
Maddie Hanna

, Inquirer Staff Writer
Gov. Christie on Monday refuted Donald Trump's claim that thousands of people in New Jersey had celebrated on Sept. 11, 2001, in stronger terms than when he had said he didn't recall the scene described by his rival.
"It didn't happen," Christie told reporters in New Hampshire. "The fact is, people can say anything, but the facts are the facts. That did not happen in New Jersey that day and it hasn't happened since."
The remarks drew Christie into Trump's crosshairs. The GOP frontrunner – who until Monday hadn't devoted much energy to attacking Christie – said the governor had been "very weak" in his previous response to the scene Trump says he witnessed on Sept. 11.
Maddie Hanna

, Inquirer Staff Writer
Gov. Christie has won a sought-after endorsement: a front-page editorial in the New Hampshire Union Leader, the only statewide newspaper in the first-in-the-nation presidential primary state.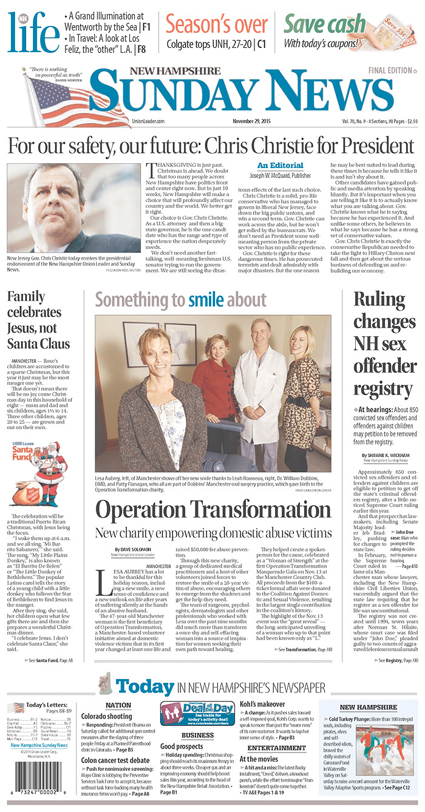 In an editorial running across the top of Sunday's newspaper – with the headline "For our safety, our future: Chris Christie for President" – publisher Joe McQuaid wrote that Christie is "the one candidate who has the range and type of experience the nation desperately needs," citing his background as governor and U.S. attorney.
Maddie Hanna

, Inquirer Staff Writer

Gov. Christie is a routine guest on Fox News, but an interview Tuesday took a different route when the governor found himself denying that his first motivation to run for elected office was a position he's eschewing in the presidential primary: gun control.

"Is it true that the issue of gun control inspired you to get into politics?" Bret Baier asked Christie. (The exchange starts just after 9 minutes in this video.)

"No. That's not true. No," Christie said.