Archive: August, 2012
Matt Katz
SEA ISLE CITY, N.J. — In his last public appearance in New Jersey before the biggest speech of his political life, Gov. Christie took a walk down the Jersey Shore today and basked in some serious homegrown adoration.
"Go get 'em next week!" yelled Bob Bannon, 38, well aware that Christie will be delivering the keynote speech at the Republican convention in Tampa next Tuesday.
Such sentiment was echoed again and again by universally adoring crowds who shadowed Christie during a walk down the Sea Isle City promenade, a short speech about tourism and a visit at a bar with a group of reporters (including me...I needed a beer...it was hot.)
Matt Katz
"I'm looking forward to going...I can't say I'm looking forward to heading to Tampa. I mean, you know it's hot and humid down in August in Tampa. I mean, you imagine me down there? You know they're gonna have to put me in a freezer for a couple days to make sure I'm in the right situation when I get up on that stage. So I hope they have one of those freezers where they hang meat."
(Hat tip to my colleague, Joelle Farrell, for grabbing this classic Christie quote in Camden today)
Matt Katz
To read the full story in Tuesday's paper, go here.
Gov. Christie was flying home from out west, where he had been raising money for Republican presidential candidate Mitt Romney, when he got an e-mail from the candidate himself.
Matt Katz
For our complete story in Friday's paper, click here.
Using new data that indicates New Jersey's economy may be getting worse, Gov. Christie's political opponents are seeking to bloody him up before he heads down to the Republican convention to deliver the keynote speech.
The state Department of Labor reported today that the preliminary unemployment rate has inched up to 9.8 percent in July, up from 9.6 percent the previous month. If those numbers hold – they are sometimes adjusted up or down when new data comes in – they would represent the highest monthly rate since April 1977, according to state records.
Matt Katz
For our full story about the keynote speech in today's paper, click here.
And the consolation prize goes to Chris Christie.
Short-listed but passed-over for the vice presidential nomination, Gov. Christie will give the prime-time keynote address at the Republican Convention two weeks from tonight, providing GOP nominee Mitt Romney some Jersey-style support and giving the New Jersey governor the biggest stage of his political career.
Matt Katz
In case you missed it, I took a reprieve from VP/keynote talk on Sunday and looked at the extraordinary, vast powers of the New Jersey governor to make thousands of appointments:
Being governor of New Jersey means you have $30 billion or so to spend each year. It means the Lincoln Tunnel closes when you need to get to New York, a mansion in Princeton is open for parties, and a Shore house at Island Beach State Park is free for your swimming pleasure.
And then there's this: You get to appoint six people to the Perfusionists Advisory Committee and nine to the Noise Control Council.
Matt Katz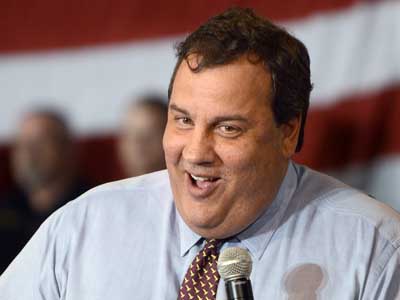 Back to town halls in Piscataway and Parsippany; forget about national debates on prime time. Back to defending criticism from the likes of Loretta Weinberg, senator from Bergen County; forget about high profile attacks from the leader of the free world.
Gov. Christie's star fell back to earth Saturday after nearly a year of speculation about whether he would be in national office as early as January.
Last fall, Henry Kissinger, the iconic former secretary of state, told him he should be president, while Nancy Reagan escorted him onto the stage for a major speech that prognosticators thought was an audition for his candidacy.