Archive: March, 2012
Matt Katz
Update: Full story in Friday's paper, here.
Pushing back against Gov. Christie's use of executive power, an appellate court overturned this morning his order to abolish the agency that governs affordable housing.
The move means that the complex and controversial issue of mandating towns to build affordable housing drags on.
Matt Katz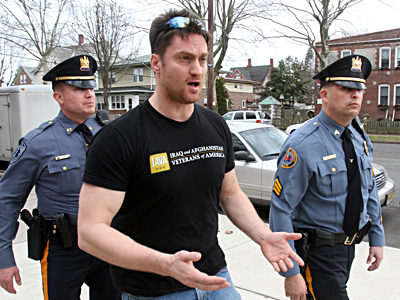 UPDATE: Full story in Friday's paper, here. And video below.
FLORENCE — Gov. Christie told a Rutgers-Camden law student Thursday that his school will definitely merge with Rowan University, sparking a yelling match that led the governor to dismiss him as an "idiot."
At a town hall meeting in front of hundreds of people at the Roebling firehouse, Christie said current Rutgers-Camden students would be able to graduate with Rutgers degrees. But that did not placate William Brown, 34, a former Navy SEAL and second-year Rutgers-Camden law student, who asked about the future.
Matt Katz
A bipartisan agreement has been reached to fix the state's anti-bullying law — considered the toughest in the nation — in the wake of complaints that is too onerous on school districts.
Republican Gov. Christie announced support Tuesday for an amended bill backed by both parties that will be fast-tracked through the Legislature. It will add $1 million into the Bullying Prevention Fund to help school districts meet the law's requirements, and it will create a task force to assist with the implementation of the law.
"We know that students have the best opportunity to learn and achieve when they're in an environment that is safe and free from bullying and intimidation," Christie said at a news conference flanked by the state's most prominent gay activist and legislators from each party.
Matt Katz
Gov. Christie today implored the New York Police Department to at least make a phone call first if it needs to do surveillance on New Jersey Muslims, and he pushed back on related "ridiculous" comments from a New York Republican congressman.
The growing controversy stems from an Associated Press investigation into post-9/11 NYPD surveillance of Muslims in New Jersey mosques and colleges, including Rutgers University (an undercover agent even went whitewater rafting with college students).
Christie, a former U.S. Attorney who led the prosecution of terrorism cases, last week said the NYPD acted as if they are "masters of the universe" whose "jurisdiction is the world."