Archive: January, 2013
Matt Katz
My story in today's paper out of Christie's 100th (!) town hall meeting:
STAFFORD TOWNSHIP, N.J. - They began on stages, in front of small crowds, and starred a new governor selling his tax policies to constituents.
Nearly three years later, Gov. Christie's town hall meetings are theaters-in-the-round with soundtracks, videos, and huge audiences. They are communications juggernauts that have helped propel Christie from rookie leader of a medium-sized state to potential Republican presidential candidate.
Matt Katz
To read the full story in Friday's paper, click here.
TRENTON – Gov. Christie blasted the NRA's new ad focusing on President Obama's daughters – he called it "reprehensible" – but he wouldn't given an opinion about a proposed federal assault weapons ban.
Christie's extensive comments on the issues of guns and violence came during a news conference this afternoon at the Statehouse in which Christie announced the creation of a task force to examine "violence control" measures in the wake of the shooting massacre in Sandy Hook.
Matt Katz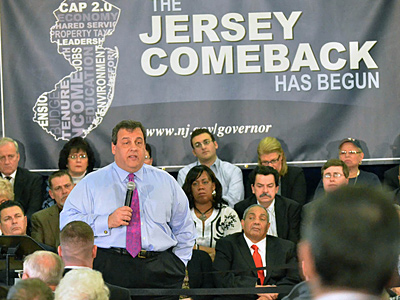 The Gov. Christie Town Hall has become as much a part of the Chris Christie brand as storm fleeces, presidential rumors and aggressive exhortations ("Get the hell off the beach!").
These town halls have allowed him to bypass the filters of reporters and Democrats and speak directly to tens of thousands of constituents. Over (by my count) 150 hours of town halls in three years of his term, Christie has pushed legislation, answered tough/easy/absurd questions, told jokes, caused controversy and teed off on Democrats and reporters, unabated, to largely adoring audiences.
In other words, town halls have been a key to the 70-plus percent approval ratings Christie is now enjoying.
Matt Katz
On Sunday, I wrote a story looking at the governor's campaign strategy. Does his refusal to answer questions about a federal assault weapons ban indicate he can run for re-election solely based on his Sandy record?
TRENTON - Matt Lauer displayed a 1995 campaign flier depicting Chris Christie, then a New Jersey Assembly candidate, supporting a state assault-weapons ban. Does Christie, now governor and a leader of the national Republican Party, support a federal ban?
Four times Lauer asked. And each time, the governor - who proudly proclaims his bluntness - refused to answer. After the mass shooting last month at a Connecticut school, he said that gun control should be part of a broader conversation, along with violent video games, drug abuse, and mental illness.
Matt Katz
Is Chris Christie the real-life Tony Soprano?
That's what Christie said he thought when he saw the cover of this week's Time magazine, which depicts him in a tough-guy pose. The headline is "The Boss." The caption says he is the "master of disaster."
We're not sure what the article is about, and Christie wasn't even interviewed for it, but Christie said today the picture makes him look like Soprano, played by James Gandolfini in the hit HBO series about the New Jersey mob, "The Sopranos."
Matt Katz
The "Today" show's Matt Lauer, over and over again in an interview this morning, asked Gov. Christie if he would support a ban on federal assault weapons in the wake of recent high-profile mass shootings. Christie dodged the questions, and likewise during three other interviews this morning he refused to say whether or not he would support new gun laws.
By way of context, Camden broke a record last year for murders -- 67 -- and assault weapons contributed to at least two shooting incidents a month, according to police. One murder last year was carried out with an AK-47, and most illegal guns in the city come from other states, where gun laws are more lax.
Lauer showed a Christie campaign ad from 1995, when the governor was running for state Assembly, in which he supported an assault weapons ban in the state.
Matt Katz
For the full story in Wednesday's paper, click here.
TRENTON - Riding a 73 percent approval rating, a triumphant Gov. Christie stepped into the grand chambers of the state Assembly this afternoon for a State of the State address that focused almost entirely on Sandy and its aftermath but offered no new policy proposals.
"Sandy may have damaged our homes and our infrastructure, but it did not destroy our spirit," Christie told Assembly members, senators, cabinet officials, lobbyists, Supreme Court justices, congressmen and dozens of reporters.
Matt Katz
Updated at 4:35 p.m. with response, bottom, from Sweeney, who says Christie politicized Sandy with his appearance on Saturday Night Live.
Gov. Christie pounced this afternoon immediately after Democratic Senate President Stephen Sweeney (D., Gloucester) said this in a news conference intended to highlight the governor's failed economic agenda: "We gave the governor a jobs package. We gave him one. He vetoed it. And his job package is a hurricane. I guess he prayed a lot and got lucky a storm came. I shouldn't say that...I apologize for saying it."
Sweeney's remarks at the Statehouse were apparently in reference to Christie's claim that the economy would be stimulated by rebuilding in the wake of Sandy, with new jobs and tax revenue coming in (that's what Christie had told me in my Sunday story).