Maddie Hanna

, Inquirer Staff Writer
Gov. Christie has said he believes climate change is real. But "I don't buy the fact that it's a crisis," he said Tuesday.
"The climate's always changing and we cannot say our activity doesn't contribute to changing the climate. What I'm saying is it's not a crisis," Christie said on MSNBC's Morning Joe, which went to Concord, N.H., to interview the governor, who is riding a new wave of endorsements this week in the state that hosts the first presidential primary.
Asked what scientists he was relying on for that assessment, Christie said, "I didn't say I was relying on any scientists. I don't see evidence. I don't see evidence that it's a crisis."
Maddie Hanna

, Inquirer Staff Writer
Gov. Christie on Monday refuted Donald Trump's claim that thousands of people in New Jersey had celebrated on Sept. 11, 2001, in stronger terms than when he had said he didn't recall the scene described by his rival.
"It didn't happen," Christie told reporters in New Hampshire. "The fact is, people can say anything, but the facts are the facts. That did not happen in New Jersey that day and it hasn't happened since."
The remarks drew Christie into Trump's crosshairs. The GOP frontrunner – who until Monday hadn't devoted much energy to attacking Christie – said the governor had been "very weak" in his previous response to the scene Trump says he witnessed on Sept. 11.
Maddie Hanna

, Inquirer Staff Writer
Gov. Christie has won a sought-after endorsement: a front-page editorial in the New Hampshire Union Leader, the only statewide newspaper in the first-in-the-nation presidential primary state.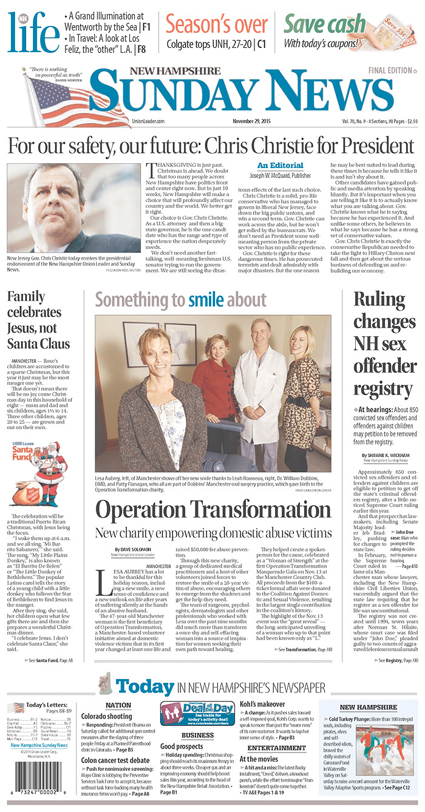 In an editorial running across the top of Sunday's newspaper – with the headline "For our safety, our future: Chris Christie for President" – publisher Joe McQuaid wrote that Christie is "the one candidate who has the range and type of experience the nation desperately needs," citing his background as governor and U.S. attorney.
Maddie Hanna

, Inquirer Staff Writer

Gov. Christie is a routine guest on Fox News, but an interview Tuesday took a different route when the governor found himself denying that his first motivation to run for elected office was a position he's eschewing in the presidential primary: gun control.

"Is it true that the issue of gun control inspired you to get into politics?" Bret Baier asked Christie. (The exchange starts just after 9 minutes in this video.)

"No. That's not true. No," Christie said.
Maddie Hanna

, Inquirer Staff Writer
Gov. Christie wrote a letter to President Obama last week saying he would not accept Syrian refugees and had directed state officials not to participate in the resettlement process. But what about the 75 Syrian refugees already settled in New Jersey this year?
Asked on CNN's State of the Union Sunday whether those refugees should be ousted, Christie didn't answer the question.
"What should have happened is we should have been informed about it," the governor said in a live interview from New Hampshire, where he is campaigning this weekend.
Maddie Hanna

, Inquirer Staff Writer
Gov. Christie has joined the chorus of governors saying their states will not accept Syrian refugees.
In a letter sent Tuesday to President Obama, Christie said, "I cannot allow New Jersey to participate in any program that will result in Syrian refugees – any one of whom could be connected to terrorism – being placed in our State." That line was identical to language used by at least one other Republican governor, Texas Gov. Greg Abbott, in pledging to reject Syrian refugees in the wake of the recent terrorist attacks in Paris.
Christie said he had directed the New Jersey Department of Human Services not to participate in the resettlement of Syrian refugees. He asked nongovernmental organizations to notify state officials of their placement of any Syrian refugees in New Jersey.
Andrew Seidman
Gov. Christie says he doesn't resent New Jersey voters who would like him to drop out of the presidential race.
Asked Friday in an interview with Fox News about polls showing a majority of Garden State voters want Christie to end his candidacy, the governor said, "I don't blame them."
"Listen, they're entitled to their view," Christie told Fox News' Neil Cavuto. "You see this happen in most of the states where sitting governors decide to run for president. Folks would rather have you stay home."
Maddie Hanna

, Inquirer Staff Writer
Gov. Christie has been polling in the low single digits nationally. But the governor predicted Monday that his lagging presidential campaign would soon hit its stride.
"We're going to peak at exactly the right time, in December and January," Christie said on NJ 101.5's Ask the Governor program. He noted new polls that showed increases in his favorability with GOP voters in the early presidential contest states of New Hampshire and Iowa.
Public Policy Polling, which conducted the Iowa poll, said Christie's image had undergone an "amazing transformation." His rating improved from 34 percent favorable and 44 percent unfavorable in August to 48 percent favorable and 28 percent unfavorable.