Archive: June, 2011
Matt Katz
Everybody in Trenton is trying to read the governor's mind right now. The governor's office has the budget, and all legislative sessions for the day have been cancelled.

The Democrats sent him a budget last night for the fiscal year that begins at midnight. The budget is $1 billion more than Gov. Christie has said he wants to spend, and it comes attached to a tax on millionaires that the gov has repeatedly vowed to veto.
So what will Christie do with the budget? The options:
A line-item veto: With his extraordinary powers sitting in the most powerful governor's seat in the country, Christie can simply cancel out the things he doesn't want -- like increased funding for some schools, Medicaid for the poor, family planning centers, tax breaks for seniors -- and be done with it. The budget would be final unless Democratic Legislators decide to try to meet again to override that veto. Meanwhile, conservatives would rejoice, and state parks will be there for your BBQing pleasure on the July 4th weekend.
A conditional veto: I can't find anyone who ever remembers this happening before, but one of the other extraordinary powers of the governor is a conditional veto -- we call it a CV here in the Statehouse -- that would send the budget back to Legislature. Christie would use the CV to recommend changes, like addressing the fact that the Democratic legislators think there are hundreds of millions of dollars more available to the state than Christie does. A CV, though, would leave the state without a budget for the new fiscal year, which starts tomorrow, and potentially shut down parts of state government.

Absolute veto: This, of course, also leave the state without a budget, and would also lead to a possible government shutdown as the Legislature figures out how to either override that veto or come up with another spending plan. Gov. Jim Florio did this in 1992, the Republicans in the Legislature overrode it and Florio only served one term.

Matt Katz
We're hunkered down here in the Statehouse now, waiting for the Democratic Legislature to send Gov. Christie a budget that he is expected to mark up, big-time, with his line-item veto pen (the pen, I imagine, is thick and red).
A budget is due in 32 hours, so we might be here for a while. For more details - and some interesting comments about whether the gov chats with South Jersey power broker George Norcross about legislation - check out today's story here.
Meanwhile, another fight is looming. Fresh off their victory securing same-sex marriage in New York, gay rights advocates announced today that they are suing the state because the New Jersey civil unions law does not provide the same rights as marriage.
Video streaming by Ustream
Matt Katz
Flanked by his "partner" Democratic State Senate President Stephen Sweeney and more than 60 mayors of both parties, Republican Gov. Christie signed a bill this afternoon that alters the pensions and health benefits for hundreds of thousands of public workers and retirees.
The moment will go down as a highlight of Christie's term, but the signing at the Trenton War Memorial was a display of bi-partisanship and compromise that is unlikely to last long after the ink dries on the new law.
Christie and Sweeney even joked at the bill signing that they would be at each other's throats in a matter of hours over the wide gulf between their plans for the state budget, which must be adopted by Thursday.
Matt Katz
Northeastern-centric political prognosticators are excited about the possibilities of a 2016 presidential race between freshman New York Gov. Andrew Cuomo, who just pushed a gay marriage bill through a reluctant Legislature, and New Jersey Gov. Chris Christie, who just pushed a health and pension benefits bill through a reluctant Legislature.
Christie, who opposes gay marraige, often references the freshman gov across the Hudson. And as Christie continued his post-bill victory tour on three cable news shows this morning, he had only extraordinarily positive things to say about Cuomo. Remember these Christie words on MSNBC's "Morning Joe" in case of a 2016 New York-New Jersey presidential match-up:
Matt Katz
Gov. Christie nationalized his victory on health and pension benefits on NBC's "Meet The Press" this morning, explaining how Barack Obama's Washington, DC, should model itself off Chris Christie's New Jersey.
Christie portrayed himself as an active leader directly involved in the negotiations of the historic legislation that was approved by the New Jersey Assembly last week and will be signed by Christie tomorrow. He said just as he sat with Democratic legislative leaders to hammer out an agreement on the bill -- which forces public workers to pay far more for health and pension benefits -- President Obama needs to deal directly with congressional leaders.
The pro-life, anti-gay marriage gov dodged a more specific question on whether he would sign a Republican abortion pledge, and another question on whether the federal government should ban states from allowing gay marriage. No follow-up questions on either from interviewer David Gregory.
Visit msnbc.com for breaking news, world news, and news about the economy
Matt Katz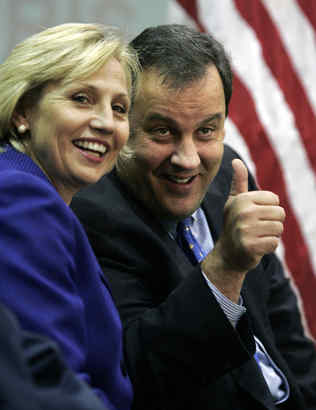 Like a World Series champ showing off his shiny new ring, Gov. Christie walked the proverbial victory parade this morning after the late-night Assembly vote establishing wide-ranging pension and health benefits reform. (Read our coverage of Christie's biggest legislative win to date, here).
Along the parade route this morning Christie dropped a sleak new video (below), unveiled a brand-new Twitter hash tag called #cantstopnow and sat down on the comfy chairs of the "Today" show with Matt Lauer (here).
Asked how lawmakers in Washington, DC, can learn from him as they debate their way out of their own budgetary mess, Christie said: "You can't negotiate through a secondary person, and in all do respect to the vice president, the president's gotta show up."
Matt Katz
New Jersey's teachers, cops, firefighters and other public workers are holding a last-ditch rally today to sway the state Assembly to block Gov. Christie's pension and health benefits bill, which has been shepherded through by Democratic leaders like State Senate President Stephen Sweeney (D., Gloucester). Several signs at the rally linked Sweeney to Christie, and at least one of those signs is NSFW.
The Assembly is expected to meet any minute now to consider the bill, and the debate is expected to stretch late into the night...so I'd like to take this opportunity to apologize to my wife, and promise I won't wake her when I come home later.

Details about the pension part of the bill, here, from Trenton reporter Maya Rao. See below for video footage from the rally, where protestors chanted "Kill The Bill!" The crowds seemed larger than Monday's rally, but far smaller than the 25,000-plus that the unions hoped for.
FAIR LAWN - Even as singing protestors were escorted out of his Bergen County town hall meeting this morning, Republican Gov. Christie described his historic pension and health benefits plan -- on the verge of passage in the Democratic Legislature -- as a bipartisan compromise that should be modeled by lawmakers in Washington.
"I believe and hope that tomorrow you will see Republicans and Democrats come together and do something they should have done a long time ago," Christie said. His bill, due for final approval by the state Assembly tomorrow, would force all public employees to pay significantly more toward their health and pension benefits.
Cheers for Christie's imminent political victory were mixed with boos. It was the governor's first public remarks since a compromise was hammered out with Democratic leaders last week.