Archive: May, 2011
Matt Katz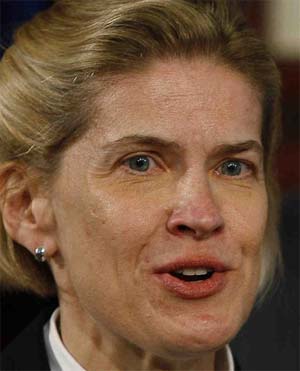 Gov. Christie's first nominee to the Supreme Court, Anne Patterson, is about to go before the Democratic-controlled Senate Judiciary Committee for her first hearing. Patterson was nominated more than a year ago, so this was a long time coming.
Patterson is a corporate lawyer who might have a tough go of it. At a press conference this morning, a consortium of Democratic-leaning groups blasted Patterson for the clients she has represented: gun manufacturers, lead paint companies and tobacco corporations, to name three.
"I don't think she has any idea what it's like to live in a city where guns are so easy to get," said Shaheed Brown, 27, a former Newark gang member who came to the press conference to share his experiences. Brown has a handgun tattooed to his left forearm, and says that he had his first gun at the age of 12. Guns, he said, are far too pervasive -- and gun manufacturers are partly responsible for that.
Matt Katz
Tonight's the night when a group of wealthy Iowans come to the governor's mansion to beg Gov. Christie to run for president. It's a dinner that, you may recall, I am not invited to.
Bruce Rastetter, called a "hog and ethanol baron" by the DeMoines Register, leads the group of Iowa conservatives believed to be more fiscally-minded than culturally-minded. Rastetter is a major GOP contributor with strong business ties to the Koch brothers -- the controversial, mega-rich duo who have bankrolled Republican causes.
Rastetter also reportedly helped start the American Future Fund, which has sought support for the ethanol industry and various conservative causes by donating to Republicans around the country. According to a New York Times article in 2010: "The American Future Fund, organized under a tax code provision that lets donors remain anonymous, is one of dozens of groups awash in money from hidden sources and spending it at an unprecedented rate, largely on behalf of Republicans."
Matt Katz
The prez might be more popular than the gov in Jersey, but New Jerseyans seem to like Christie's number-crunching better than Obama's.
Last week, Rasmussen released a poll saying that Obama would be Christie, 49% to 44%, in a hypothetical presidential match-up. But this week, a new poll shows that 46% of likely New Jersey voters give Christie "good" or "excellent" markets for the way he's handed New Jersey's budget crisis. Just 38% give Obama positive marks for handling his budget problems.
Overall, Christie gets 53% approval ratings, which is far better than he's been polling elsewhere recently -- and it comes with strong favorability numbers from women, despite talk that the gov is having a gender problem.

Matt Katz
Gov. Christie is holding an 11 am press conference at the statehouse Thursday, and I'm looking for questions. Got any? Leave them in the comments.
For ideas, check out our last two stories from Trenton:
CHRISTIE TRIES TO USE $500 MILLION 'INVOICE' FOR POLITICAL GAIN
Matt Katz
Big day for the governor. Big day for New Jersey.
Gov. Christie was handed a $500 million bill by the State Supreme Court today to increase funding for poor schools, and he made a statement before the Statehouse press shortly thereafter. (Read the decision here). At 3:30 pm today, he'll be at the National Guard Armory in Cherry Hill (2001 Park Boulevard and Grove Street), for a town hall meeting open to the public. I imagine he'll be talking about this.
"There are several reasons why I believe this decision represents everything that is wrong with how Trenton has historically operated and everything that I'm here fighting to change," Christie said today. He gave two main reasons:

Matt Katz
In the Statehouse, there seems to be little belief that the gov is going try to be prez in 2012. But beyond our New Jersey borders, in a land where drivers can turn left by simply making a left, Christie is still considered the candidate most likely to emerge as the Republicans' savior and eventual nominee.
After Christie friend and fellow fiscal conservative Indiana Gov. Mitch Daniels dropped out of the race this past weekend, national politicos suggested that Christie would have no choice but to step in to fill the void.

New York magazine reported yesterday that Roger Ailes, the controversial and wildly successful of chairman of Fox News, called Christie a few months ago and asked him to run for president. He fell for the gov after hosting a dinner at his home with Christie and Rush Limbaugh (the right-wing talker who also loves Christie).
Matt Katz
Gov. Christie made his monthly appearance on 101.5 FM's "Ask The Governor" show last night, and as always, it was compelling radio from the start. (See video below.)

Host Eric Scott began by saying the gov looked "kinder and gentler and less cross today."
"Up yours, Eric," Christie replied, before smirking and half-apologizing. He said he thought Scott was being facetious (which of course he was).
Video streaming by Ustream
Matt Katz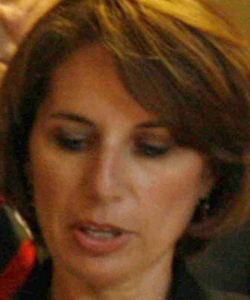 Gov. Christie loves a good, large number that he can use to drop jaws. He trotted out a new one today at a town hall meeting in Monroe Township: $3.25 billion.
That's how much taxpayers will be forced to dish out if Assemblywoman Pamela Lampitt (D., Cherry Hill) has her way with a bill to cap the payouts for unused sick and vacation days at $7,500. Christie wants to end the practice of paying government workers for, as he says, not being sick -- and he wants to end it immediately. After Christie conditionally vetoed a similar measure that had GOP support and would have capped payouts at $15,000, Lampitt offered this bill, which she calls a compromise proposal.
But then the Christie camp got out the calculators and multiplied 434,017 (the number of state and local government employees) by $7,500. And that equals $3.25 billion, right outta your pocketbook.