Archive: April, 2012
Matt Katz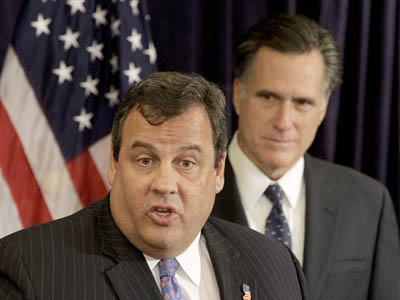 PLAINSBORO -- During a visit this morning to West Windsor-Plainsboro North High School's AP history class, a student asked Gov. Christie if he would consider being Mitt Romney's running mate. Christie began giving his standard answer -- that he would listen if he gets the call, but he loves his current job.
Then, for the first time in public, he added this about Romney: "He might be able to convince me -- he's a convincing guy."
Following the veepstakes is a grand political tradition in America, and since it only happens every four years there's tremendous interest. As soon as I tweeted his comment, it blew up on Twitter. Check out the video below.
Matt Katz
Gov. Christie attended the annual White House Correspondents Dinner last night as a guest of the ABC network (he sat next to "Modern Family" bombshell Sofia Vergara), and he listened as host Jimmy Kimmel directed not one, not two, but three fat jokes at him:
1) After referencing First Lady Michelle Obama's efforts at curbing Americans' obesity, Kimmel said to her: "Look, it's Chris Christie, get him!"
2) "Ya know they say that inside every American governor is a president struggling to get out. In Chris Christie's case it's the only one where you can still hear him screaming."
Matt Katz
"My message to the Nets is goodbye...You don't want to stay, we don't want you."
That was Gov. Christie's farewell address yesterday to the New Jersey Nets, who played the 76ers yesterday in their final game in the state. After 35 years as one of the state's two (official) professional sports teams, the Nets move to Brooklyn next season.
Christie argued that the Nets' former home, the Prudential Center in Newark, is a beautiful arena in "one of the country's most vibrant cities," and so another NBA team might be interested in moving in.
Matt Katz
Finally putting New Jerseyans' concerns to rest, Bruce Springsteen mega-fan Gov. Christie denied falling asleep during the Springsteen show at Madison Square Garden earlier this month, as the New York Post's Page Six had reported. (And as has been reiterated here, here and elsewhere.)
"I have never fallen asleep at a Bruce Springsteen show, I will never fall asleep during a Bruce Springsteen show, my wife is probably afraid that I'm more likely to die during a Bruce Springsteen show than fall asleep," he said.
He added: "This shows you the level of intrusiveness now into my life -- some joker taking pictures of me at Madison Square Garden."
Matt Katz
BEDMINSTER -- Back in 2010, Gov. Christie signed a bipartisan measure to cap annual local property tax increases at 2 percent -- with the caveat that, if necessary, a town's residents could vote for a bigger increase.
Medford's all-Republican township council is seeking to do just that, asking voters in a local election today to approve a tax increase beyond the cap. The council members, all newcomers, are facing a $6 million deficit after previous councils failed to cut spending or raise taxes, they said. Cops have already been laid off, and they warn that if the refendum fails, municipal trash pickup would go.
But Christie has turned on his fellow Republicans. He says voters shouldn't give the town any more money.
Matt Katz
In case you missed it, yesterday I took a look at an interesting Garden State anomaly -- New Jerseyans like both Gov. Christie AND President Obama:
More than half of New Jerseyans approve of the job that Republican Gov. Christie is doing.
More than half of New Jerseyans approve of the job that President Obama is doing.
Matt Katz
Trying out new material in what is sure to be 4 1/2 months of questions about whether he's going to run for vice president, Gov. Christie said he emailed Mitt Romney yesterday after Rick Santorum dropped out of the GOP presidential race.
And what did Romney write in response?
"He asked me to be vice president and czar of the world," Christie said.