Archive: March, 2011
Matt Katz
Back in 2009, I regaled annoyed friends with my iPhone app that played "That's what she said!" at the most hilarious annoying of moments. Now, I have a new toy: NJGovRants, a new iPhone app that plays audio of dozens of Gov. Christie's most notable rants. (Hat Tip to Capitol Quickies for this one.)

To a reporter: "You must be the thinnest-skin guy in America." To New Jersey: "Like it or not, you guys are stuck with me for four years." To the teachers' union: "Heck with the kids, that's what the teachers' union said."
And the New Jersey Republican State Committee is getting in on the act, too, with a new Facebook page, here, that allows you to vote on your favorite Christie YouTube moment (and maybe throw some shekels into the kitty at the same time). One of those moments, in both the app and Facebook contest, is posted below.
Matt Katz
Gov. Christie heads to the nation's capital today to headline a $10 million fundraiser for the National Republican Congressional Committee, which raises money for the congressional Republicans who now control the House of Representatives.
Unfortunately, we cannot report what he will say, because the NRCC has closed the event to the press. Christie's office says it wasn't the gov's call to shut us out.
(Not for nothing, but next week Maryland's Democratic governor, Martin O'Malley, comes to New Jersey to headline the Democratic State Committee's Jefferson-Jackson Dinner. At that event, we're allowed to hear what our elected officials will say. Expect the anti-Christie rhetoric to fly from O'Malley, who has not been shy about trashing the gov.)

Matt Katz
Gov. Christie is taking aim at what he likes to call New Jersey's "shadow governments" - those authorities, boards and commissions, unknown to most New Jerseyans, that collect tons of dollars from taxpayers and ratepayers. The gov has used his existing power to veto minutes of such entities 21 times since taking office, as I documented here.
But as Christie told me in that article, he thinks the governor needs far more power over those regional and county groups that fall beyond his oversight, so he is proposing legislation today that expands his ability to use the veto pen. (None of the 26 entities addressed by the proposed law, which can be found here, are in the Burlington-Camden-Gloucester county areas.)
"The writing is on the wall for New Jersey's shadow government – the abuse stops now," he said in a statement.
Matt Katz
A full version of this story will appear in tomorrow's Inquirer and on Philly.com

HAMMONTON, N.J. - When the governor called on the "guy with gray hair and a moustache," and the man announced himself as a school superintendent in Stratford, a murmur went through the crowd.
Was another one of Gov. Christie's famous fights with educators brewing this afternoon at this town hall meeting in rural New Jersey?
Matt Katz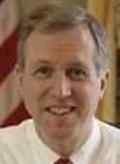 The next decade of New Jersey's future - and possibly Chris Christie's future - is being decided right now in a few hotel rooms in New Brunswick. So yesterday, Christie showed up at the hotel to, presumably, help make sure things went his way. The Democrats still can't believe he did it, saying it was unprecedented and inappropriate for him to get involved.

The background: The state's Legislative Redistricting Commission is at the hotel figuring out how to redraw legislative district lines. (Check out up-to-the-moment live tweets about what's going on from the Star-Ledger's Matt Friedman, here). Why is that important? Depending on what areas get carved into districts, or out of districts, Democrats or Republicans could win a huge advantage in the November elections, when all 120 Legislators are up for election.
And that could mean that Christie gets a Republican Legislature, which would presumably act as a rubber stamp for just about everything he wants to do. Or, it could mean that the Democrats stay in control of both houses of the Legislature, and Christie's policies get blocked at every turn.
Matt Katz

I'm back from a week away with a nasty sunburn that even SPF 85 (true story) couldn't prevent. Looks like Gov. Christie got burned a bit last week as well (see what I did there??). Here's a rundown of a week that saw some setbacks for a governor who is accustomed to getting his way:
A special master appointed by the state Supreme Court ruled that the gov's education funding plan for last year doesn't provide enough money for students. This could be hugely problematic if the Supreme Court agrees and rules that Christie has to cough up more money, forcing him to face the nearly impossible options of raising taxes (which he says he won't do) or cutting from elsewhere in the budget (when there isn't much else to cut). Click here for more on that.
A union representing Atlantic City casino workers is suing the state Economic Development Authority over the gov's plan to provide $261 million in tax aid to restart the stalled Revel casino project. The union is concerned that the flashy Revel will put other casinos out of business, and says that the state violated open public meetings and records laws in pursuing the deal. More on that here.
Christie's Health and Senior Services Commissioner, who was sherpherding the gov's controversial plans for regulating the state's new medicinal marijuana law, resigned last week to deal with a family illness. A deputy commissioner also resigned. Click here for more.

And yet there's still plenty for the gov to be happy about. On Saturday, Christie came in first place in a presidential straw poll of New Jersey Republicans. All the details are here. A national poll last week, here, also put him in first place for the Republican nomination. Christie still says he doesn't want the job, of course. But so far, it seems that getting burned at home isn't hurting his hypothetical White House bid.

Matt Katz
I'm too exhausted from chasing the gov up and down the Jersey Turnpike, so I'm outta here until March 28. Christie Chronicles will go dark, but click HERE to follow the latest news from the Statehouse and the governor's office from my colleague-extraordinare, Maya Rao.
In the mean time, let's wrap-up some Christie news from the last week:
In keeping with my commitment to report every self-deprecating comment that the gov makes about our New York Mets, Christie was asked by a student at Ann Street School Thursday what job he wanted when he was a kid. He said he wanted to be a catcher for the Mets. "My dream has been crushed!" he said. "Although the Mets are so bad this year they might be able to get me to play."
The big national Christie story this week is how Christie fired the husband of one of the women on the "Real Housewives of New Jersey." Christie hates the show, blaming it and the "Jersey Shore" for being a scourge on the state's reputation. Christie got some indirect revenge this week by suspending Albert Manzo, the husband of Caroline Manzo, from his job with the North Jersey District Water Supply. On the show, Manzo lives in Franklin Lakes, but in his paperwork to serve on the board he said he lived at a restaurant he owned in Paterson. Christie cited Manzo as an example of why he needs veto power of all multijurisdictional authorities, as I reported here, and he's currently drafting a bill to that effect.
Taking a cue from Christie's adept use of YouTube, two videos created this week criticize the governor on two specific issues. In one, activist Jay Lassiter gives emotional testimony taking the governor to task for the delay in the implementation of medicinal marijuana regulations. Click here for that. And another blasts the governor for mischaracterizing the Highlands Act, which protects the water supply in the north of the state. Click here to view that one.

And finally, because you were dying to know, see above for Christie's picks for March Madness. He's got Duke repeating as national champs. If anyone is reading presidential tea leaves, please note: Duke is in a swing state!
Matt Katz
This post has been corrected from its original version.
For the first time, the largest state employee union is going to the press with a health care proposal for its new contract.
For the first time, a governor is refusing to even talk about health care proposals at the bargaining table for a contract, which expires in June.