Archive: October, 2011
Matt Katz
Gov. Christie is more popular now than at any other point in his term -- but if history is any guide, don't expect that to translate into a Republican takeover of the Democratic-run Legislature in the election next Tuesday.
That's the message in an internal memo sent today by the New Jersey Republican State Committee to leaders of county GOP committees. In the first legislative elections two years into their respective terms, governors generally lose seats in the Legislature.
The memo reads: "In fact, we will buck the odds if we simply maintain our current Republican roster of 16 Senators and 33 Assembly members. Seven of the last eight Governors have lost legislative seats in their first midterm election, and given the tough obstacles currently lined up against our Party, we do not expect this trend to change this year."
Matt Katz
Nearly 400,000 property owners are still without power after a weekend storm that slammed residents of northern New Jersey – including Gov. Christie himself.
Property outages hit as many as 750,000 New Jerseyans, Christie said at a press conference this morning, and crews are working around-the-clock to clear the downed trees that did much of the damage. He expects almost everyone will be back up by Thursday night.
Of course, for those who don't have lights or heat, such assurances might come across as "all talk."
Matt Katz
Backed by nearly 60 Republican elected officials and legislative candidates, Gov. Christie staged a press conference Tuesday to highlight Republicans' staunch opposition a judge's recent ruling that the new Christie pension reform law doesn't apply to the judiciary. (Previous coverage, here).
Citing the state Constitution, a Mercer County judge ruled that a Hudson County judge's suit was accurate in stating that Christie's new law mandating higher pension payments for all public employees is inapplicable to judges because governors are not allowed to lower judges' salaries. Christie says that absurd -- "salaries" are different from benefits.
If Christie loses the appeal on the judge's ruling, he wants the legislature to put a constitutional amendment on the ballot in November 2012 so voters can force judges to be part of the system.
Matt Katz
In case you missed it, today I took a look at Gov. Christie's campaign promise to bring back New Jersey's cities. The story is here.
Of candidate Christie's list of proposals, only one has been implemented. The others were:
Use technology through "CityTrak" to measure progress and enforce accountability in education, economic development and crime.

Exempt taxes for new urban residents to encourage new market-rate housing in cities.

Pass a constitutional amendment to bring state bail laws in line with stricter federal law and permit pretrail detention for public safety reasons.

Require drug rehabilitation and vocational training for nonviolent offenders.

Attack gang problem by increasing penalties for gang-related crimes and illegal gun possession; creating alternatives to gang membership with help from community and faith-based groups; train neighborhood groups to report gang activity.

Streamline incentives, tax breaks, loans and grants to cities through Garden State Growth Zones.
Christie had also filmed a campaign ad, here, at Camden's infamous Tent City homeless encampment. And he addressed his urban agenda in another ad below. But cities are having a harder time than ever, and mayors and advocates say the governor is not paying enough attention (or money) to their problems. Here's the full report.
Matt Katz
Gov. Christie said this morning that he and his wife will head to Israel in the spring on his first official international trip as governor.
Christie made the announcement after meeting with the Israeli ambassador to the United States, West Orange-raised Michael Oren, in Christie's office at the Statehouse. He will be the seventh consecutive New Jersey governor to make an official trip to Israel, the Star-Ledger reported.
"It's an important visit for me personally, and an important visit for the folks in New Jersey as well," he said.
Matt Katz
I wrote a story today about the governor's ad hominem attacks on a judge who ruled that Christie's pension reform plan didn't apply to judges. That's here. And I wrote about how a guy named NJ Weedman sends reefer to the governor almost every month. That story, here.
And yet another piece of gubernatorial news today is gaining more national attention -- which tells us a little something about media and politics in 2011.
Meet Viki Knox. She's a Union Township teacher who posted anti-gay comments on her Facebook page, including: "Homosexuality is a perverted spirit...I know sin and it breeds like cancer!...Why parade your unnatural immoral behaviors before the rest of us? YOU ARE WRONG."
Matt Katz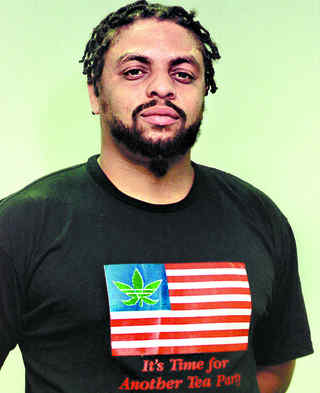 New Jersey's most noted marijuana legalization activist - Edward "NJ Weedman.com" Forchion - said today that he regularly sends reefer to the governor.
Since last spring, the Weedman says he has been mailing one gram of weed ("Enough for a fattie") to 15 public officials, from the state attorney general to the Burlington County prosecutor to Gov. Christie himself. None have been returned to him, he said.
"The governor should get high, loosen up a little bit, relax," Forchion said.
Matt Katz
In case you missed it, Inquirer reporter Claudia Vargas and I wrote this story on Sunday about calls for an investigation into the Lanning Square School project in Camden, which the Christie administration has put on hold.
When the chunks of concrete began falling, Camden's Lanning Square School closed and students were temporarily moved into two 19th-century buildings.
Nine years and $10 million later, the Lanning Square School has been demolished, architectural plans have been drawn for a new building, and adjacent homes have been seized by eminent domain - but the neighborhood is nowhere near getting a new school.