Archive: September, 2011
I have been pretty busy since my last blog post. I am back at Mother Teresa Regional for school; I had to go back to CHOP for a blood and platelet transfusion and I started practicing with my swim team, the Monmouth Barracudas. I feel great but I still get tired easily.
On Monday, I was interviewed by Dawn Timmeney from NBC10 in Philadelphia. Dawn also interviewed my surgeon, Dr. John Dormans, and filmed my exam with him. She did a story on me, my surgery and my recovery that aired this week. It was really fun and Dawn is a really nice person (that's her with me in the picture below). Dr. Dormans said I was recovering nicely and to come back and see him in three months.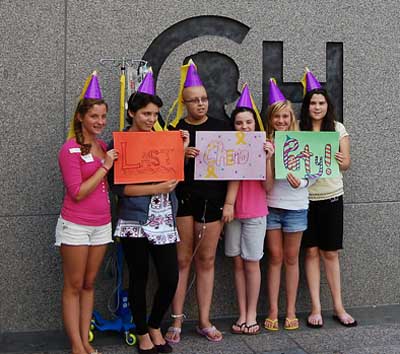 September is Cancer Awareness Month and later this month, on Sept 25, I'm going to lead Team Onco Girl in the 2011 Four Seasons Parkway Run and Walk (I'll walk, actually). I'm going try to go the distance with my new endo-prosthetic femur. (Did I get that right, Dr. Dormans?)
The whole reason for this blog is to help other children and families become aware of the treatment and facilities available here in Philadelphia (CHOP is the place to be) and to tell you about what it is really like going through my diagnosis, treatments, surgery, physical therapy and then trying to bounce back from all of this to be normal again. I hope that my blog helps other families through this process. The editors at The Philadelphia Inquirer said that I can keep writing my blog, so if you keep reading, I'll keep writing. I still have a ways to go with scans and physical therapy and I want to keep telling my story.
This past week, I finally finished chemotherapy. When this all started, I was scared out of my mind and so were my parents. At first, the chemo made me sick to my stomach until my doctors got the anti-nausea medication just right. I was also getting a steroid with my chemo treatments to help manage my nausea and keep my appetite up. The steroids helped with the nausea but they made me really moody. I decided that I would rather be a little nauseous than turn into what someone called "Kidzilla." I asked my parents to talk to the doctors to see if they could stop the steroids -- and they did. Even though I got a little woozy, I was a whole lot more pleasant to be around.