Archive: November, 2011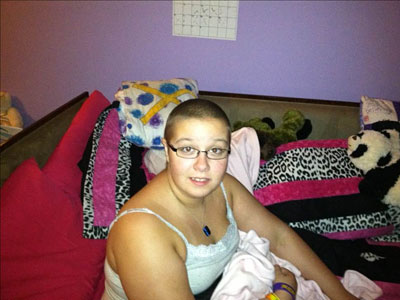 Hello there. It's been way too long since my last post. Getting back into the swing of things has taken up a lot of my "new normal" time. But the most important news is: I have hair!
Going back to school full time this September took some getting used to. It took me until the middle of the summer working with my teachers to finish the sixth grade so I could move along with my friends this year into seventh grade. I really like my teachers and it's great to be back with my friends at school. Seventh grade is a lot different than sixth grade. There is a lot of homework, but so far so good.
Having a metal prosthetic "bone" in my leg, especially my hip joint, has given me a "new normal" walk. I still have a limp, but Dr. Dormans says that will go away with time as I get stronger. I really can't run and jump with my friends or play in gym class yet because if I fall, that would be a really dangerous thing right now. Again, as I get stronger with time, this will be less of a problem. A friend of mine who a few years ago had just about the same surgery as mine is actually able to go to gym class now. It just takes time. Thankfully, I seem to have a lot of that now.