Archive: May, 2011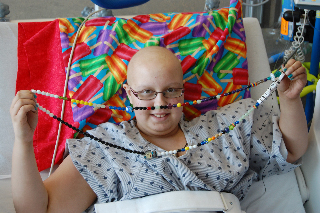 Today was a pretty big day for me. It is exactly one week since my limb-salvage surgery. The doctors removed the drains (vacuum-like tubing that removes the leaking blood and fluids from the area that was operated on). Right now, I'm not hooked up to ANYTHING, so I enjoyed a ride around the hospital in my wheel chair!
My leg brace also came today. Wearing this brace instead of using the abductor pillow will allow me to move more freely while keeping my hips aligned while I heal from the surgery. I will begin physical therapy with the brace tomorrow morning with Nickie so I can learn how to do things safely and finally go home from the hospital!
The other thing that I got to do today (besides go to school for two hours with the CHOP teacher Jamie) is update my Beads of Courage. When I started my treatment back in February, one of the child-life specialists, Brittany, told me about the beads that oncology patients collect to represent different parts of treatment. My favorite bead is the purple star that you get for having surgery. My strand of beads is already about 4.5 feet long -- and I'm only about half way through treatment!
Sunday was a big day. Ms. Kristen, my physical therapist, came by to help me get out of bed. She brought a recumbent wheel chair (that's a wheelchair that reclines) so I wouldn't have to bend my new hip joint too far when I went for a cruise around the floor here on Four South and East -- and where ever else I could go without getting into trouble.
About an hour before Ms. Kristen came to help me, nurse Julia gave me my pain medication so it wouldn't hurt too much when I moved for the first time. I take most of my pain medication in pills now. I'm almost entirely disconnected from my I.V. pole; it's only there now for antibiotics and my PCA -- that's the button I push if I need pain medication in a hurry. I haven't needed the button much lately. This means I'm mobile!
It took a few minutes to get me situated and sitting on the side of my bed. It felt great to sit up with my legs and feet off of the bed. Ms. Kristen and nurse Julia helped put my weight on my left leg, the one that wasn't operated on, and then shifted me onto this cool wheelchair. It didn't really hurt when I sat up or when I got in the wheelchair.
This morning I woke up and for the first time since my surgery, I had an appetite for some food. I had grapes and pancakes with some orange juice.
The last few days haven't been my best but today I feel like a million bucks. I felt well enough to Skype into my class at Mother Teresa Regional School in Atlantic Highlands, New Jersey. It is so fun to see my friends, and whenever I Skype into class, my friends are so happy to see that I'm doing OK. Today we leaned how to multiply and divide positive and negative numbers.
My pain hasn't been much of a problem up to now because of a numbing medicine pumped into my back through a line called an epidural. It made the area from my hips down numb so I wouldn't feel any pain at the site of my surgery. The epidural was taken out today, but so far, I've have had no pain today.
---
This morning I woke up feeling very tired. I also wanted to scooch down in my bed a bit, but it's really difficult to reposition myself in bed because I have to keep my hips in a straight line, and I'm wearing a big wedge pillow between my legs so I don't pop my new hip joint out of the socket.
Then, a nice man named Joe came in with a cart full of equipment. He had what the docs call a trapeze and he put it up for me over my bed. A trapeze is a kind of strap that hangs off a long rod over my bed. I can grab ahold of it to pull myself up and move around a bit in bed. When Joe was finished putting all the pieces together, I said, "Cool!" I can work on my upper body strength with this thing. I told my mom that we should take a picture and send it to all my friends' moms so they know I'm doing OK.
When my nurse, Sara, and a couple of nursing students changed my sheets this morning, I wanted to use the trapeze, but I was afraid I wouldn't be able to hold myself up for long. But I tried and I was able to move myself and help them. It felt good to be able to do something helpful. Besides, it was fun!
---
Hi, my name is John Dormans, and I am Rachel's orthopedic surgeon. I was asked by Rachel to write a brief update on her surgery and her postoperative recovery so far.
Rachel's surgery went beautifully and without any complications. While the entire process was 7-8 hours long (including operating room set up and "take down" time), the actual operation lasted 4 hours and resulted in relatively low blood loss (600 cc).
In addition to general anesthesia, an epidural catheter – which puts pain medicine into the space around the spinal cord -- was placed to further reduce postoperative pain. Before and during surgery, Rachel was given antibiotics to reduce her risk of developing an infection.
I'm not a complainer, but last night after my surgery, I was in a lot of pain. Around 2 a.m, I started having terrible muscle spasms in my right thigh, where my femur was cut out. Even though I was getting intravenous morphine through a pump, the pain was a 7 on a scale of 1 to 10. I can push a little button on the pump if I need extra morphine. I was pushing that button a lot last night. Eventually, they started giving me Valium every six hours on top of the morphine.
Now it's about 2 p.m. and the pain is down to a 2. That's not too bad. (The worst pain I ever had in my life was in my knee before the doctors figured out that Ewing's sarcoma was causing it. On a scale of 10, that pain was a 20!)
You can probably guess that I'm not in the mood to write for the blog, so this post is based on what I told my dad, Kurt, and the Inquirer reporter, Marie McCullough. They did the actual writing.
10:34 am
Hello, my name is Kurt Kovach. I'm Rachel's father. Rachel is undergoing her limb salvage surgery as I type this from the surgical waiting room. Kissing her on her beautiful head and telling her we would see her in a few hours a short time ago was one of the toughest things Mari and I have ever done. We know that Dr. Dormans is the best surgeon in the world to perform this procedure and we are blessed to have him working on our Rachel. It's still very hard to watch your child get wheeled off to surgery, in tears because she is afraid, by people that you met only moments before.
We just got a "thumbs up" update from the surgical nurse that makes the rounds every hour updating families in the waiting room at CHOP. The waiting is excruciating. Every time the door to the waiting room opens, we hope it's the nurse with news on how Rachel is doing. We knew going into this surgery that it would take five or six hours but that doesn't stop us from starving for information.
I'm in the car with my parents right now on my way to CHOP. It's about 1:45 pm and I need to get to the oncology clinic to get my port (a tube implanted in my vein to make intravenous therapy easier) accessed, have my blood typed and cross-matched in case I need a transfusion during surgery tomorrow, and have my blood counts done one last time to make sure I'm up for surgery.
My counts were looking good last week so everyone expects that I'll be good to go for surgery tomorrow.

I would be lying if I told you I wasn't scared out of my mind right now. The things that keep me going right now are all of the prayers that people are saying for me and knowing that Dr. Dormans is the best surgeon there is to deal with my bone cancer. I really want this to go well.

I spent a lot of time yesterday with some of my friends, including two who had Ewing's sarcoma and were operated on by Dr. Dormans. I met them after I was diagnosed with Ewing's and they help me see light at the end of the tunnel. We were putting up flyers for a bike-riding fund-raiser to benefit MakeNoise4Kids.
It's a foundation that raises money for pediatric cancer research. One of my friends started this foundation after he went through treatment for Ewing's at CHOP. I'm a junior member of the board and I'm looking forward to helping raise more money for pediatric cancer research again after my surgery. I think it's really unfair that only 3% of funding for cancer research is focused on children, that's why I'm helping MakeNoise4Kids.