Now that the brace has finally been taken out of my life, I have started physical therapy to get me off of crutches and back on two wheels. After the first two sessions, I discovered that I will be sore after PT -- but not as sore as I thought I would be. Also after only two sessions, I can use just one crutch to walk a short distance. If it isn't a short way, I have to use two crutches.
Some more good news: I am one report away from being done with school for the year! I have just finished a 3-page report for language arts. Now, I just have a report for science and then I will be done with 6th grade. I still have to do what my school calls "summer choice," which is when we have to pick a few projects or workbook pages to do over the summer. The goal is to get a total of 10 points; each of the assignments is worth up to three points.
In my last blog, I forgot to say thanks to Jenelle of Musicians On Call. I had just gotten to my hospital room on the first day of my last admission for chemotherapy when she came in and asked if she could sing me a song. What a voice she has! Jenelle is an opera singer and sang "My Dear One" in Italian to me. It was so soothing.
---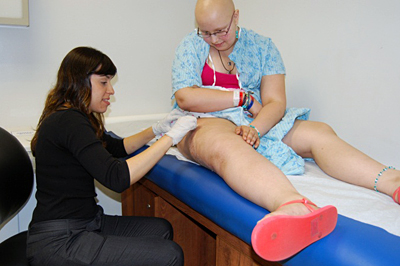 I can walk!
I am at CHOP for a five day round of chemo that ends late Monday. Dr. Balamuth arranged for me to start this round early (I usually start on Friday) because I had an appointment to see Dr. Dormans on Thursday so he could check on my progress to see if I could get part of this brace off.
My visit with Dr. Dormans was GREAT! He had me take my brace off and I got my examination with my brace completely off for the first time. It was such a relief to have that thing off. He looked at my incision and was really happy with how well it has healed. Most of the steri-strips had fallen off; there were only a dozen or so left. Dr. Dormans said that the rest of them were ready to come off (yeah!) and that I can shower and even get in the pool if I'm really careful (yeah!). Dr. Dormans has a new fellow (a "fellow" is a doctor training in a specialty, not a guy), Camelia Mattos, working with him. She and another fellow, Juan Pretell, assisted Dr. Dormans with examining my incision, cleaning up the glue from the steri-strips and getting my new X-Rays.
Since my last blog posting, many things have happened. I have been having my math teacher, Ms. Isaksen, come over to my house to help me catch up in math. Thankfully, I don't have far to go until I am all caught up. There is still much more work to be done until I am caught up in language arts, but not much until I am done with religion. Thank the Lord, I don't have anything to do for science and social studies. (Well, not that I know of.) The point is that I am pretty sure I will get to seventh grade. Cross your fingers for me!
On another note, I haven't been so bored the past few days because my friends have been coming to see me. Last Tuesday, one of my best friends - Gabby - came over and we hung out for an hour or two. Then, on Thursday, some of my other best friends, Valicia, Meghan, and Christina, came over and we made jewelry. It's so nice that my friends would take time to come and visit me when I can't really get out of the house easily. Frankly, nothing is easy when you have a stupid bar in between your legs. The thing really stinks.
Speaking of that stupid bar, it might be coming off! I am going to see Dr. Dormans on Thursday and if all goes well, the bar will hopefully come out. Some other good news: Half of my steri-strips are gone. Now you might be asking, "What are steri-strips?" I lik the way Wikipedia explains i: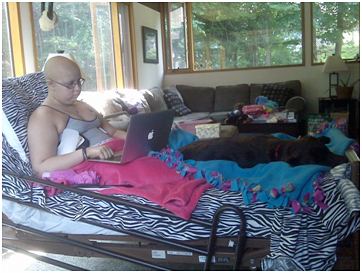 One of the things that I want to talk about today is how hard it is to keep up with schoolwork. If you know anyone who is going through a similar situation, you should share some of the tips with that person.
School has been something that worried me after my surgery. Besides the discomfort, there was always a lot going on and school was the last thing I wanted to worry about. The only problem is that the longer I put it off the harder it will be to finish my work. My teachers have been good about not bombarding me with make-up work but they are reminding me that there is still quite a bit to do. I will have to finish the work over the summer to finish the 6th grade. It will be a lot of work but it's worth it.
For kids who are out of school a lot because of health or personal issues, here are some tips that might make the work a little easier:
Do the work a little at a time so you don't get overwhelmed.
If you need extra help, get a home tutor or ask your teachers to help you catch up at home.
If you can, use Skype or Face Time to connect with your classroom to stay current.
Hello, my name is Renee Rawlins and I have the privilege of being the social worker who supports Rachel and her parents through this journey.
As a pediatric oncology social worker, my role is very different from patient to patient depending on their unique needs and the needs of their family. My role includes but is not limited to: providing supportive counseling to the patient and their family, providing education about hospital and community resources (Connelly Resource Center, Ronald McDonald House), helping patients and families connect with people and organizations outside of the hospital, helping to plan for going back to school, and generally partnering with them to advocate for themselves in the sometimes confusing and challenging world of living with cancer.
When I meet with patients and families I tell them they are allowed to have bad days but they will also have good days. This surprises families at first but with Rachel, her good days have greatly outnumbered her bad days. This is largely due to her relentless enthusiasm and positive attitude. On days that are not so great for Rachel, the other members of the psychosocial team and I get creative and work with her parents to come up with ways we can ease her burdens. Rachel also has a large support system of family and friends who help ensure those good days outnumber the bad days.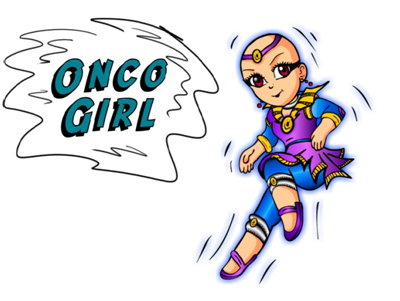 Dad here. From the beginning of this whole process, Rachel shared with Mari and me that she wanted to help in some way to fight pediatric cancer. This is a tough, albeit noble cause for an 11-year-old to take on.
Since her diagnosis, Rachel has endeavored to raise funding for pediatric cancer research and has had every penny raised on her behalf donated to that cause. Her swim team held a fundraising meet at which nearly $20K was donated to pediatric cancer research. There is a Middletown, N.J., Police PBA golf outing fundraiser in early July at which all proceeds will be donated on Rachel's behalf as well.
Rachel told Mari and me a few weeks ago that she wants to use her Make a Wish to fund a public service announcement to raise awareness of pediatric cancer and the fact that only three percent of federal cancer research funding is applied to pediatric cancer, a very different problem than adult cancer.
I've been back at CHOP for round eight of chemotherapy. This is a round that takes five days in the hospital, so it can get really boring.
When I first came in, nurse Jamie was on the job and got my intravenous port accessed on the first try (still batting 1000). Then Dr. Erlich and Dr. Balamuth from Oncology gave me the once over and checked out a rash that I got on my legs from my brace. They gave me some medication and a cream to put on it and it's already getting better.
One of my biggest problems has been getting to a bathroom with my walker and this awkward leg brace. I was still using a wide wheel chair most of the time and a bed-side commode. But after I was admitted and was able to get into a bed in the Oncology Unit, things started going much more smoothly.
Yesterday my parents took me to CHOP to meet with Dr. Dormans for a follow-up visit. It's been three weeks now since my surgery and Dr. Dormans wanted to check on my incision, see how I'm getting around, and maybe take off a piece of this stupid brace.
Dr. Dormans was really happy to see me. He said my incision is healing nicely and he was glad to hear that I'm not having any pain, and I haven't needed any pain medication since before I left CHOP to go home 10 days ago.
He told me to start using crutches instead of a walker because I will be able to get around better and it will help to build strength in my right leg. He told me that I can put up to 50 pounds of pressure on my right foot now -- more than just a toe touch for balance. Another nice surprise was when Dr. Dormans said that the bottom part of my brace, the piece between my right knee and ankle, could come off. This will help me extend my right leg. The brace is heavy and the hinge is quite stiff. Without the bottom of the brace, it will be easier to use crutches, and get in and out of the car.