Hello all! I know it has been way too long since my last blog post so I have a lot to catch you up on. There has been a fair amount of excitement since my last post so I'll stick to the high points.
In May I traveled to Cincinnati with my parents and my swim coach to try to qualify as a disabled athlete. The International Paralympic Committee (IPC) sanctioned a swim meet at the University of Cincinnati where they had evaluators from the International Olympic Committee that would have me do several tests on things like strength and mobility to determine if I am "disabled enough" to compete in IPC events. I wanted to try this path because I have trouble competing with my peers because my surgery left my right leg much weaker than my left. If I qualify and continue to get faster, I would really like to swim in the 2016 Summer Paralympic Games in Brazil. The evaluation was on a Friday and the swim meet was on Saturday and Sunday. No matter what the results of my evaluation, I could still compete in the meet. As it turns out, I would have needed 15 deficit points on my evaluation to be minimally qualified as a disabled athlete. My evaluation resulted in 13 points, two points short of being classified as disabled. My dad and my coach looked a little surprised when the evaluator told us the news. I on the other hand, am OK with this. Because the score was so close, I can be re-evaluated prior to another meet later this year. The swim meet was very cool. There were Paralympians there and in one of my races (200 Breaststroke), a woman two lanes over set an IPC world record. It was very exciting. I worked really hard to get ready for this meet and I swam my best times in nearly every event that I swam in. It was an amazing event and it was great to see so many people overcome their disability and do what they love.
This was the end of the school year, but not just any school year. This was the end of my 8th grade year. That's right, next year I will be attending high school. Our Graduation was something anxiously awaited, but also dreaded. Many of my class mates couldn't wait for the school year to be over, but with the end of the year came the final moments that we could be together as a class. The graduation ceremony however, was wonderful. It was full of laughter, smiles, and great dancing; but mostly tears. I will even admit that I cried a few times, but we all had a great time. The after party was pretty funny too. Some of us are going to the same high school (Saint John Vianni) others are going their separate ways. But one thing is for sure, that we are a family and once a Mother Teresa hawk, always a hawk.
Monday, January 21, along with celebrating the life and work of Dr. Martin Luther King Jr. and inauguration day, marks the first day of National Teen Cancer awareness. While I don't want to lessen the importance of these two great events, I don't want to lose sight of the importance of Teen Cancer awareness. A bill introduced by Senators Robert Menendez of New Jersey and Pat Toomey of Pennsylvania was passed declaring this week National Teen Cancer Awareness Week. Senator Toomey kicked this off with an event at the Children's Hospital Of Philadelphia last Friday.
Dr. Altschuler, the CEO of CHOP opened the event and introduced Senator Toomey who gave a very nice talk about the unique needs and challenges associated with teenage cancer patients. Then we heard from Alex Rotzal, who also writes a blog for Philly.com called "Living with the New Normal." Alex went through treatment at the end of being a teenager, sort of the opposite end from me; I went through treatment just before becoming a teenager. Alex did a great job sharing his unique perspective of going through treatment in a pediatric hospital and being one of the older patients in the program at CHOP but getting the same awesome care that only CHOP can provide. Mrs. Liz Scott, co-founder of Alex's Lemonade Stand. also gave a great talk. Alex's Lemonade Stand, an awesome pediatric Cancer Research foundation that has been very good to CHOP, was founded in honor of her daughter Alex who died when she was 8 years old. Last Friday would have been Alex's 17th birthday and that made this day even more special for all of us.
Teens, who really aren't adults and really aren't children, fall into a strange place and sometimes don't get enough attention. Teens represent a really big part of the cancer patient population. The treatment protocols are mostly developed for adults and adopted for children. Teens kind of fall somewhere in the middle. Teens are going through all kinds of changes, physically, emotionally and socially. Although I was 11 when I was going through treatment, I'm 13 now and all kinds of crazy things are happening in and around me. This would have been really tough if I was going through treatment now. With the introduction of Teen Cancer Awareness Week, maybe we can help focus some much needed research and awareness on teenage cancer patient needs.
---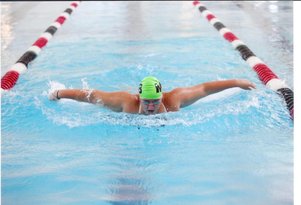 Many things have happened since my last update. I have been training hard at swim practice and gone to different doctors' appointments at CHOP. I had a bit of a scare a few weeks ago when I was having back pain for several weeks. My parents told Dr. Dormans about this at my check up and he ordered a full body bone scan. I remember getting one of those when I was first diagnosed so I was pretty scared. A few days later, I had my bone scan and all is clear. My doctors think this is more due to training hard and my back does feel better now that I am training harder on a regular basis. You might think that a bone scan is kind of extreme to get to the bottom of back pain but after having Ewings, you can't be too careful.
I have entered the 8th grade and will be graduating Middle School this year. My Make-A-Wish is getting closer to being granted. My wish was to have a public service announcement, with Mark Herzlich of the New York Giants, about raising awareness for pediatric cancer. We went over the first draft of the script with representatives from the Make-A-Wish chapter for New Jersey and the Script has been "Rachel-approved." It will now be sent to Mark and the Giants for their approval.
As many of you know, I am a competitive swimmer. Training has been getting pretty hard over the past few weeks and I can definitely feel it afterwards. I have been introduced to new events this year such as the 100 butterfly, 200 butterfly, and the 200 backstroke (which I will be swimming in a few weeks). Dr. Dormans has now allowed me to swim Breaststroke. This has been such great news to me because now I can swim all four strokes.
I'm back ... from my first Ronald McDonald camp experience. I had a blast when I was out in the Poconos for RMC 2012. The 3-hour bus ride alone was fun. We talked for about an hour and a half and the rest of the way, I listened to music.
When we first pulled onto the campgrounds, I could tell I was going to have a lot of fun. The bus drove into a woodsy forest. and I felt right at home. When the buses stopped, there where so many counselors with names of different cabins on them. The cabin I was assigned to was "mango". The girls in my cabin are all very nice and funny. We had some funny conversations and fun times in the cabin.
I was a senior camper, which means that I was old enough to choose the activities I would do for the next week. The activities I chose were going to the lake, fishing, beaded jewelry, and campfire cooking. I made lots of new friends in each of my activities. The food was great!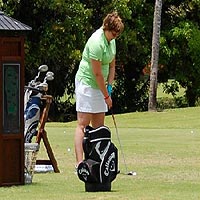 Since I last had a blog update, many things have happened. I went to Children's Hospital of Phiadelphia (CHOP) for a check-up with Dr. Dormans, had my last day of 7th grade, started summer swimming and golf lessons, and went to Puerto Rico for the first time.
Later on this summer I'm going to a camp at one of my counties vocational high schools - The Marine Academy of Science and Technology (M.A.S.T.) - and I'm going to the Ronald McDonald camp in the Poconos. I couldn't go to camp last year because I had just gotten my brace off after surgery, and I was learning to walk with my new endo-prosthesis.
On May 14th, I went to CHOP for a Check-up with Dr. Dormans. He wanted me to get a scanogram to check that my legs were both growing at the same rate. If the leg that I had my surgery on stopped growing, Dr. Dormans would have to go in to my left leg and break the growth plate so that my legs would be as close to the same length as possible. This is something you have to keep an eye on when you have the kind of limb salvage surgery that I had.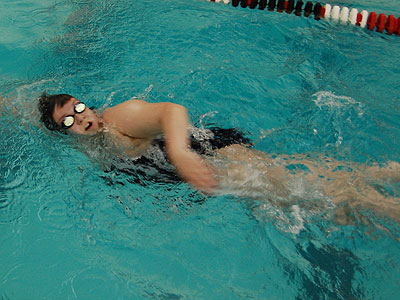 Today it is one year since my limb salvage surgery, pretty much the scariest day of my life. It's also one year now that I'm cancer free.
When I went in to surgery last year, I was afraid that I wouldn't wake up and if I did, my right leg would be gone.
As much as Dr. Dormans and Dr. Balamuth told me that my leg wasn't going to be cut off, I was afraid. After my surgery, Dr. Dormans took my parents in a small room outside the surgical waiting room and told them that my surgery went beautifully. Exactly as he and his team had planned. My parents both cried a bit (that's what they told me), but still listened to every detail.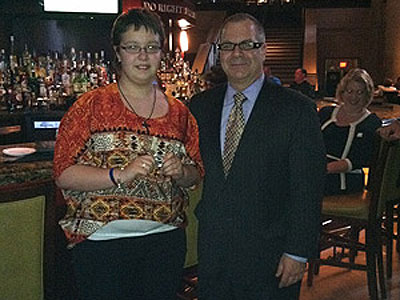 This was a great Easter holiday this year.
On Monday after Easter, I had to go to Children's Hospital of Philadelphia (CHOP) for my three-month scans, blood work and a follow up visit with my oncologist.
My parents and I decided to stay in Philadelphia Sunday night so we could get an early start at CHOP and not have to drive in from the shore Monday morning. After mass on Easter Sunday, my parents and I went to breakfast and then headed to Philadelphia.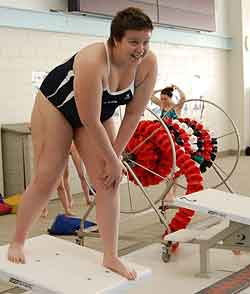 I'm starting to realize what my new normal is after going through treatment and having my surgery.
Having a prosthetic femur has its limits and they are the kind of limits that get in the way of being 12.
A few days ago, I was at a party with a bunch of my friends. There was a trampoline in the yard and my friends just couldn't help themselves from jumping on it and having a great time. I don't blame them. if I could have been in there with them I would have.