Dad here. From the beginning of this whole process, Rachel shared with Mari and me that she wanted to help in some way to fight pediatric cancer. This is a tough, albeit noble cause for an 11-year-old to take on.
Since her diagnosis, Rachel has endeavored to raise funding for pediatric cancer research and has had every penny raised on her behalf donated to that cause. Her swim team held a fundraising meet at which nearly $20K was donated to pediatric cancer research. There is a Middletown, N.J., Police PBA golf outing fundraiser in early July at which all proceeds will be donated on Rachel's behalf as well.
Rachel told Mari and me a few weeks ago that she wants to use her Make a Wish to fund a public service announcement to raise awareness of pediatric cancer and the fact that only three percent of federal cancer research funding is applied to pediatric cancer, a very different problem than adult cancer.
I'm trying to paint a picture here of a little girl in the middle of the fight of her life who found the strength and place in her heart to work toward helping other children avoid this fight in any way she can. Imagine how proud her mother and I are.
To help Rachel's cause as well as for a distraction for all of us, I wanted to create a super hero cartoon character to use as a fund raising logo or some sort of brand for her. I reached out to a very talented colleague to see if she would help create Onco Girl the Super Hero. I described the attributes and color schemes for Onco Girl and we went through a few iterations to come up with the draft in this posting.
Onco Girl's occupation is Super Hero cancer survivor. Onco Girl has a Cobalt Chrome endoprosthesis that gives her super powers. Her uniform is purple and gold for pediatric cancer awareness and cobalt blue for her super hi-tech prosthesis.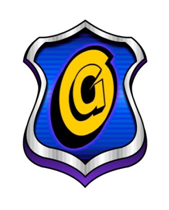 Onco Girl has a cobalt chrome shield emblazoned with a gold G surrounded by an O. She can fly, which helps her quickly travel the world to tell children and their families who are facing cancer treatment that there is hope and great care right here in Philadelphia at CHOP.
Onco Girl is also on a mission to raise awareness regarding pediatric cancer and raising research funding to make the fight easier for children who follow in her footsteps.
---
Click HERE to comment or read comments on the Onco Girl blog. Comments will be moderated.