Archive: August, 2011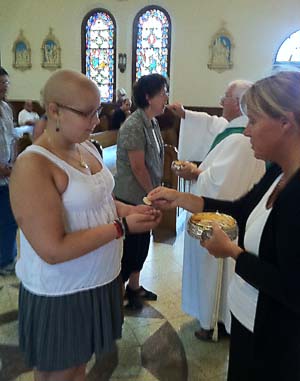 This past Sunday at Mass I was thinking about finishing up my cancer treatment. I go in for my last round of chemotherapy this Friday and will be at CHOP until Tuesday when I will finish my 14th (and final…YES!!!!!) round.
Thinking about this, I have a lot to be thankful for. When I first went to the doctor in New Jersey because my knee hurt last winter, my local orthopedic doctor had a professional relationship with Dr. Dormans at CHOP, so he was able to get me in to see Dr. Dormans the next business day after my MRI results showed I might have Ewing's sarcoma. My parents did a lot of research and found out that Dr. Dormans is pretty much the best doctor in the world to work on you if you need surgery for Ewing's.
I have a lot to be thankful for. The oncology team at CHOP actually developed the standard treatment for Ewing's that is used around the world.
Today I'm at CHOP for my second-to-last round of chemo. This is a one-day round so I'm in the day hospital. This is pretty different from an in-patient stay because we come in early in the morning and go home the same day. I like this because I don't have to stay in the hospital overnight.
We do have to be here pretty early so I stayed in a hotel with my parents last night in Philadelphia so we didn't have to drive the two hours from Sandy Hook in the wee hours of the morning. Actually, we spent the whole weekend in Philadelphia to celebrate my Dad's birthday, as well as be close to CHOP for today.
We went out to dinner Saturday night and to the Reading Terminal Market on Sunday. I can't really get into a normal taxi because my hip doesn't bend that well yet after my surgery. The taxis here in Philadelphia have sort of a wall thing behind the front seat and the back seats don't really have enough leg room for me (at least until my new hip is a little more flexible). We stayed at the Four Seasons and the people there were so nice to us. They let me ride in their (very nice) car to dinner and to the Reading Terminal. I want to send out a special thank you to the people at the hotel for helping to get me around Philadelphia.
Hello, my name is Melissa Whelan Wisk. I am Rachel's principal at Mother Teresa Regional School. Her parents asked me to write a blog entry through the lens of the educator of a pediatric cancer patient, and how we got through the school year together.
Of the things that you never want to hear as a principal, one would be that a student has cancer. Working with Rachel has been an incredible journey. It's one that I wish we did not have to take, but I think all of us in our school community have learned a great deal about life, faith, and community by walking this journey with Rachel.
Our first concern has always been getting Rachel well. Convincing Rachel of that early on, before treatment really began, was hard. Rachel missed many days for doctor's appointments and quickly began to feel behind even before she had to stay home for chemotherapy treatments or as a result of the surgery. I remember one conversation where I explained to Rachel that as the principal, I could decide when to give her the report card, and not everything had to be done by the end of the second semester. It took some work to help her understand that the faculty and staff wanted her doing well and feeling well more than they wanted completed assignments.
I have come to the conclusion that I'm pretty tired of being treated for cancer.
I was getting a little depressed, didn't want to leave my hospital room when I was at CHOP, and wasn't really talking to anybody. So yesterday, I decided that I'd had enough of being stuck in this room and went outside to the courtyard with my parents to get some fresh air - chemotherapy infusion pump and all. There I was, sitting in the garden, and the only noise other than a car going by once in a while was the infusion pump on the pole. (Boy, am I ready to get rid of this thing.)
The courtyard outside of CHOP is really nice. There are some flowers and a statue of a panda bear that I've wanted to go see. My Mom and Dad rolled me outside and we had a chance to get a little family time. It was a whole lot better than being cooped up in my hospital room in the oncology unit. The nurses and doctors were really nice, but the walls were starting to close in on me in here.