Archive: July, 2012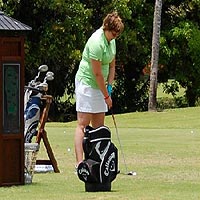 Since I last had a blog update, many things have happened. I went to Children's Hospital of Phiadelphia (CHOP) for a check-up with Dr. Dormans, had my last day of 7th grade, started summer swimming and golf lessons, and went to Puerto Rico for the first time.
Later on this summer I'm going to a camp at one of my counties vocational high schools - The Marine Academy of Science and Technology (M.A.S.T.) - and I'm going to the Ronald McDonald camp in the Poconos. I couldn't go to camp last year because I had just gotten my brace off after surgery, and I was learning to walk with my new endo-prosthesis.
On May 14th, I went to CHOP for a Check-up with Dr. Dormans. He wanted me to get a scanogram to check that my legs were both growing at the same rate. If the leg that I had my surgery on stopped growing, Dr. Dormans would have to go in to my left leg and break the growth plate so that my legs would be as close to the same length as possible. This is something you have to keep an eye on when you have the kind of limb salvage surgery that I had.