Archive: March, 2012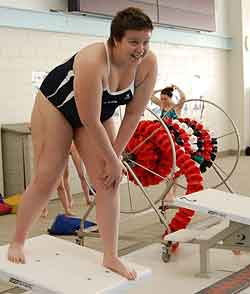 I'm starting to realize what my new normal is after going through treatment and having my surgery.
Having a prosthetic femur has its limits and they are the kind of limits that get in the way of being 12.
A few days ago, I was at a party with a bunch of my friends. There was a trampoline in the yard and my friends just couldn't help themselves from jumping on it and having a great time. I don't blame them. if I could have been in there with them I would have.
This weekend is huge for my fellow swimmers and I; it's time for the NJ 9/10 and 11/12 state swimming championships. I look forward to this meet every year because this meet is so fun to be at. The longest event I am swimming is the 200 yard freestyle, that's 8 laps up and down the pool. I am swimming 5 other events and once I get the results, I will put them in my next blog.
Also I got my report card this week. I got all A's and first honors at my school for the second time this year. I have to keep my grades up if I want to get into the high school I want to go to. The high school I want to apply to is sort of like a medical prep school. The curriculum there is supposed to be tough, but it is similar to my current curriculum in terms of how hard it is.
This Sunday my dad is participating in a parent panel at the CHOP Cancer Center Family Education Day. This event addresses the emotional and physical challenges associated with a child's cancer diagnoses. My dad, along with other parents of children who have survived cancer, will share their experiences and answer questions.
---