Archive: December, 2011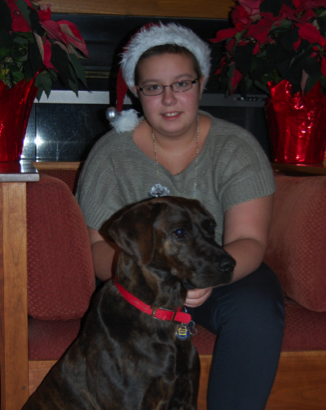 I hope everyone reading this is having a nice holiday season. We had a wonderful Christmas in my house this year. Santa was good to me and even Coco (my dog) was happy with her presents, though she destroyed a few of them in minutes.
I had a pretty big day this past Tuesday—a hospital visit for my three-month scans after finishing chemotherapy. My appointment was at 10:30 in the morning so we didn't need to go the night before. It was pretty easy to leave in the morning at a reasonable hour and get to Children's Hospital of Philadelphia (CHOP) in plenty of time to make my appointment (I'm really not a morning person). I asked my Dad to stay home because he is still feeling a little under the weather, and I didn't want him to be near any of the kids with compromised immune systems. He was pretty disappointed—we usually go to all of my appointments in force as a family—but he understood. The scans went off without a hitch, right on time, and then we were off to get an x-ray of my femur and prosthesis.
Not long after getting my scans, my mom's cell phone rang. It was my oncologist, Dr. Naomi Balamuth with wonderful news; She said I am all clear and that my scans were "beautiful." This is such a relief and a great Christmas present.
This week has been a big week for me. I'm back in school full time this year after missing a lot of the later part of sixth grade. I actually didn't finish the sixth grade until around the end of July. My teacher at CHOP and my teachers from Mother Teresa were very patient with me and made sure that I worked hard once I felt good enough towards the end of my treatment. My days and weeks now are pretty busy with physical therapy to strengthen my leg, swim practice with the Monmouth Barracudas and lots of homework. I had to go from two physical therapy sessions a week to three because my physical therapist didn't think I was progressing fast enough. Now that I have been going three times a week, I limp less and I feel stronger. I had to trade one day of swim practice per week to get in the third physical therapy session but first things first. All that said, finding time for 7th grade homework (we get lots of homework) is pretty tough but I make it work. Back to this being a big week, I got my report card this past week and I got all A(s). I worked hard for those grades and I feel pretty good about my report card.
I also felt good enough Sunday to swim in my first sanctioned swim meet this year. I swam the 50 yard freestyle, 50 yard butterfly and the 50 yard backstroke. Notice I swam every stroke except breast stroke. Dr. Dormans, my Orthopedic Surgeon said that because of my prosthetic femur, I shouldn't swim breast stroke because the stress it would put on my hip joint might cause it to dislocate (not good). So, if you read this Dr. Dormans, I did listen. Back to the meet… take a look at the video of my 50 yard butterfly embedded in this blog. I'm in the closest lane in the video. I swam my fastest 50 fly by almost two seconds. That's alot even though it doesn't sound like it is. ☺
---
Click HERE to comment or read comments on the Onco Girl blog. Comments will be moderated.