Rachel returned to the orthopedic clinic for her first post-operative visit today. Her surgical wounds are healing well, and her x-rays confirmed excellent appearance and placement of the endoprosthesis. She is neurovascularly intact, and her legs are equal in length.
The abduction brace that has kept her right hip immobilized has been modified with the removal of the lower portion today. As Rachel gets stronger, she will participate in physical therapy to allow her to go up and down stairs safely using crutches. Our ultimate goal is to help Rachel improve range of motion in her affected leg to allow her to function independently. Her uncomplicated recovery so far leads me to believe that she will continue to improve.
Best news: the margins of the removed tissue were free of tumor. Chemotherapy destroyed 90% of the tumor tissue prior to Rachel's surgery.
My name is Naomi Balamuth and I am one of Rachel's oncologists at CHOP. Rachel and her family asked me to update you on her treatment.
As you all know, Rachel had her surgery on May 3rd, 2011. We recently were able to review the pathology slides, and are very happy with the results. When we looked at Rachel's tumor under the microscope, we saw that the large majority of her tumor was dead. This means her tumor responded very well to the chemotherapy. In addition, Dr. Dormans (Rachel's surgeon) was able to achieve "negative margins" -- all the tumor was removed with a rim of healthy tissue around it. That's also great news because it means Rachel will not need radiation therapy. Radiation can have significant long-term side effects for our cancer survivors, so we were very happy to cross that off the list of treatments for Rachel!
Moving forward, she will continue to receive the same chemotherapy that she got prior to her surgery. She will be admitted to the hospital every 2 weeks. So far, she has tolerated the treatment beautifully. Her smile and positive attitude are remarkable! It is a true pleasure seeing her in clinic each week. We have every expectation that she will continue to do well, and we hope for a bright future, full of time with family, swim meets, and pillow fights!
---
Today, we're tinkering with the usual blog format. Rachel's dad, Kurt, has great news to share. And Rachel has answered some questions from her readers. (Feel free to post more questions in the comment box for Rachel to answer in the future.)
Kurt Kovach here. We heard from Rachel's doctors yesterday and today regarding the pathology analysis of the bone and tissue that was removed during her surgery. The results are very encouraging. The edges of the removed tissue are "clear," meaning no cancer cells were found. And farther inside the tissue, the percentage of cancer cells that are "necrotic," meaning killed by the chemotherapy, is very high. Her doctors are very pleased -- and we're thrilled.
Q & A with onco girl:
Hello. My name is Dr. Lamia Barakat. I'm director of psychosocial services in oncology and a psychologist in the Children's Cancer Center.
In Rachel's posts, she's introduced you to some of the members of our team (Brittany, her child life specialist, and Jamie, her hospital school teacher). I thought I'd chime in to give you more information about who we are and what we do to support children with cancer and their families.
The psychosocial team has social workers, child life specialists, and child activity coordinators, art and music therapists, hospital school teachers, and psychologists. We work with the medical team to help children and their families adapt to cancer and its treatment. Our job is to provide direct services, educational materials, and special programs. We support families in better understanding what to expect during cancer treatment, learning ways to use their resources, using positive coping, accessing their social supports, and keeping 'normal' routines and activities a person their age would usually keep (like playing and going to school).
I'm finally home! But getting here and getting set up was a lot harder than I thought it was going to be.
On Friday at CHOP, we had to get a lot done before I could go home. My parents, nurses, physical therapist and I had already spent a lot of time figuring how we were going to get me into our car. My dad brought a big SUV, but I have this giant, heavy, metal and plastic brace on my leg – from my waist to my right foot -- that only bends a tiny bit at the hip and knee. If I couldn't get into the car, we would have had to go back and forth to CHOP -- a two-hour drive -- in an ambulance until I got my brace off! Needless to say, my parents and I really wanted to find a way to get me in the car.
We finally figured out that the front passenger seat was a fit. From my wheel chair right next to the car, I had to stand on my left leg and, using my walker, pivot so my back was up against the front seat. Then with the front seat all the way back, I hoisted myself using my left leg on the running board and the handle next to the door. Once up on the seat, I had to scooch around a bit until I got into a position where my legs fit and I could close the door. I just fit! Then, my dad had to figure out how to pack all of my luggage, books, blankets, stuffed animals, plus balloons and gifts I had received, and the wheelchair, in the back of the SUV. (Hey, I'm a girl and my dad tells me I don't travel light).
Mom here. I thought I had a few years to go before worrying about Rachel's first prom, but this year has been full of surprises -- and the fact that Rachel is going to the prom tonight at CHOP is no exception!
The hospital has a great program. As I understand it, the event started mainly for kids of traditional prom age who would otherwise miss the proms at their schools due to a hospitalization. Now, the event is opened to all the patients. The hospital has been abuzz today with everyone from the patients to the staff and a host of volunteers getting ready for the big night.
Rachel is very excited about it. She spent the afternoon "shopping" for a prom dress from a room full of donated apparel. After trying a half-dozen dresses, she finally settled on the perfect yellow gown. Then she had her make-up and nails done by a professional volunteer. And then off to select the perfect jewelry to complement her outfit. Rachel looks gorgeous! You should have seen her face light up as she looked into the mirror and saw her reflection. Ready to go for her first prom!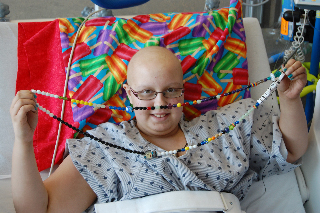 Today was a pretty big day for me. It is exactly one week since my limb-salvage surgery. The doctors removed the drains (vacuum-like tubing that removes the leaking blood and fluids from the area that was operated on). Right now, I'm not hooked up to ANYTHING, so I enjoyed a ride around the hospital in my wheel chair!
My leg brace also came today. Wearing this brace instead of using the abductor pillow will allow me to move more freely while keeping my hips aligned while I heal from the surgery. I will begin physical therapy with the brace tomorrow morning with Nickie so I can learn how to do things safely and finally go home from the hospital!
The other thing that I got to do today (besides go to school for two hours with the CHOP teacher Jamie) is update my Beads of Courage. When I started my treatment back in February, one of the child-life specialists, Brittany, told me about the beads that oncology patients collect to represent different parts of treatment. My favorite bead is the purple star that you get for having surgery. My strand of beads is already about 4.5 feet long -- and I'm only about half way through treatment!
Sunday was a big day. Ms. Kristen, my physical therapist, came by to help me get out of bed. She brought a recumbent wheel chair (that's a wheelchair that reclines) so I wouldn't have to bend my new hip joint too far when I went for a cruise around the floor here on Four South and East -- and where ever else I could go without getting into trouble.
About an hour before Ms. Kristen came to help me, nurse Julia gave me my pain medication so it wouldn't hurt too much when I moved for the first time. I take most of my pain medication in pills now. I'm almost entirely disconnected from my I.V. pole; it's only there now for antibiotics and my PCA -- that's the button I push if I need pain medication in a hurry. I haven't needed the button much lately. This means I'm mobile!
It took a few minutes to get me situated and sitting on the side of my bed. It felt great to sit up with my legs and feet off of the bed. Ms. Kristen and nurse Julia helped put my weight on my left leg, the one that wasn't operated on, and then shifted me onto this cool wheelchair. It didn't really hurt when I sat up or when I got in the wheelchair.