Archive: March, 2012
 West Whiteland Township Police made two driving-under-the-influence arrests this week after observing examples of impairment.    In the first case, police said David Noonan, 31, of Downingtown, lost control of his vehicle on the Exton Bypass Saturday at 1:30 a.m. while trying to avoid a deer.  When officers arrived to investigate the crash, they detected evidence of intoxication and issued a series of field sobriety tests.  Noonan failed those tests and was placed under arrest for DUI.  He was taken to the Chester County Hospital to have blood drawn for BAC analysis, after which he was booked and released to await a summons from the Exton District Court, police said. A 17-year-old West Chester youth was arrested for driving while intoxicated Tuesday in the Exton Station development.  According to police, a patrol officer heard a crash and saw a vehicle travel over a curb and sidewalk.  The vehicle came back onto the roadway and nearly struck the police car.  The officer stopped the driver and immediately detected an odor of marijuana coming from the car and the operator.  Subsequent investigation resulted in the discovery of a bag of marijuana and a smoking pipe.  The driver was placed under arrest for DUI, taken to the Chester County Hospital for blood withdrawal, booked, and released to a parent.  Charges have been filed with juvenile authorities.    
As part of its "Changing the Culture Disability Awareness Series," West Chester University will present I. King Jordan, Gallaudet University's first deaf president, on April 19. The program will be held from 3:30 to 5:30 p.m. at the campus's Sykes Theater. Jordan, who grew up in Glen Ridge, Pa., became Gallaudet's president during the famous Deaf President Now protest at the school in 1988. Although he retired a few years ago, he offered inspiration to many deaf and hard-of-hearing people, who have often repeated one of his most famous quotes: "Deaf people can do anything hearing people can, except hear." Sign language interpreters will be provided.    
Harnessing therapeutic, equestrian energy, Horse Power for Life will host its Fifth Annual Pink Horse Shoe Gala and Silent Auction to benefit families living with cancer on April 14.
This year's formal, fund-raising event will start at 7 p.m. at the Crowne Plaza's Freedom Ballroom in King of Prussia. Tickets, which cost $120 per person, include open bar, hors d'oeuvres and dinner. They can be purchased online at HorsePowerForLife.org. Sponsorships are still available.
Horse Power for Life is a non-profit organization based in Chester County that is dedicated to improving the physical and emotional quality of life for individuals of all ages who are diagnosed with cancer, by providing a 16-week therapeutic and educational horsemanship program.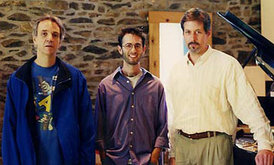 Jazz fans are in for a treat next Wednesday night as West Chester University presents the Turks Head Knot Contemporary Music Ensemble.
The free concert, which will be held at 8:15 p.m. at the Gates Family Recital Hall in the Swope Music Building, will feature Peter Paulsen, director/double bass; Chris Hanning, percussion; and Chris Bacas, alto and soprano saxophones. Special guests will include mezzo soprano Charlotte Paulsen and Adam Unsworth on the French horn.
The Turks Head Knot Contemporary Music Ensemble incorporates the discipline and precision of modern classical composition with the expressive flow of jazz improvisation to forge its own sound. Newly commissioned works as well as arrangements drawn from a wide range of material are staples of the ensemble's repertoire. The program will consist of premieres of new works by Pin Hsin Lin and Peter Paulsen, unaccompanied solo arrangements, as well as arrangements of pieces by Wayne Shorter and Ralph Towner. For more information, call 610-436-2739 or visit www.wcupa.edu/CVPA/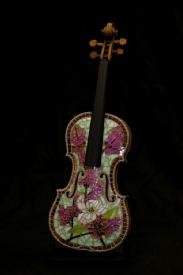 Creating art on an unfinished violin was a painstakingly piecemeal process for an Upper Uwchlan woman, who used bits of vitreous and stained glass and mirror to capture beautiful images of springtime.
Amy Bruckner of Piece of Mind Mosaics was one of 20 artists selected to participate in the Painted Violin Project, a fundraiser to support the Community Music School of Trappe in Montgomery County, which is celebrating its 20th anniversary.
The violins will be displayed at various venues until October 2012 and bids may be placed on the violins until Oct. 2 at an online bidding site: www.biddingforgood.com/communitymusicschool. The violins will be auctioned at a gala on Oct. 4. Bruckner's violin, inspired by Copeland's "Appalachian Spring," will be on display in the main lobby at the Kimmell Center until the end of this month. For more information on Bruckner's work, visit www.piece-of-mind-mosaics.com.
Continuing a program that began with police officers, emergency responders will unveil plaques memorializing three firefighters at an April 14 tribute at the historic courthouse in West Chester.
The 11 a.m. ceremony will recognize three members of the Malvern Fire Company — William Garrett Clifford Kilpatrick, Clarence Gregg Clarence Matlack, and Charles Henry Munch. The three were killed in the line of duty protecting the citizens of the Malvern area on March 24, 1931.
The ceremony, co-sponsored by Chester County Fraternal Order of Police Lodge 11 and the Chester County Hero Fund, is an extension of a program modeled after one started in Philadelphia in 2000 by lawyer and boxing promoter Jimmy Binns. With Binns' input and participation, a row of bronze plaques began growing in 2009 along the Market Street side of the historic courthouse. They now pay tribute to all of Chester County's nine fallen officers.
These days, even in a relatively safe county, few people remain untouched by crime, either directly or indirectly — a good reason to participate in the 17th Annual Chester County Race Against Violence.
Pre-registration is now underway for this April 28 fund-raiser to benefit the Crime Victims' Center of Chester County's victim services and prevention/education programs. For those who pre-register by April 15, the cost is $20 and can be done by mail or online at www.cvcofcc.org. All participants receive a t-shirt. The family maximum is $60, which includes up to five t-shirts.
On the day of the race, which will include a 5K run/walk and a 1-mile walk, registration and check-in will be held from 7:45 until 8:45 a.m. at the Chester County Justice Center, 201 West Market St., in West Chester. The cost that day will be $25 per person. Trophies will be awarded to the top male and female runners, and awards will be presented to the winners of each age group. For more information, call the center at 610-692-1926 or visit the agency's website: www.cvcofcc.org.
Highlights of yesterday's monthly West Chester Area School Board meeting included approval of a preliminary budget for the 2012-2013 school year, the district reported.
The $202.7 million budget exceeds the current budget of $201.7 million, resulting in an expected 1.7 percent tax increase. It includes reductions in expenses by more than $1.1 million, new revenue sources for more than $350,000 and the use of $1.4 million from the budget reserve. The final budget is scheduled for adoption at the April 30 meeting. More information about the proposal can be found at http://home.wcasd.net/files/_abLJp_/8e9e5b13ebfcb45d3745a49013852ec4/2012-13Budget_presentation_Revised_3.16.2012_revised.pdf.