Archive: February, 2012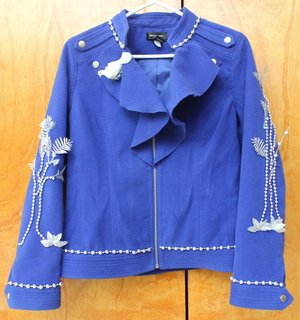 Two art shows will open Thursday at the Chester County Art Association in West Chester.
In the Allinson Gallery, a juried group show comprised of almost 200 pieces united by the theme of "Water" includes an array of works in all media, both representational and abstract. The juror for the show is Donna Usher, an art professor at West Chester University who is represented by the LGTripp Gallery in Philadelphia.
On display in the Huston Gallery is an exhibition entitled "Coats of Hope," an exhibition of art coats created by the Cancer Survivors' Art Therapy group, which meets at the Chester County Art Association. The embellished and tailored coats are as varied as the artists who have made them. They are meant as an individual expression of each person's hope in dealing with the experience of cancer.
Two Chester County residents were tapped to sit on Gov. Corbett's newly-created Advisory Council for Hunting, Fishing and Conservation, the governor announced today.
"Pennsylvania's rich outdoor heritage, including activities such as hunting, fishing, trapping, birding, wildlife viewing, boating and hiking, are enjoyed by more than 5.9 million Pennsylvania residents and visitors each year," Gov. Corbett said in a news release. "These outdoor recreational activities annually generate more than $5.4 billion for Pennsylvania's economy, which makes this council's input very critical."
The order creating the new panel consolidates several previous advisory councils into a single entity that will make writen recommendations on issues such as regulations. The new council consists of individuals concerned with the recreational use and conservation of Pennsylvania's natural resources, including hunters, trappers, anglers and other conservationists, the release said. They include Brett Unruh of Coventryville and Robert McRae of West Chester.
A Birdsboro man apparently got his signals crossed last week, police said: He allegedly scheduled his time to steal copper wire near the Whitford train station at the same moment that an Amtrak electrician arrived to do repair work.
West Whiteland Township police said the electrician, who was sent to repair damaged signal lines just west of the train station Friday, told police he found a man standing on a ladder and cutting signal lines with a saw. The electrician called police to report the attempted theft of copper wire, police said. When responding officers arrived, James F. Martin, 40, had already fled, but he tripped on the tracks and fell, enabling police to take him into custody without incident.
Martin was arraigned and taken to Chester County Prison after failing to post $75,000 cash bail; a preliminary hearing is scheduled for tomorrow, court records said. The estimated cost of repairing the damage done by Martin was $10,000, police said.
Tributes have been scheduled for Alonzo Lewis, the basketball legend who was killed last week in a car accident. The former La Salle University standout and beloved coach at Chester High and Cheyney University had been crossing the street to a Catholic League girls' playoff doubleheader at Philadelphia University.
Lewis, who guided Chester High to two PIAA Class AAAA state championships during his coaching tenure there, will be honored Saturday at 1 p.m. at the school, according to a notice from Unionville High School, where his daughter is a basketball star. Another tribute is scheduled for March 12 at 7 p.m. at Westminster Presbyterian Church, 10 W. Pleasant Grove Rd., West Chester.
During a decade in Chester, Lewis, 77, of Chadds Ford, compiled a 237-67 record and won six league championships. His Clippers took home state gold in the 1988-89 and 1993-94 seasons. Lewis also coached at the old Darby Township and Academy Park. His overall high school record was 433-146.
A Delaware man working for a flooring contractor is accused of conspiring with his wife to rip off a Thornbury Township resident, police said today.
Westtown-East Goshen police said the resident, who lives in the 700 block of East Street Road, called police Tuesday after discovering that assorted jewelry valued at $300 and a credit card had been taken between Feb. 11 and 19 and that the credit card had been used for unauthorized purchases in Delaware.
Detectives traveled to Delaware to obtain store surveillance video during times when the stolen credit card had been used to pay for merchandise that cost $83.41, police said. Detectives traced the purchases to Eric McBride, 36, of New Castle, De., and his wife, Jennifer McBride, 18, who has a Claymont, De. address. Det. William Cahill said Eric McBride had access to the inside of the home while working for a Wilmington-based flooring installation contractor.
Handcuffs were probably not the jewelry of choice for a pair of alleged brazen daytime thieves in Exton, but that's what the pair's activities yesterday earned them, police said.
West Whiteland Township police said Bryan K. Twaddell, 41, of Coatesville, and Michelle Rae Sharpless, 40, of Downingtown, were observed at 9:18 a.m. in the Exton Kmart, where Twaddell used an unknown object to pry open jewelry cases. He and Sharpless then emptied $22,419 worth of jewely into her pocketbook and exited the store.
Less than an hour later, the pair were seen inside the Kohl's Department Store in Exton, police said, where Twaddell was observed using an unknown object in an attempt to pry open several jewelry cases. Sharpless was observed assisting him in his unsuccessful attempts to gain access, police said, adding that the couple was seen fleeing the parking lot in a Chevrolet Blazer.
The popular, annual two-day Used Book Sale at Unionville High begins tonight at 5 p.m.
Patrons can select from thousands of books in over 40 genres. The sale, a major fund-raiser for the PTO, is held in the high school gymnasium. Its hours are 5 to 9 p.m. tonight and 9 a.m. to 2:30 p.m. tomorrow. Then, the doors shut for half an hour so volunteers can get ready for the $8-a-bag finale, which runs from 3 to 5 p.m.
New Garden Township police want to remind residents of two ongoing crimes: thefts from vehicles and thefts by a scam artist posing as an electric company representative.
Police are investigating an incident of multiple thefts from vehicles from a business parking lot in the unit block of Hartefeld Drive on Feb. 17. Several vehicles were broken into, and the items stolen included electronic equipment, a purse containing credit cards, and a briefcase containing checkbooks. The public is reminded to not leave any valuables in their vehicles, whether in plain sight or hidden.
The second warning stems from a recurrence of thefts by a male claiming to be an employee of Peco Energy. The male calls the mostly Hispanic victims and advises them to send payment via MoneyPak cards to avoid having their service shut off. Victims have sent the payment and later learned from Peco that they were scammed. The police urge residents to contact Peco directly about payments and not to send money to someone who contacts them by phone.