Esperanza Neu, a 2010 graduate of Strayer University, will be honored tomorrow at the school's commencement in Philadelpia. Neu, a West Chester resident, will receive the "Outstanding Alumni Award" for her role as the vice president ot talent acquisition and diversity at AmerisourceBergen Corp. as well as community work, such as being a board member of Congreso de Latinos Unidos. The graduation will be held at Temple University's Liacouras Center.S
Bill "Grumpy" Jenkins , an internationally acclaimed drag racer and engine builder, died yesterday at Paoli Memorial Hospital at the age of 81. Jenkins, who grew up in Malvern, founded Jenkins Engineering and was widely regarded as an innovator who was responsible for numerous advances in drag-racing technology. He reportedly earned his nickname for his no-nonsense approach to the sport.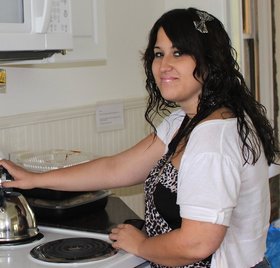 Special-needs students are getting special attention, thanks to the Chester County Intermediate Unit's Transitional Living program.
During a typical week, a student will have worked at one of the program's job sites, visited community businesses, exercised at the YMCA, and spent the day at West Chester University with education majors who serve as mentors. The program is designed to help students aged 18 to 21 years, who are enrolled in a Chester County public school district, prepare for life after high school. Its main features include independent-living experiences, community interaction, self-care skill building, job training and work experience.
Instead of reporting to school each day, the students' home base is a house or apartment, depending on the program location. There, they assume shared responsibilities of adult living, such as household chores, meal preparation, and budgeting expenses. The program's first location was an apartment in downtown West Chester; it has since expanded to provide the same opportunities to students in southern Chester County with the addition of a Kennett Square location.
An apparent abundance of brazenness and lack of brains led to the arrest of an Avondale teen on burglary charges, police said.
New Garden Township police said they took Phillip C. Doty, 19, into custody on Friday after a report of a burglary at an occupied residence in the 100 block of Interlachen Court. Footprints left in the house and outside were followed to Doty's residence, and the victim made a positive ID, police said. Doty was released after posting after posting $1,000 cash bail to await a preliminary hearing on April 20, court records said.
At the Chester County Community Foundation's annual Sweet Charity fund-raiser on Tuesday at Waterloo Gardens in Exton, 19 pastry chefs vyed for top honors in front of a record-breaking crowd of 600, organizers said.
The winners included Cake Pops from Cakes & Candies by Maryellen, popular vote; Truffle Razz Pizzazz from Carlino's Specialty Foods and Catering, most creative; and Keys to My Heart from St. Peter's Bakery, professional judges' best dessert.
This year's event honored the late Linda LeBoutillier, who passed away last fall. Sweet Charity benefits the Chester County Community Foundation, which helps families and businesses become involved in long-term charitable by encouraging legacy gifts and increasing awareness of the needs and issues facing Chester County. The Community Foundation holds over 350 funds in trust and annually awards $2 million in grants and scholarships. For more information, visit www.chescocf.org.
 West Whiteland Township Police made two driving-under-the-influence arrests this week after observing examples of impairment.    In the first case, police said David Noonan, 31, of Downingtown, lost control of his vehicle on the Exton Bypass Saturday at 1:30 a.m. while trying to avoid a deer.  When officers arrived to investigate the crash, they detected evidence of intoxication and issued a series of field sobriety tests.  Noonan failed those tests and was placed under arrest for DUI.  He was taken to the Chester County Hospital to have blood drawn for BAC analysis, after which he was booked and released to await a summons from the Exton District Court, police said. A 17-year-old West Chester youth was arrested for driving while intoxicated Tuesday in the Exton Station development.  According to police, a patrol officer heard a crash and saw a vehicle travel over a curb and sidewalk.  The vehicle came back onto the roadway and nearly struck the police car.  The officer stopped the driver and immediately detected an odor of marijuana coming from the car and the operator.  Subsequent investigation resulted in the discovery of a bag of marijuana and a smoking pipe.  The driver was placed under arrest for DUI, taken to the Chester County Hospital for blood withdrawal, booked, and released to a parent.  Charges have been filed with juvenile authorities.    
As part of its "Changing the Culture Disability Awareness Series," West Chester University will present I. King Jordan, Gallaudet University's first deaf president, on April 19. The program will be held from 3:30 to 5:30 p.m. at the campus's Sykes Theater. Jordan, who grew up in Glen Ridge, Pa., became Gallaudet's president during the famous Deaf President Now protest at the school in 1988. Although he retired a few years ago, he offered inspiration to many deaf and hard-of-hearing people, who have often repeated one of his most famous quotes: "Deaf people can do anything hearing people can, except hear." Sign language interpreters will be provided.    
Harnessing therapeutic, equestrian energy, Horse Power for Life will host its Fifth Annual Pink Horse Shoe Gala and Silent Auction to benefit families living with cancer on April 14.
This year's formal, fund-raising event will start at 7 p.m. at the Crowne Plaza's Freedom Ballroom in King of Prussia. Tickets, which cost $120 per person, include open bar, hors d'oeuvres and dinner. They can be purchased online at HorsePowerForLife.org. Sponsorships are still available.
Horse Power for Life is a non-profit organization based in Chester County that is dedicated to improving the physical and emotional quality of life for individuals of all ages who are diagnosed with cancer, by providing a 16-week therapeutic and educational horsemanship program.