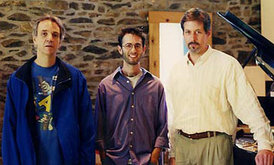 Jazz fans are in for a treat next Wednesday night as West Chester University presents the Turks Head Knot Contemporary Music Ensemble.
The free concert, which will be held at 8:15 p.m. at the Gates Family Recital Hall in the Swope Music Building, will feature Peter Paulsen, director/double bass; Chris Hanning, percussion; and Chris Bacas, alto and soprano saxophones. Special guests will include mezzo soprano Charlotte Paulsen and Adam Unsworth on the French horn.
The Turks Head Knot Contemporary Music Ensemble incorporates the discipline and precision of modern classical composition with the expressive flow of jazz improvisation to forge its own sound. Newly commissioned works as well as arrangements drawn from a wide range of material are staples of the ensemble's repertoire. The program will consist of premieres of new works by Pin Hsin Lin and Peter Paulsen, unaccompanied solo arrangements, as well as arrangements of pieces by Wayne Shorter and Ralph Towner. For more information, call 610-436-2739 or visit www.wcupa.edu/CVPA/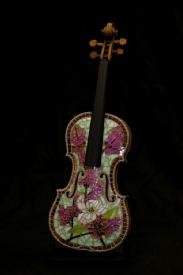 Creating art on an unfinished violin was a painstakingly piecemeal process for an Upper Uwchlan woman, who used bits of vitreous and stained glass and mirror to capture beautiful images of springtime.
Amy Bruckner of Piece of Mind Mosaics was one of 20 artists selected to participate in the Painted Violin Project, a fundraiser to support the Community Music School of Trappe in Montgomery County, which is celebrating its 20th anniversary.
The violins will be displayed at various venues until October 2012 and bids may be placed on the violins until Oct. 2 at an online bidding site: www.biddingforgood.com/communitymusicschool. The violins will be auctioned at a gala on Oct. 4. Bruckner's violin, inspired by Copeland's "Appalachian Spring," will be on display in the main lobby at the Kimmell Center until the end of this month. For more information on Bruckner's work, visit www.piece-of-mind-mosaics.com.
Continuing a program that began with police officers, emergency responders will unveil plaques memorializing three firefighters at an April 14 tribute at the historic courthouse in West Chester.
The 11 a.m. ceremony will recognize three members of the Malvern Fire Company — William Garrett Clifford Kilpatrick, Clarence Gregg Clarence Matlack, and Charles Henry Munch. The three were killed in the line of duty protecting the citizens of the Malvern area on March 24, 1931.
The ceremony, co-sponsored by Chester County Fraternal Order of Police Lodge 11 and the Chester County Hero Fund, is an extension of a program modeled after one started in Philadelphia in 2000 by lawyer and boxing promoter Jimmy Binns. With Binns' input and participation, a row of bronze plaques began growing in 2009 along the Market Street side of the historic courthouse. They now pay tribute to all of Chester County's nine fallen officers.
These days, even in a relatively safe county, few people remain untouched by crime, either directly or indirectly — a good reason to participate in the 17th Annual Chester County Race Against Violence.
Pre-registration is now underway for this April 28 fund-raiser to benefit the Crime Victims' Center of Chester County's victim services and prevention/education programs. For those who pre-register by April 15, the cost is $20 and can be done by mail or online at www.cvcofcc.org. All participants receive a t-shirt. The family maximum is $60, which includes up to five t-shirts.
On the day of the race, which will include a 5K run/walk and a 1-mile walk, registration and check-in will be held from 7:45 until 8:45 a.m. at the Chester County Justice Center, 201 West Market St., in West Chester. The cost that day will be $25 per person. Trophies will be awarded to the top male and female runners, and awards will be presented to the winners of each age group. For more information, call the center at 610-692-1926 or visit the agency's website: www.cvcofcc.org.
Highlights of yesterday's monthly West Chester Area School Board meeting included approval of a preliminary budget for the 2012-2013 school year, the district reported.
The $202.7 million budget exceeds the current budget of $201.7 million, resulting in an expected 1.7 percent tax increase. It includes reductions in expenses by more than $1.1 million, new revenue sources for more than $350,000 and the use of $1.4 million from the budget reserve. The final budget is scheduled for adoption at the April 30 meeting. More information about the proposal can be found at http://home.wcasd.net/files/_abLJp_/8e9e5b13ebfcb45d3745a49013852ec4/2012-13Budget_presentation_Revised_3.16.2012_revised.pdf.
The Pennsylvania Prison Wardens Association's 49th Conference and Training Symposium is coming to Chester County, a convenience to those area professionals seeking to update their education as well as a warning to the rest of us not to misbehave.
The program, which is open to members of the association, will be held April 26-28 at the Desmond Hotel, One Liberty Boulevard, Malvern.
Based in Bellefonte, the Pennsylvania Prison Wardens Association works to improve relationships among senior administrative officials in the field of adult corrections at the state and local level by providing educational outreach and advocating legislative reform. For more information, see http://www.ppwa.org.
Perhaps if the many admonitions about drinking and driving included riding mowers, an Oxford man could have steered clear of criminal charges.
State police said David C. Brisbow, 57, was traveling south on Barren Road in Elk Township when he flipped his John Deere 210 mower. The trooper who responded to the crash said Brisbow show signs of alcohol impairment, and he was taken into custody for driving under the influence.
For nearly a year, I have had the privilege of using this space to share a wide range of county-specific news with fellow Chester Countians. With newsprint real-estate at a premium, more than 500 community fund-raisers, legislative initiatives, crime reports, and residents' noteworthy endeavors found a home here when the paper could not accommodate them.
Not once did I struggle to find material; Chester County consistently offers a wealth of it — from the renowned chemist who's still earning patents at age 96 to the couple who lost a daughter to inexperienced driving and became tireless advocates for teen driving safety to a group of mothers who filled a void in Willistown by turning an underused park into a vibrant playground. And it's impossible to forget Gladys Flamer, a shining star in Coatesville who died earlier this year at the age of 105.
At the end of the week, I will be leaving the paper after 19 years. As I write this, I have no information that anyone else has been tapped to continue this blog; I hope that changes. It has been a pleasure to serve as an information conduit in Chester County, an unparalleled place of spectacular scenic vistas and indomitable community spirit. I greatly valued your support — and that includes the readers who disparaged me as well as Marissa, the pet goat featured in the photo. Even the surly remarks had value as engagement, calling to mind a quote by author Bryant H. McGill that amplifies Chester County's agricultural heritage: "Where wise actions are the fruit of life, wise discourse is the pollination." A million thanks, readers. My new email address is kbradyshea@gmail.com; please feel free to contact me.