Inga Saffron

, Inquirer Architecture Critic
One thing you can say about Carl Dranoff's taste in architecture is that it's getting better.
On Wednesday, he held a lavish ground-breaking extravaganza for his latest, and smallest, apartment building on South Broad Street, aka, the Avenue of the Arts. SouthStar Lofts isn't great design, but it's not pink, either, like his first foray, Symphony House, by BLT Architects.
His new, 85-unit project is a straightforward, loft-style building and was designed by JKRoller Architects, the same firm that did Dranoff's 777 Broad Street project. They've dropped the frou-frou, art deco flourishes this time in favor of clean lines and big windows. Although we still need to see the materials and detailing, the design shown in the renderings has also improved since its original iteration in 2011, when it was called Casa Verde. (see my review below) The best thing about the project may be the 10,000 square feet of retail that strongly anchors the South Street corner. The entrance is on Broad Street, at the northern end of the building, and the retail wraps around to South Street. If Dranoff is able to secure a strong tenant, this project could help tie together the two rebounding ends of South Street.
Inga Saffron

, Inquirer Architecture Critic
Andrew Stober, Mayor Nutter's point person on transportation, had the unenviable task Thursday night of trying to defend the planned reconstruction of the least loveable piece of infrastructure in Philadelphia - the 10-lane stretch of I-95 that cuts off Center City from the Delaware River - before a crowd that thinks the highway should never have been built in the first place.
Stober was speaking at "Reimagining Urban Highways," a panel organized by Diana Lind of the group Next America City and previewed here. In an effort to start a conversation about the future of I-95, which comes up for a federally mandated overhaul in 2040, Lind assembled some of the nation's top highway removal experts to share their experiences. City Hall had initially refused to participate in the event, but at the last minute Stober was dispatched by his boss, Deputy Mayor Rina Cuter, to make the administration's case for keeping I-95 exactly as it is. That alone was progress. Until Thursday, Cutler had squashed any talk in City Hall of burying, capping, narrowing or eliminating I-95.
Stober did a good job of putting the administration's views in a larger context, and made a compelling argument for prioritizing mass transit, calling SEPTA "an incredible inheritance." But it also became clear that Cutler's office rejected a redesign for I-95 without ever having done a comparative, cost-benefit analysis of the possible scenarios. Until that happens, Philadelphia can't have a truly informed debate on the issue.
Inga Saffron

, Inquirer Architecture Critic
Bill signing ceremonies are generally pretty rote affairs. City Hall staffers and a few interested parties pack the seats in the portrait-bedecked hall known as the mayor's reception room. The politicians deliver a list of obligatory 'thanks yous,' and that's that. But there was a sense that history was being made at today's signing for the new zoning code – in more ways than one.
The new streamlined code is historic, of course, because it replaces a bloated and busted rulebook dating from the Kennedy era. It took four, excrutiatingly long years to rewrite the zoning code, and another half a year to convince council to pass it. Things got pretty ugly in the final months. The reform effort became a legislative sumo match, with council heavyweights vying to squash the life out of the proposals before council went out of session. So the mere fact that Mayor Nutter had a bill to sign was a big deal.
But what really made the event special was that the room was filled with many regular citizens who devoted large chunks of personal time to the seemingly arcane project. Unlike so many things in Philadelphia, the new zoning code was not the product of top-down, backroom deal-making (although there was certainly a little of that) but a true citizen effort. The project involved people on all sides of the development spectrum, from high-priced zoning lawyers to neighborhood activists. Hundreds of meetings were held, all of them public.
Inga Saffron

, Inquirer Architecture Critic
Having worked as the Inquirer's architecture critic for a decade, I knew that the election of Mayor Nutter in 2007 had freed Philadelphia's planners from the shackles imposed by the two previous administrations. Over the last four years, the department has been on a creative tear that has resulted in a string of major planning reports. But I didn't understand how those plans added up to something special until I arrived at Harvard this fall for a Loeb Fellowship.
I was comparing notes with another Loeb, Anne-Marie Lubenau, and she couldn't stop gushing about Philadelphia's planning accomplishments. As the former head of Pittsburgh's Community Design Center – and a Philadelphia native – she had been following the city's progress from afar. She was deeply impressed with how Philadelphia's design advocates, foundations, citizen activists and media had managed to get urban design on the political radar in the 2007 campaign. Nutter embraced their ideas to become a powerful advocate for improved planning and zoning. "Good leadership can make a difference," she told me. "What Philadelphia has accomplished is nothing short of remarkable."
Philadelphia? Remarkable?
Inga Saffron

, Inquirer Architecture Critic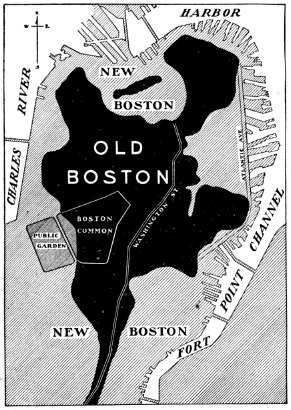 The Red Sox may be tanking, but it's still hard for a Philadelphian not to feel jealous of Boston.
As people here are endlessly fond of pointing out, Boston is the world's 11th largest financial center. This town knows how to use its political muscle, too. Two decades ago, Congressman Tip O'Neill snagged $9 billion in federal aid to demolish Boston's s downtown highway and now the city has a seamless connection to its glorious waterfront. On top of that, Boston's population ballooned by over 6 percent in the same period – a feat that makes Philadelphia's 0.6 percent blip in the recent census seem hardly worth mentioning.
But did you know that Boston was pretty much considered an urban basket case until the start of the 1980s?
Inga Saffron

, Inquirer Architecture Critic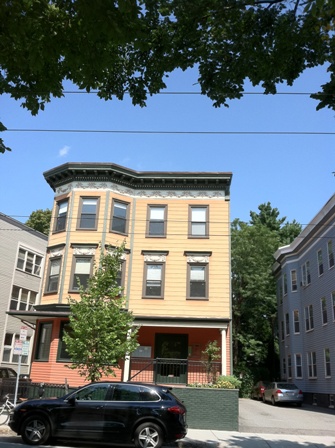 I've been in the Boston area just a few weeks, but I already see it's a very different place than Philadelphia. I've always thought of the two cities as fraternal twins that just happened to have inherited different sets of religious and sporting genes (Puritan v. Quaker, AL v. NL). Sure Philadelphia might be almost three times the size of Boston – 618,000 inhabitants – but it's really a statistical anomaly caused by the fact that close-in neighborhoods like Cambridge, Brookline and Somerville are independent cities.
So, even though I'm mostly in Cambridge, where I am a Loeb Fellow at Harvard's Graduate School of Design, I spend just about every minute toting up how Boston (ok, Boston area) is the same/different and better/ worse than Philadelphia. One immediately visible difference is the city's layout. I'm in a constant state of disorientation because streets in Boston and Cambridge meander in a random, medieval pattern that is so much harder to grasp than Philadelphia's logical grid. Those curving streets produce a lot of charming moments. I was delighted to find myself at the intersection of Bow and Arrow Streets in Cambridge the other day, even though I was blocks from where I thought I was supposed to be. The erratic layout is one of the ways Boston distinguishes itself from virtually every other big American city. Now that I've had my first class with media expert Nicco Mele (Media, Politics, Power), I realize that a street layout is a lot like a computer operating system, in the way it interfaces between a city's hardware (the built stuff) and software (its culture and history).
Cosmopolitan as Cambridge is, it's hard for me to think of it an independent city. In my mind, it occupies the same geographical niche as West Philadelphia - because it's on the Charles River across from Boston's downtown and because it's where the two powerhouse universities are located. But Cambridge is far more affluent and precious than West Philly, in ways that are good and bad. In the area where I'm living, plenty of gracious, early 20th Century houses are divided into apartments for students, just as they are around the Penn and Drexel campuses. But I haven't seen any of those heartbreaking historical wrecks you find in West Philly, the ones with listing front porches and trash cans for yard ornament. I'm amazed at how many student apartment buildings have well-tended flower gardens out front, not to mention reasonably fresh paint jobs.
Inga Saffron

, Inquirer Architecture Critic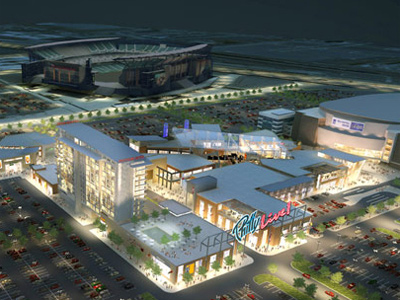 A plan to bring life to the vast asphalt desert at Philadelphia's sports complex took another step forward today when a Baltimore developer released drawings for a $100 million entertainment center connecting the Wachovia Center to Citizens Bank Park.
The glitzy architectural renderings, which were presented to the city Planning Commission, showed a two-block-long, diagonal street running between the two sports venues, across the land now occupied by the Spectrum. Modeled on such destinations as Boston's Quincy Market and Baltimore's Power Point Live, the street would be lined with restaurants, bars and shops.
The project would replace the Spectrum, which is scheduled to be demolished early next year. It is being developed jointly by Comcast-Spectacor and the Cordish Company, the developer behind much of the nightlife at Baltimore's Inner Harbor.
Inga Saffron

, Inquirer Architecture Critic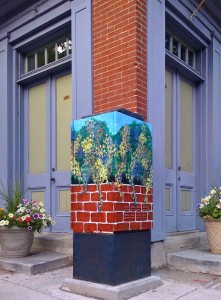 Society Hill residents still haven't accommodated themselves to the huge brown signal boxes that began appearing on street corners last year. The boxes, which I chronicled in a December column and blog
post
, are almost six feet and have been jammed against some of the city's oldest, most historic houses. But one resident I wrote about, Marjorie Amrom, is trying to make the signal box next to her house fade into the woodwork. She painted it to match her house's lovely cerulean blue paint, and topped it off with what appears to be a trompe l'oeil painting of vines and flowers. The Philly Design
Blog
thinks residents ought to get the Mural Arts folks to paint all of them. But that may be going a little too far.
Meanwhile, those boxes, which are used to control traffic lights and will eventually be fitted with camera equipment, aren't the only big brown boxes bugging the neighborhood. Some Society Hill residents are equally appalled at the new big belly trash compactors that the city is installing as a replacement to old-fashion trash cans, according to an article in the July/August issue of the Society Hill
Reporter.
I can't say these bother me as much. They're almost always near the curb, rather than adjacent to the houses. And they replace an existing street furnishing, the trash bin. Plus they're much neater and better for the environment, since they include a recycling bin.