Archive: August, 2008
Chuck Darrow
Heading to AyCee to say your farewell to the Summer of '08? You might want to check out a couple of special events while you're down there:
HOT WHEELS: Friday night, Bally's Atlantic City caps off its month-long Orange County Choppers celebration at the recently opened (and newly renovated) Dennis Hotel Courtyard.
At 9:30, Paul Teutul, Sr., whose company, Orange County Choppers, is the subject of the popular TLC reality series, "American Choppers," will take the wraps off the motorcycle he and his team have created exclusively for the midtown gaming hall. He'll then officially award the bike to the Bally's patron whose name was selected at a 7 p.m. drawing. There will also be live music and other festivities.
Chuck Darrow
In case you were wondering, here's why Rod Stewart threw a hissy fit Friday night during his set at Borgata:
According to a very plugged-in operative, after Rod finished "Maggie May," he asked the mostly standing audience to settle back in their seats so he could bring things down a notch or two. In response, an apparently inebriated guy in the audience responded by yelling, "Boooooooring!" At which point Rod the Mod decided he'd call it a night.
Afterward, he was heard to complain that such behavior can be expected from a "comped" audience. In fairness to the star of the show, our source tells us that Stewart was all smiles during his Saturday night encore, when the (mostly paying) audience apparently showed him the respect he felt was due him.
Chuck Darrow
Don't know how it went Saturday night at Borgata, but Rod Stewart's Friday night gig at the Big B certainly ended on an odd note.
After Old Rooster Top finished "Maggie May," he simply left the stage and the house lights were fired up as the message "Rod Stewart Has Left the Building" flashed on the giant video screen at the back end of the stage.
There was no comment from Rod, no band intros, not even a "Thank you, good night" from the Brit pop star. Was he miffed because the heavily baby-boomered crowd didn't show him enough love? Whatever the reason for his abrupt departure, it made for a most peculiar moment.
Chuck Darrow
I try not to be promiscuous in my use of superlatives, but the 2008 Atlantic City Air Show, which was staged Wednesday, deserves adjectives like "spectacular" and "awesome."
From the truly astonishing feats of aerial stunts, to the impressive hardware (a slew of state-of-the-art military jets) to the you-couldn't have-asked-for better weather, the event was a winner.
But the most exciting aspect of the six-hour aerial extravaganza that was staged in the skies above the beach was what it did for Atlantic City. In nutshell, the Air Show put the lie to the slander that AyCee is a minor-league town. Any place that can stage a single-day bash that draws an estimated 700,000 people without any serious incidents (save for the expected traffic tangles) is hardly second-rate.
Chuck Darrow
Why did Philadelphia Media Holdings decide to start publishing this column? Will this column include coverage on the devastation that convenience gambling does to people? Will it report on the addicted and problem gamblers who "borrow" from their spouse, from their retirement fund and from their children's education fund? Will it report on the bankruptcies, the foreclosures, the embezzlement and the insurance fraud? If this column is to exist, let's try our best to make it balanced.
NotADoneDeal
Yo NADD!
I appreciate and respect the passion you bring to your obvious anti-gambling philosophy, and I am grateful you took the time to read the blog and respond. I am also certainly aware that for a relatively small percentage of people, casino gambling has brought ruin and tragedy. But discussions of that topic are not meant for this blog.
Despite your vehemence, the simple fact is that the overwhelming majority of casino patrons enjoy them--and their amenities--with absolutely no negative results. It's obvious from your words and tone that if you had your way, you would close every casino in the nation, if not the world, in order to protect those poor souls whose illnesses demand they gamble compulsively.
A noble intention, but rather ludicrous, if you think about it. For instance, would you also outlaw all cars to keep the small percentage of those who drive drunk (and who are responsible for ruining--and ending-- far more lives than gamblers ) from getting behind the wheel?
I know of people who died after choking on food while dining out. Would you ban restaurant reviews because of that?
Besides, if you know anything about compulsive gamblers, you know they will find ways to wager, regardless if casinos are in their back yard or not (can you say "bookies?").
Further more, while I will indeed be addressing gambling subjects in both the blog and my Friday Daily News column, you seem to have jumped the gun. So far, the only gambling-specific writing I've done in my not-quite-three-weeks as the DN's casino columnist was the post about the July revenues. I hardly see that as an endorsement of gambling.
But mostly, I will be covering things like entertainment and restaurants--or do you object to me writing about Elvis Presley impersonators and buffets as well?
Regards,
chuck
Chuck Darrow
I hate to admit when I'm wrong. But if I'm gonna make a big stink about it when I'm right, I guess I have to cowboy up when I blow the call.
I was pretty cocksure, back in the late spring, when I fearlessly predicted to various folks that given the weak economy and the high cost of travel (especially air travel), this was going to be (with apologies to George Constanza) "the summer of Atlantic City." After all, with 50 million adults living within a three hour drive of the place, how coulds it not be slamming this summer?
Chuck Darrow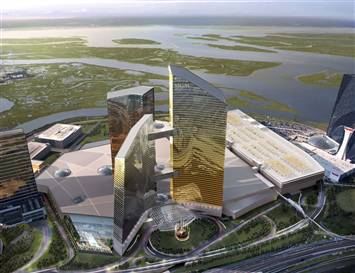 The lousy economy has claimed--at least temporarily--another Atlantic City construction-project victim.
In a move that has caused surprisingly little comment or consternation, Las Vegas-based MGM Mirage has put off the scheduled winter, 2009 groundbreaking for its $4.5 billion Atlantic City mega-resort.
MGM Mirage is so tight-lipped about this development that the business world learned of it not from the company itself, but from a second-quarter earnings conference call for financial analysts conducted by Perini Construction, the firm whose shovels are now scheduled to hit the dirt in the winter of 2010, which means the luxe casino-hotel complex probably won't open its doors before the end of 2012 or early 2013.
Chuck Darrow
Don't know if the grass will be greener at Borgata on Dec. 13, but it will be the topic of much conversation--and humor--as Cheech & Chong headline the Big B's Music Box theater.
Tickets for the show by the herb-arrific duo--back together for the first time since Dick Nixon was in the Oval Office--go on sale Saturday. It'll cost you the equivalent of three 1971 ounces ($60) to join in the fun. To cop the ducats, call (866) 900 4948, or go to www.theborgata.com.
More funny stuff