Archive: July, 2012
Chuck Darrow
The main question to be asked about "Identity—An Exhibition of You," which is in the midst of a summer-long run at Trump Plaza, isn't, "What is it?" Instead, the burning issue is, "How did the Franklin Institute wind up partnering with an Atlantic City casino?"
"Trump Plaza was looking for a family-friendly option for the summer. They asked us what we had, and if there was anything we could travel with," explained Jackie Jiracitano, who is managing the exhibit for the august repository of scientific thought and deed on the Parkway. "This exhibit was created exclusively to travel."
As for the strange-bedfellows aspect of the partnership, Jiracitano agreed it's an unexpected pairing, but added, "Identity" is "a great (way) to bridge the gap" between two such disparate realms as museums and casinos.
Chuck Darrow
It's hard to remember what casinos did for marketing stunts before the advent of reality television. These days, it's darn near impossible to swing a bottle of Cristal in a gambling hall without hitting some insta-celeb or other. Which explains why mom-to-be and guidette- of-letters Nicole "Snooki" Polizzi was at Wednesday's grand opening of Earl of Sandwich, a hot-sandwich emporium at Showboat Atlantic City.
The Snookster not only presided over the store's ribbon cutting, but proudly lauded the wonders of her own sandwich. It's called the "Gorilla Beach" after her book of the same name. It's made with grilled chicken, bread crumbs, tomatoes, mozzarella cheese, lettuce and--as she said, "pickles, of course."
We were hoping to ask the Snookified One her views on the current presidential campaign, but the media types in attendance were under strict orders to keep the queries limited to the book or the sandwich.
Chuck Darrow
The long awaited marriage between musician-hospitality industry Titan Jimmy Buffett and Atlantic City was officially consummated today as the Pasha of Parrotheads and New Jersey Gov. Chris Christie unveiled plans for a business partnership between Buffett's Margaritaville empire and Resorts Casino-Hotel.
Buffet's signature Margaritaville Cafe will take over the Boardwalk-fronting real estate currently occupied by Breadsticks Cafe & Grill, while a Landshark Bar & Grill will be erected on the refurbished Steeplechase Pier on the Boardwalk at Pennsylvania Avenue.
According to Christie, the entire project represents another $35 million in Atlantic City development.
Chuck Darrow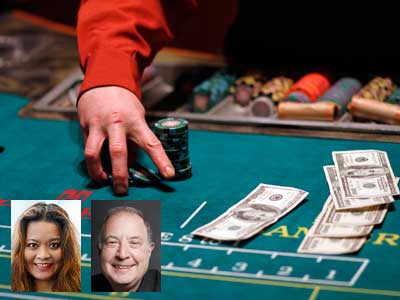 Chuck Darrow of the Philadelphia Daily News and Suzette Parmley of The Inquirer will chat on Wednesday, July 25, at 11 a.m., about the latest news in the local casino industry. On a mobile phone? Click here.
Chuck Darrow
It's doubtful any casino in Eastern Pennsylvania depends more on the summer than Mount Airy Casino Resort in Mount Pocono, Pa.
Its sylvan sitting and proximity to outdoor activities uniquely position it, and this year, more than ever, it seems, the casino-hotel complex itself is cashing in on the warm weather.
"We feel (the location) is our competitive advantage, offered John Culetsu, the property's general manager and vice president. "Everyone has the same slot machines and same table games. But when you look at some of the amenities we have and the rural setting of the Poconos…for instance four or five miles away, you can go hiking on the Appalachian Trail."
Chuck Darrow
What has been rumored for some four years seems finally coming to fruition.
The Press of Atlantic City Thursday reported that a deal has been finalized that will bring singer-songwriter Jimmy Buffett's Margaritaville brand to Atlantic City.
According to the report, Resorts Atlantic City is entering into a multi-faceted deal with Buffet's chain of casual dining-and-drinking spots. One element of the plan—which first surfaced last month—is the refurbishing of the Resorts-owned Central Pier, a long-decaying remnant of AyCee's storied, pre-legal-gambling past. The pier will be the site of a Landshark Bar & Grill restaurant.
Chuck Darrow
On some past tours, Blue Man Group has emphasized the more musical aspects of its repertoire. But we're happy to report that in the case of the one-of-a-kind troupe's current eight-night Caesars Atlantic City run that concludes Friday, comedy is king.
Blue Man Group, of course, is the one-of-a-kind act featuring a trio of silent, alien-looking, performers in trademark blue head pieces who combine physical and cerebral humor with sophisticated percussion-instrument trickery and a heaping helping of juvenile goofiness (e.g. regurgitating food). All of it comes wrapped in dazzling, state-of-the-art digital visuals that can best be described as Salvador Dali on acid (the video presentation suggests what 1950s TV pioneer Ernie Kovacs might have done if he could have availed himself of 21st century technology).
To be honest, the act is somewhat vexing for critics because there are few mainstream show biz reference points on which to latch. For instance, it's difficult to explain why the segment in which the three blue guys and a woman from the audience eat Twinkies is so side-splittingly funny. It just is. You have to see it to understand why.
Chuck Darrow
It's not quite the same as having Beyonce kick off the summer with an exclusive extravaganza, but Revel will be bidding adieu to the vacation season by presenting The Eagles Sept. 1 and 2 in its Ovation Hall.
Tickets go on sale July 20 for the two concerts by the 40-year-old, zillion-selling band whose jukebox-load of signatures include "Take It Easy," "Tequila Sunrise," "Lyin' Eyes" and "Hotel California."
Ticket prices are TBA. They will be available through Ticketmaster.