Archive: February, 2011
So it looks like erstwhile CNN gabber Larry King hasn't hung up his suspenders after all.
Tickets go on sale Saturday at 10 a.m. for King's May 14 "Larry King Standing Up" one-man show at Borgata Hotel, Casino & Spa.
According to tvguide.com and other Web sites, the 77-year-old King--who will also be gigging at Wilkes-Barre's Kirby Center and in Maryland, Nevada and Long Island--will spend the evening regaling folks with anecdotes and reminiscences about his personal and professional lives.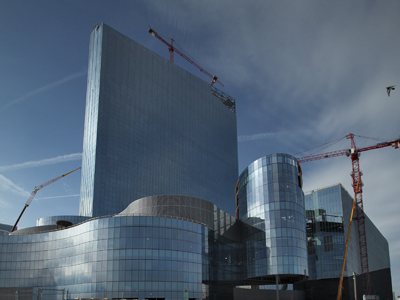 As this blog reported it would back on Jan. 29, Revel Entertainment Group LLC announced today it has the $1.2 billion it needs to complete construction of its almost-$3 billion pleasure dome on Boardwalk's eastern end.
While few details were included in his statement earlier today, Revel CEO Kevin DeSanctis did say the funds are divided among two loans (from undisclosed sources), one for $850 million and the other for $305 million. This money, combined with the recent $261 million in tax reimbursements agreed to by N.J. Gov. Chris Christie, puts the eye-catching, blue-glass hotel-casino complex on track for a mid-2012 opening.
Construction was halted after the exterior work was completed in January, 2010. It has been reported the new funds will create 2,000 construction jobs over the next 18 months or so as the interior is built, and 5,000 permanent jobs after that.
Today's announcement of the sale of Trump Marina (for $38 million) to Texas-based restaurant conglomerate Landry's Inc--owner of the iconic Golden Nugget brand--is certainly another piece of good news for Atlantic City's still-struggling gaming industry.
First, it means a property that has long suffered benign neglect on the part of its under-capitalized owner, Trump Entertainment Resorts, will now get the kind of care and feeding any successful casino needs. And it means another independent voice - that of the new ownership - will have a say in the city's future. Less consolidation can't help but be good for AyCee.
In addition, Landry's management wasted no time in announcing some general plans for the bay-side gambling den, including the building of new clubs and restaurants, a poker room and an entertainment policy that will reportedly see live entertainment return to the property on a regular basis.