Archive: December, 2011
Chuck Darrow
BECAUSE OF space limitations in today's paper, some items were left out of my 2011 casinos year-in-review column. Here is the piece in its entirety:
Another year is ending with the region's two gaming jurisdictions still headed in opposite directions.
As Pennsylvania's casino industry continued its "rush" (as they say about hot players at the poker tables), Atlantic City's financial slide hit five years, with at least one survey suggesting revenue will continue to shrink through 2015. But say what you will about the East's original legal gambling kingdom, things are seldom dull in the beleaguered seaside entertainment capital. Even as its financial woes continued, the town's gambling industry was generating big news on a myriad of fronts.
Chuck Darrow
Poker players can celebrate the holiday with the gift of a new card room at Golden Nugget Atlantic City.
Saturday, the still-under-renovation Nugget--which used to be Trump Marina--will open its 20-table poker room. In keeping with the AyCee norm, the facility will be 100 percent smoke-free.
The new card parlor will "spread" Texas Hold'em, Omaha and 7-card Stud games, as well as offer a daily menu of what are being described as "low buy-in" tournaments.
Chuck Darrow
Boogie Nights, which has been the signature attraction at Resorts Casino Hotel since it debuted in late 2007, is boogieing down the Boardwalk.
The popular disco that playfully emphasizes pop culture of the 1970s and '80s has closed at Resorts Casino Hotel and will reopen next May at Tropicana Atlantic City.
"It's going to be approximately double the size," said co-owner David Pena. "And it will have everything you've come to know and love about Boogie Nights—Roller Girl, The Streaker, The light-up dance floor, special celebrity appearances."
Chuck Darrow
So maybe, like that of Mark Twain's, the reports of Atlantic City's demise are greatly exaggerated. That, at least is one takeaway from the monthly "Tourism Barometer" released today by the Atlantic City Convention & Visitors Authority.
According to the survey, the town has experienced a nice (and somewhat surprising) surge in tourism. For instance, more than 7,000 visitors stopped at the ACCVA's visitor information centers on the Atlantic City Expressway and Boardwalk in November, a 12 percent increase over November 2010. What's more, year-to-date, the visitor centers have assisted 9% more visitors than the same period in 2010.
Additionally, the "Barometer" reports:
Chuck Darrow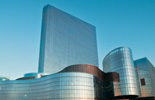 All of a sudden, there is plenty of food for thought emanating from Revel, the $2,5 billion adult playground scheduled to open in mid-May in Atlantic City.
The blanks about what the mega-resort's dining scene will entail are beginning to be filled in with some impressive names. Our sources have confirmed that restaurateur Michael Richard (not to be confused with "Seinfeld" co-star Michael Richards) of Las Vegas and Washington, D.C. fame will, as rumors have had it, bring his Central operation to Revel. Central outposts are located in both cities; the Vegas outpost, a 24-hour joint located at Caesars Palace, is a past James Beard Foundation Best New Restaurant award-winner.
This news—which has yet to be announced by Revel—comes on the heel's of Thursday's official announcement that Philly-based "Iron Chef" Jose Garces will operate three-count 'em, three—eateries, all of which are familiar names here in Brotherly Loveville: Amada, Village Whiskey and Distrito Cantina.