Archive: January, 2012
Chuck Darrow
The highly anticipated master plan that will guide Atlantic City's near future will be released to the public today.
According to Wayne Parry of the Associated Press, the blueprint devised under the aegis of the Casino Reinvestment Development Authority (CRDA) focuses on urgently needed cosmetic and quality-of-life upgrades, among them an aggressive street-cleaning program and the removal of anti-crime window barriers on Atlantic Avenue storefronts (read the full story at (http://abcnews.go.com/US/wireStory/sprucing-atlantic-city-goal-tourism-plan-15480776#.TyjRg8WJd2B).
The master plan is part of the Gov. Chris Christie-propelled effort to revive the resort's fortunes. The blueprint also includes the alloting of $30 million annually in marketing funds, the total reorganization of the various public entities that represent the state in Atlantic City and the creation of a special tourism district.
Chuck Darrow
House of Blues inside Showboat Atlantic City will host '90s rockers Guns N' Roses Feb. 24.
The AyCee gig is one of six "intimate"-venue dates the hard-rock outfit, led by hair-whipping lead singer Axl Rose will do on its upcoming U.S. tour, which kicks off Feb. 10 in New york as part of that city's annual Fashion Week festivities.
According to the band's Web site, www.gunsnroses.com, pre-sale tickets for the HOB show go on sale Wednesday at 10 a.m., with the public sale set for 10 a.m. Friday. Tickets will be available on the site.
Chuck Darrow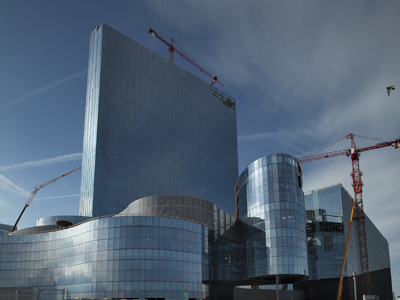 Revel's culinary roster expanded yet again this week with the announcement of two more eateries for the $2.5 billion mega-resort set to open this spring.
Azure by Allegretti will offer tastes of the French and Italian Riviera. It will be run by Alain Allegretti, whose La Promenade des Anglais is a favorite of Manhattan epicures. The no-doubt-pricey restaurant, which will be perched overlooking the Atlantic Ocean, will feature handmade pastas and Mediterranean whole fish. There will also be a raw bar and what is expected to be one of AyCee's top wine lists.
Chuck Darrow
It's time again to go "Out" in Atlantic City.
Tomorrow, Caesars Entertainment Corp.'s fourth annual "Out in AC Weekend" kicks off at Harrah's Resort Atlantic City.
Chuck Darrow
It's time again to go "Out" in Atlantic City.
Tomorrow, Caesars Entertainment Corp.'s fourth annual "Out in AC Weekend" kicks off at Harrah's Resort Atlantic City.
Chuck Darrow
So certain elements in the casino gaming universe have apparently reached a state of arousal over the concept that Pennsylvania is poised to surpass Atlantic City as the nation's second-largest gaming jurisdiction.
The 2011 numbers from the Keystone State's 10 casinos certainly indicate they are closing in on AyCee's second-place status (behind Las Vegas). Last year, gaming halls west of the Delaware River posted revenues of just a click over $3 billion, still behind the $3.3 billion posted in Atlantic City. But that represents an increase of 22 percent over 2010, while the oceanside gambling resort's 11 gambling dens lost almost 7 percent during the same time frame.
Statistics don't lie--the way things are going in both places Pa.'s ascendance to the "place" position is pretty much just a matter of time (unless the soon-to-open Revel mega-resort changes Atlantic City's fortunes that dramatically--a long shot at best). But why on earth would anyone compare the two?
Chuck Darrow
New nightclubs and restaurants, as well as several talent competitions, are in the spotlight this week as the region's gaming industry is wasting no time revving up for 2012.
For your drinking and dancing pleasure
Opened just in time for New Year's Eve were Live Bar and Rush Lounge at Golden Nugget Atlantic City and Vision Bar at Sands Casino Resort in Bethlehem.
Chuck Darrow
For the first time in more than three years, Atlantic City's 11 casinos have seen a monthly rise in year-over-year revenue.
According to figures released today by the New Jersey Division of Gaming Enforcement., the gambling dens earned a combined $246.5 million last month, compared to $236.5 in December, 2010. This represents a 4-percent increase, the first such positive number since Pennsylvania's gambling dens hit their customer-grabbing stride.
However, the same state-issued report indicates that December's performance couldn't keep the 11 casinos from making less money this year at the slot machines and gaming tables than it did in 2010. For all of 2011, the gross gambling revenue was $3.3 billion versus $3.6 billion the previous year.