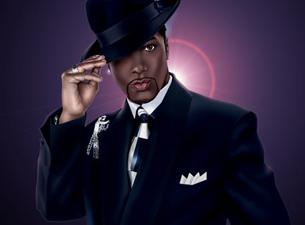 One of Dennis Gomes' greatest pleasures was to offer showcase opportunities to unknown entertainers. T. Fox, whom the late casino exec discovered at the lounge at Tropicana Las Vegas, is currently making the most of Gomes' posthumous largesse with a little program called "House Party," which finds him gigging in what is almost certainly the biggest venue he's ever played.

The show, which runs Tuesdays and Wednesday through July 12 in the 1,400-seat Superstar Theater, is a breezy survey of several decades' worth of pop music with an emphasis on hits by African-American artists including Louis Armstrong, Sammy Davis Jr. Al Green and Earth Wind & Fire. Most of the time, Fox delivers the material in his normal voice, which is a pleasant enough instrument and certainly suited to the mostly soulful material. Occasionally, as with Armstrong (good) and Davis (not so good), he serves up an impersonation.
It is hard to fault him on such numbers as Green's "Let's Stay Together," Stevie Wonder's "I Just Called to Say I Love You" and the Frank Sinatra signature, "Fly Me To the Moon." But there is simply nothing vocally that sets this obviously talented man apart from scores of other others, be they casino lounge pros (as he is) or weekend Karaoke singers (and speaking of Karaoke, Fox's obviously tight budget means he performs to pre-recorded tracks).
Instead, Fox's strengths lie in his stage presence and showmanship. His is an engaging and likeable style that immediately puts the audience on his side. And he has a couple of cool tricks up his sleeve. During the Wonder tune, he encourages audience members to call someone on their cell phones. He then strolls the seating area, picking up phones and singing into them, sometimes sharing a few words with whoever is on the other end.
We're not sure whether it's just a noble gesture on the part of Caesar Entertainment's regional gambling fiefdom, or if the shows involved are tanking when it comes to ticket sales. But whatever the rationale behind the move, come Monday morning, you can buy your way into a variety of events for a mere $20.12.
The special offer applies to the following gigs: Atmosphere (June 21, House of Blues at Showboat Atlantic City); 112 with Faith Evans (June 23, HOB); Jamie Foxx's Foxxhole Comedy Jam (July 5 and 6, Caesars Atlantic City); Sarah Silverman (July 7, Caesars); Papa Roach (July 7, HOB); Zeds Dead (July 13, HOB) and Matisyahu (July 21, HOB).
The biggest discount is for the Silverman show: Standard ticket prices are $105 and $85. Foxx tix are $95 and $65.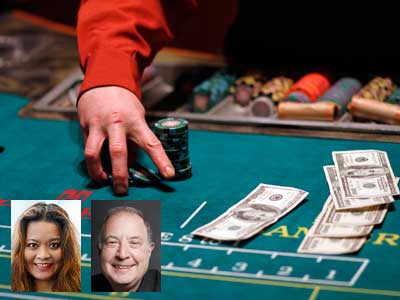 Chuck Darrow of the Philadelphia Daily News and Suzette Parmley of The Inquirer will chat on Wednesday, June 13, at 11 a.m., about the latest news in the local casino industry. On a mobile phone? Click here.
" >Casino chat with Chuck Darrow and Suzette Parmley
At first glance, the idea of a Queen tribute band doesn't seem all that novel. After all, such acts are quite the rage these days, with top-tier units like early-Genesis clones, The Musical Box, and equally accurate Pink Floyd acolytes, The Machine, receiving major-league performance fees for sold-out shows.
But "Queen Extravaganza," which on Sunday plays Sands Casino-Resort in Bethlehem, isn't just another rock 'n' roll mimic-fest. Its producer/musical director is Roger Taylor, who kept the beat for the beloved band fronted by the late Freddie Mercury, who died of AIDS in 1991.
It's also unusual in its makeup. Rather than replicate Queen's four-man lineup, "Queen Extravaganza" calls on the musical and vocal talents of nine performers, four of whom fill in for Mercury.
It was supposed to be a signpost to the future when it opened in July, 1997. Now, the Wild Wild West Casino at Bally's Atlantic City has no future.
The space, which boasted a Western motif that included animatronic characters--a gold miner and his donkey--in its Boardwalk lobby, is undergoing a major renovation that will erase the casino and its similarly themed Virginia City Buffet. Corporate parent Caesars Entertainment of Las Vegas has not yet offered details on what will be done with it, but it appears headed in the direction of a dining, retail and entertainment complex that is de rigueur in the modern gambling industry.
"We have been in negotiations with several large, mixed-use developers and the Casino Reinvestment Development Authority to re-purpose the Wild Wild West space," Don Marrandino, Eastern Division president of Caesars Entertainment, told the Press of Atlantic City. "Our goal is to transform the space into an entertainment destination featuring well-known brands and popular attractions."
Revel definitely hit the nail on its $2.4 billion dollar head with its holiday-weekend booking of super-duperstar Beyonce.
The four-show run that concludes Monday—the singer's first and only performances since the birth of her daughter, Ivy Blue Carter (pop, of course, is hip-hop overlord Jay-Z)--is an exclusive that instantly confers upon Revel world-class status. But in Beyonce, the mega-resort has a headliner whose theatricality matches that of her host property.
Saturday, the sold-out, 5,050-seat Ovation Hall was packed with enthusiastic devotees (many of whom paid hundreds of dollars for the privilege of attending)—as well as such VVIPs as First Lady Michele Obama and her two daughters, New Jersey Gov. Chris Christie and Norristown-bred actress Maria Bello. Royalty and commoner alike were obviously dazzled and delighted as Beyonce and her small army of supporting singers, dancers and musicians (who comprised an eight-piece, all-female band) conjured an impressive onslaught of sight, sound and motion.

Beyonce's name might have been the one on the ticket for the two-hour, 27-song program, but those responsible for its design and staging deserve as much credit as anyone. The show's visual centerpiece was a stage-spanning video display screen offering an endless array of multi-hued shapes and geometric patterns, not to mention crystal-clear wide shots and close-ups of the star. The result was a dramatic presentation befitting a performer of Beyonce's magnitude.
If it's Memorial Day weekend, it must be time for some outdoor rockin' and revelry down AyCee way.
Friday will see all four casino-operated al fresco saloons—three of them beach bars--up and running. While it had a special sneak-peak last weekend, Sammy's Beach Bar at Bally's Atlantic City officially kicks off the Summer of '12 Friday with a free 8 p.m. performance by reggae titans The Wailers.
Sandwiching The Wailers' appearance will be sets by DJ Sonatra (3 to 8 p.m.) and DJ Aiden Scott (post-show to 3 a.m.).
Atlantic City certainly has enough legitimate hurdles to jump in order for it to become the world-class resort destination it aspires to be. And some of those hurdles—like an aging and aesthetically unappealing building stock that gives AyCee a vibe more in line with Camden than Miami Beach—may ultimately prove to be insurmountable.
But it is difficult to quantify how unfair the latest media-delivered black eye is to the seaside gambling capital.
Monday's brutal and random stabbing deaths of two Canadian women in the heart of midtown are being played nationwide (if not worldwide) as just another day in Hell East. A perfect example is the Daily News' Tuesday front page, which is dominated by the headline, "TOURIST DEATH TRAP."