Archive: August, 2011
Chuck Darrow
There's no question as to which Atlantic City casino will be the funniest this fall. Borgata wins hands--and funny bones--down.
Tickets go on sale Saturday for a slew of dates featuring a veritable smorgasbord of stand-up acts:
Whoopi Goldberg (Oct. 7); Brad Garrett (Oct. 21); David Alan Grier (Oct, 22); Steven Wright (Nov. 4); Rita Rudner (Nov. 5); Jim Breuer (Nov. 12); Craig Robinson (Nov. 18); Kathy Griffin (Nov. 19) and Bill Burr (Dec. 2). All but "D-List" avatar Griffin will appear in the Big B's 1,000-seat Music Box (Griffin headlines the "big room," the Event Center).
Chuck Darrow
Sheena Easton--the petite popster from Scotland who burned up the charts in the 1980s--is scheduled to perform a free concert Friday night at 360 Lounge inside Parx Casino in Bensalem.

During her early-'1980s heyday, Easton was a commercial powerhouse, recording such smash hits as "Morning Train" (a.k.a. "9 to 5"), "For Your Eyes Only" and "Sugar Walls." She also enjoyed an acting career whose highlights included being cast as Don Johnson's wife on "Miami Vice" during the 1987-'88 season.
Show time is 8 p.m. Admission is on a first-come, first-served basis. You must be 21 or older to attend.
Chuck Darrow
Logically speaking, it doesn't make a lot of sense: Four white guys from Australia paying tribute to the legacy of the game-changing soul music powerhouse that was Motown Records in the 1960s and '70s.


But all you need to know about the ancestor-worshipping quartet from Oz is that it's been endorsed by no less a figure than Smokey Robinson, arguably the most important person in Motown history save for label founder Berry Gordy Jr. Judging by Monday's performance at Caesars Atlantic City, Smokey is right on the money.

From the moment the unit that will be at Caesars Atlantic City's through Sept. 3 hit the stage, there was no questioning its credentials. Brothers Andrew and Mike Tierney, Phil Burton and Toby Allen managed to capture the excitement and artistry of the Motown canon without ever seeming forced or out-of-place, despite their race and nationality. Singing hits made world-famous by black performers seems perfectly natural for the act whose name was taken from the title of a Michael Jackson song.
Human Nature, which is taking time off from its residency at Las Vegas' Imperial Palace casino, achieved this primarily though flawless vocal work and an appealing sense of fun. Sure, their reverence for the singers and their songs was always evident. But the singers never tried to clone what amounts to the un-clonable. If they had, versions of tunes made famous by "girl groups" like The Supremes and Martha & The Vandellas would have come off as absurd, to say the least.

Instead, the group paid respectful homage to the source material while managing to maintain an original sound rooted in the do-wop of the early rock era. And it should be noted Human Nature ripped through the Motown catalogue with style, flash and the kind of energy that was hard for any audience member with a pulse to ignore.

Of course, it would be pretty tough to screw up a program consisting of such Baby Boomer totems as Marvin Gaye's "What's Goin' On," The Supremes' "Stop In The Name of Love," Robinson & The Miracles' "Ooh Baby Baby" (done, like Gaye's "People Get Ready" and The Temptations' "Just My Imagination," as a gorgeous piece of a Capella vocalizing) and The Temptations' "My Girl," which some of us consider the greatest of all Motown tunes.

Human Nature not only nailed every song, but did so with a heaping helping of slick stagecraft that included sharp costuming, engaging between-song banter and the kind of made-in-Detroit choreography that enthralled a generation of "Ed Sullivan Show" viewers.

That everything was served on an aural platter supplied by a crackerjack 7-piece band quarterbacked by keyboardist Ronnie Foster (who has worked with likes of guitar titan Chet Atkins, the late Philadelphia jazz god Grover Washington Jr. and Stevie Wonder), only made an already-sterling set that much more enjoyable. The musicians did for The Funk Brothers (the legendary Motown house band) what Human Nature did for the artists.
Chuck Darrow
BRIAN McKIM doesn't profess to be a prophet, but he can claim co-authorship of The Bible.
The Pennsauken native and his wife and fellow stand-up comic, Traci Skene, have written "The Comedy Bible: The Complete Resource for Aspiring Comedians," which the Barrons imprint will release Oct. 1.
According to McKim, who performs Monday through Thursday at the Comedy Club inside Borgata Hotel, Casino & Spa, the book "has elements of a textbook, but it's not specifically directions on how [to become a stand-up comic], but what to expect when you try it. And there's a whole lot of information to put everything in perspective and figure the whole thing out."
Chuck Darrow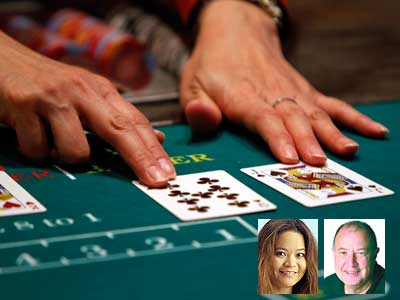 Chuck Darrow of the Philadelphia Daily News and Suzette Parmley of The Inquirer will chat on Wednesday, Aug. 24, at 11 a.m., about the latest news in the local casino industry.
Chuck Darrow
The signing of some papers has guaranteed a once-heralded plan will never see the light of day.
Wednesday, Trump Entertainment Resorts announced it had sold Steel Pier to a group headed by amusement pier impresarios, the Cantanoso Brothers, who have leased the legendary entertainment emporium from Trump Taj Mahal since the 1990s.
This obviously means that the pier will never be part of the Taj, which was the original plan when Donald Trump bought it, along with the then-under-construction casino-hotel, from Merv Griffin in the late 1980s.
Chuck Darrow
A retired New York State cop got a nice ROI (return on investment) Sunday night, as the $40 he put into a 50-cent "Wheel of Fortune" machine turned into a nearly $1.8 million jackpot at Borgata Hotel, Casino & Spa.

In all, John A Clark of Calverton, N.Y. made a pre-tax score of $1,777,485.73.

Amazingly, Clark's prize isn't the largest "Wheel" payoff at Borgata this year. On Jan. 17, an anonymous player hit for $3,491,146.57 on a one-cent machine. Even more amazingly, just hours later, a gambler on a 50-cent "Wheel of Fortune" unit won $700,161.82.
Chuck Darrow
Atlantic City's infatuation with "Boardwalk Empire," the HBO series based on the wild and woolly days of Prohibition in the seaside resort, continued this morning with the unveiling of a new mural inspired by the show.
The brainchild of veteran radio host/civic institution Pinky Kravitz, the painting is located between the Boardwalk and the West Hall of Boardwalk Hall. It depicts such 1920s landmarks as the Ritz-Carlton Hotel (now the Ritz Condos at the intersection of Boardwalk and Iowa Avenue), Steel Pier and even the storefront that allowed pedestrians to sneak a peak at premature infants in their incubators.