Archive: January, 2011
Chuck Darrow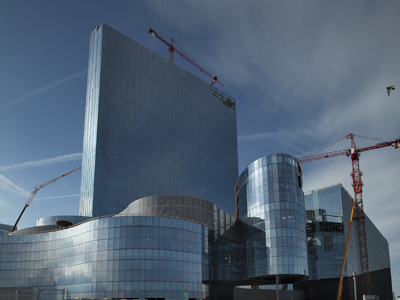 The ongoing efforts to revive the stalled, $2 billion Revel hotel-casino project in Atlantic City may soon come to a successful end as two elements crucial to its completion are expected to be locked into place during the next two weeks.

According to a source close to the negotiations, New Jersey Gov. Chris Christie will be in Atlantic City next week to announce a package of tax credits—expected to be approved Tuesday in Trenton--co-owners Revel Entertainment Group and Revel Atlantic City LLC insist they need to complete construction on the blue-glass mega-resort at the Boardwalk's eastern end. The building's shell has sat idle for more than a year because of a lack of construction funds.

The source also said Christie's signing off on the relief plan will be followed in mid-February by an announcement the $1.2 billion needed to build the complex's interior has been acquired through a series of what is reported to be three separate loans.

Planning for what has always been promised will be a new level of amenity-driven casino-resort for Atlantic City was begun in the days when the U.S. economy was roaring and legal casino gaming in Pennsylvania was just getting started. But then the double whammy of a crashed economy and Pennsylvania's "convenience gambling" caused construction to stop once the $1 billion exterior—including a 53-story, 1,900-room hotel tower that is the tallest building in New Jersey--was completed last January.

In addition to the hotel tower, plans call for a half-million square feet of public space including a 150,000 square-foot casino, 20 restauarants, 40 retail outlets and a 5,000-seat entertainment venue.