Archive: September, 2012
Jonathan Tamari
Former Gov. Ed Rendell blasted Republicans and GOP Congressman Mike Fitzpatrick Friday for a new political attack attempting to tie Fitzpatrick's opponent to convicted cop-killer Mumia Abu-Jamal. He said Fitzpatrick should denounce the effort.
"I'm angry, I'm just angry," Rendell said in a phone interview. "(Politics) has been my lifelong profession, to see it sink to this level, it's just disgusting."
Rendell first raised the ad at a Democratic rally in Philadelphia Friday morning, where he called on Fitzpatrick to denounce the attacks on Democratic challenger Kathy Boockvar and for the GOP to drop the accusatory Web post and robo-calls launched Wednesday and Thursday.
Jonathan Tamari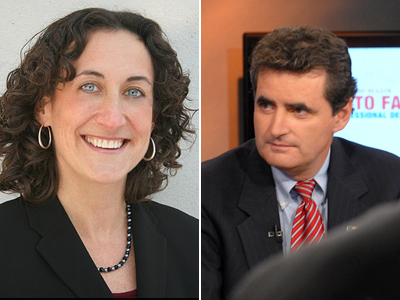 Republicans injected one of the region's most emotionally charged murder cases into a tight Bucks County-based Congressional race late Wednesday night, attempting to tie Democratic challenger Kathryn Boockvar to convicted cop-killer Mumia Abu-Jamal because of legal work Boockvar's husband performed in the mid-1990s and early 2000s.
The Republican attack, which includes a Web site post Wednesday and automated phone calls to voters set to begin Thursday, accuses Boockvar's "husband-and-wife law firm" of representing "one of the leading activists" for Abu-Jamal. It also highlights her husband's work as a lawyer "for a witness to the murder who accused the cops of pressuring her," according to a script of the call, which provides little context. (

"Call Kathy Boockvar … and tell her that's too radical for Bucks County," says the call, sponsored by the National Republican Congressional Committee, the GOP's House campaign arm. (UPDATED: The full script is below).

Jonathan Tamari
The ex-Eagles lineman and the Harvard-trained attorney sat across from each other, trading philosophies, accusations and rhetoric.
Freshman Republican Congressman Jon Runyan, once a gritty offensive tackle, made the case for a limited government that holds down taxes, trims regulations, including those in ObamaCare, and restricts federal funding for abortion. He cast himself as a man willing to compromise, while blaming the Democratically-controlled U.S. Senate for the lingering gridlock in Washington.
His opponent, Shelley Adler, a former Cherry Hill councilwoman and the widow of ex-Congressman John Adler, took sharp, focused aim at Runyan's record, peppering him with detailed criticism of his votes. She accused him of backing tax breaks for oil companies and incentives that make it profitable to move jobs overseas, and called for keeping government out of the abortion debate and for higher taxes on millionaires to help balance the federal budget.
Jonathan Tamari
In a few weeks, get ready for our local Congressional races to hit your TV.
Republicans have purchased $1.8 million in ads for House races in the Philadelphia region from Oct. 19 to Nov. 6. Democrats, who have the tougher task of unseating incumbents who have largely been made safer by redistricting, have $3.6 million of air time ready to roll out in a similar time frame.
(Ad purchases are public records).
Jonathan Tamari
It was one of the stranger scenes I've seen so far in D.C.
Hoping for a bit of theater, a flock of House Democrats followed Minority Leader Nancy Pelosi down the famous steps of the Capitol and stood in the afternoon sunlight last week as she urged Republicans to keep the House in session and work on several major issues that remain unresolved.
Steny Hoyer, the number two Democrat in the House, tried to make a play-on-words using President Obama's "fired up and ready to go!" chant of 2008.
Jonathan Tamari
Pennsylvania Republican Pat Toomey was one of 10 Senators to vote for a controversial bill Saturday morning to suspend U.S. aid to Pakistan, Egypt and Libya.
The plan, proposed by libertarian firebrand Rand Paul, of Kentucky, was never expected to pass and was soundly defeated, 81-10. But it was put forward anyway as a symbolic statement by members of the Senate who want to limit America's profile abroad, and Toomey's vote stakes out a position within their ranks.
"The recent developments in Egypt, Libya and Pakistan are clearly a cause for concern. Although this bill was not perfect, it's important that we send a message to countries receiving U.S. foreign aid that American assistance comes with responsibilities," Toomey said in a news release touting his vote.