Archive: April, 2013
Jonathan Tamari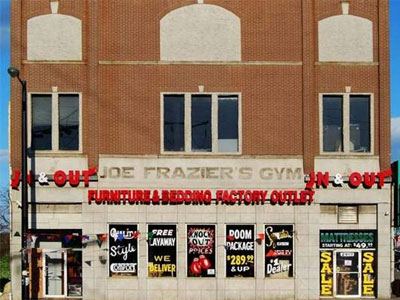 WASHINGTON -- Joe Frazier's North Philadelphia gym at the corner of North Broad Street and West Glenwood Avenue has been added to the National Register of Historic Places, Sen. Pat Toomey (R., Pa.) said Tuesday.
"The gym embodies the many contributions that Frazier made to the people of Philadelphia as it is where he taught boxing to local youths and encouraged them to lead productive lives," Toomey said in a news release. "I am delighted that his community contributions are being recognized, and grateful to the Preservation Alliance for Greater Philadelphia for taking the lead on this issue."
The alliance had submitted the application for a historic designation to the National Park Service.
Jonathan Tamari
WASHINGTON -- Could the senate and Pennsylvania Sen. Pat Toomey take a second shot at passing the background check bill that fell short last week?
The New York Times reported today that Toomey's co-sponsor, Sen. Joe Manchin (D., W.Va.) was working Toomey and others to try to tweak the bill and maybe win over the last, needed votes.
But Toomey doesn't see much hope for that idea.
Jonathan Tamari
WASHINGTON – Sen. Pat Toomey's approval rating reached a personal high in a new poll taken days after he wrapped up his push to expand background checks for gun purchases.
Pennsylvania voters gave Toomey a 48-30 approval in a new Quinnipiac University poll. That's a new high for him, though it's just four points better than a month earlier.
Jonathan Tamari
WASHINGTON – A remarkable thing happened in the Senate press gallery Tuesday. New Jersey Sen. Robert Menendez walked through, and no one batted an eye.
Menendez, a New Jersey Democrat, was showing some family and friends around the senate, and walked right through a hive of reporters. No one dropped their coffee to ask him about Dominican prostitutes. No one looked up from Twitter to press him about helping a donor. No one asked if he was going to resign. In fact, no one asked him anything at all.
Jonathan Tamari
WASHINGTON – How's this for strange bedfellows?
As Sen. Pat Toomey (R, Pa.) decried Obamacare and government spending at a conservative conference in Harrisburg Friday, President Obama's allies announced a rally outside Toomey's Philadelphia office Saturday to thank him for crossing party lines and leading a push to strengthen background checks for gun purchases.
Jonathan Tamari
WASHINGTON – A few e-mailers today asked for names of the senators who supported and opposed the background check plan sponsored by Sens. Pat Toomey (R., Pa.) and Joe Manchin (D., W.Va.), so here goes.
Starting locally, all four senators from Pennsylvania and New Jersey supported the background check bill in the critical vote Wednesday.
Jonathan Tamari
WASHINGTON -- Six Democratic New Jersey Congressmen have asked U.S. Attorney General Eric Holder to review the legality of Gov. Christie's plan to privatize much of the state lottery.
The letter, dated Wednesday, questions a $120 million upfront payment from the Northstar New Jersey Lottery Group, which is set to take control of lottery sales and marketing. The six lawmakers point to a 2008 Department of Justice opinion that said a state should not receive such payments to avoid the appearance of corruption.
Jonathan Tamari
WASHINGTON – It's not looking promising for Sen. Pat Toomey's compromise plan on background checks for gun purchases.
With a senate vote scheduled at 4 p.m., he and Sen. Joe Manchin (D., W.Va.) still don't have the 60 votes needed to advance their bill. Senate aides last night said the pair were still short of the votes they need, and this morning Toomey (R., Pa.) told the National Review "As we sit here this morning, we don't have the votes."