Archive: March, 2013
Jonathan Tamari
WASHINGTON – Another Paul Ryan budget won passage in the House today, and again Philadelphia-area Republicans voted in favor of the conservative blueprint that was used as a political weapon against them last election – and likely will be again in 2014.
Moments after the vote the Democratic House Majority PAC sent out a release accusing Bucks County's Mike Fitzpatrick of "embracing dangerous priorities."
Jonathan Tamari
WASHINGTON -- A plan co-sponsored by both Pennsyvlania senators that would repeal a tax on the sale of medical devices -- created to help fund President Obama's health care law -- won overhelming, bipartisan Senate support Thursday night.
The amendment to a proposed budget was approved 79-20. It would roll back the 2.3 percent tax on the sale of medical devices such as pacemakers and artificial joints.
Sen. Pat Toomey (R., Pa.) said the tax would have a huge impact nationally, but particularly in Pennsylvania, which he said ranks among the top three states in terms of producing such devices. Many come from the medical industry in southeastern PA, he said.

Jonathan Tamari
WASHINGTON – New Jersey Sen. Bob Menendez is trying to get back to business as usual – this afternoon he chairs a Senate Foreign Relations Committee Hearing on counterterrorism.
But his friend and donor, the under-fire doctor Salomon Melgen, won't go away.
Jonathan Tamari
WASHINGTON -- Days after campaigning with Democratic gubernatorial candidate Barbara Buono, Newark Mayor Cory Booker is turning his eyes back to his own hopes for higher office – a move that draws attention to a potential 2014 Senate race even as Democrats try to focus on this year's contest against Gov. Christie.
Booker is holding a fundraiser Thursday in Newark to raise money for a 2014 run for Senate even though, (wink, wink) he hasn't officially decided to run.
Jonathan Tamari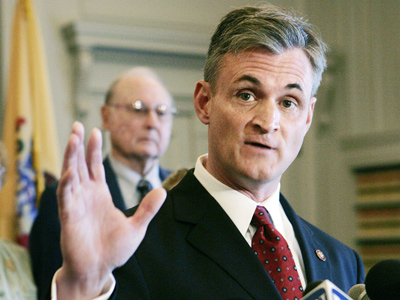 WASHINGTON -- The House ethics committee has voted to create an investigative subcommittee with subpoena power to look into South Jersey Rep. Rob Andrews, a Democrat who has faced scrutiny over using campaign money to pay for a lavish family trip to Edinburgh, Scotland.
The vote was Feb. 26, but the information was just released Tuesday morning. The vote is a sign that the full ethics panel believes there are questions that still need answering.
The subcommittee "shall have jurisdiction to determine whether (Andrews) violated the Code of Official Conduct or any law, rule, regulation, or other applicable standard of conduct in the performance of his duties or the discharge of his responsibilities, with respect to allegations that he improperly used funds from his principal campaign committee and leadership PAC for personal purposes, used official resources for nonofficial and personal purposes, and made false statements to federal officials," said a statement from the committee.
Jonathan Tamari
WASHINGTON – Just as one set of allegations against New Jersey Sen. Robert Menendez gains added attention, another continues to fall apart.
A police spokesman in the Dominican Republic said Monday that three women were paid to falsely claim they had sex for money with Menendez, the Associated Press reported. Two women got $425 to make the claims on video and one got $300, according to the report.
Jonathan Tamari
WASHINGTON – Another poll, another strong lead for Newark Mayor Cory Booker in the race to replace New Jersey Sen. Frank Lautenberg in 2014.
Booker is the choice of 50 percent of Democrats surveyed in a Fairleigh Dickinson University PublicMind poll released Wednesday morning. Next closest is Congressman Rush Holt – at 7 percent. Congressman Frank Pallone checks in at 4 percent, with 32 percent undecided.
Jonathan Tamari
WASHINGTON – Focusing on a budget cut that could have an outsized impact in Philadelphia, Sen. Bob Casey (D, Pa.) plans to push for increased funding for medical research in the Democratic budget set to be unveiled Wednesday and debated in the coming weeks.