Archive: February, 2013
Jonathan Tamari
WASHINGTON -- The Senate voted down PA Republican Sen. Pat Toomey's plan to offer President Obama flexibility in how he applies $85 billion in budget cuts set to begin Friday under the so-called "sequester" – but only after an unusually intense debate on the Senate floor between Toomey and Illinois Sen. Dick Durbin, the chamber's second ranking Democrat.
The Senate then also defeated a Democratic alternative to sequestration, and with the House wrapping up its business at noon on an unrelated vote, official Washington limped away to train rides and flights home with the sequester securely in place and set to begin Friday.
Jonathan Tamari
WASHINGTON -- As $85 billion in federal budget cuts near, Pennsylvania Sen. Pat Toomey is working on a plan to give President Obama more power to decide how to administer the reductions.
The idea is to replace the blunt, across-the-board reductions that will hit programs effective and ineffective alike with more targeted cutbacks chosen by the White House "so they can make the least disruptive cuts possible," Toomey said Tuesday.
Jonathan Tamari
WASHINGTON -- The ethics allegations surrounding New Jersey Sen. Bob Menendez have taken a steep toll on his public image, according to a Quinnipiac University poll released today.
The Q poll gave Menendez an upside-down 36-41 approval rating (36 percent of New Jersey voters approve of his job performance, 41 percent disapprove) - that's a 15 point drop from Jan. 23. The poll also found that 28 percent labeled him honest and trustworthy, compared to 44 percent who think he is not.
Jonathan Tamari
WASHINGTON -- He's got 1.3 million Twitter followers, a line to Oprah and a frequent guest spot on the big Sunday morning talk shows. Voters know him, and they love him. So how can anyone expect to stop Newark Mayor Cory Booker from winning the U.S. Senate seat he has his eyes on?
Two ways, according to five New Jersey Democratic insiders: by exploiting the rough relationship between Booker and state-level Democrats and testing his appetite for having his sterling reputation battered.
Jonathan Tamari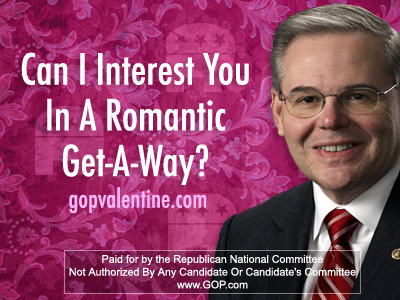 WASHINGTON -- How do you express your love in Washington?
With a sly Valentine's Day card that doubles as a biting partisan attack.
Jonathan Tamari
Are local Republicans warming up to President Obama? Did anyone want to stand next to Sen. Bob Menendez as he faces a cascade of ethics questions? Who had the best facial expression of the night? What was most divisive and what was the biggest surprise?
Answers below in 10 Philly and Jersey-based observations on Tuesday's the State of the Union speech. (Many of which are culled from my Twitter account - which you should hop on if you don't like waiting for such pithy, searing insight).
Jonathan Tamari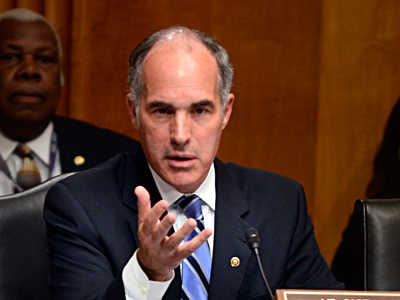 WASHINGTON -- Pennsylvania Sen. Bob Casey has been named to the influential Senate Finance Committee, which oversees tax issues, giving both of the state's Senators a seat on the panel.
Casey, a Democrat, was named to fill a seat left open when former Sen. John Kerry became Secretary of State.
"This assignment means I will have a seat at the table in addressing responsible tax reform to spur innovation, create jobs and promote economic growth," Casey said in a news release. "I will also be in an even better position to continue my efforts to level the playing field for American manufacturers through reasonable trade policy, ensure essential programs like Medicare work for current and future beneficiaries, incentivize research and development and protect our future by providing children with access to affordable health care."
Jonathan Tamari
WASHINGTON -- The news media is circling New Jersey Sen. Bob Menendez over a series of ethics allegations, but fellow lawmakers on both sides of the aisle are giving him some breathing room.
Eight senators over the past two days either said Menendez deserves to remain the chair of the Senate Foreign Relations Committee or declined to take a stand on the questions raised in news reports about Menendez's interventions on behalf of South Florida eye doctor Salomon Melgen, a friend and donor.