Archive: December, 2012
Jonathan Tamari
WASHINGTON -- Three Senators from Pennsylvania and New Jersey voted in favor of the fiscal cliff compromise overwhelmingly approved by the Senate early Tuesday morning, 89-8.
Sens. Pat Toomey (R., Pa.), Bob Casey (D., Pa.) and Bob Menendez (D, N.J.) all backed the bill to avert the most painful tax hikes and budgtes cuts included in the cliff. They represent a cross-section of Senate ideology: Menendez, a left-leaning urban Democrat; Casey, a moderate Democrat in a state with big, liberal cities but also a vast swath of conservative territory, and Toomey, a staunch fiscal conservative who has strongly opposed tax increases.
Jonathan Tamari
In a concession to Republicans, Democrats have reportedly offered a new threshold for income tax increases: $450,000 for couples, up from the $250,000 President Obama campaigned for.
(Meaning that taxes would rise on income above $450k, instead of $250k; married couples making less than $450,000 would see their income tax rates remain the same).

Jonathan Tamari
The Sandy relief bill faces new hurdles that could force lawmakers to restart the process of approving the $60 billion of aid for hard-hit states such as New Jersey and New York.
The $60 billion bill that passed the Senate will be broken into two parts in the Republican-controlled House: a $27 billion piece focused on immediate needs, and a $33 billion bill for long-term recovery efforts and projects to protect from future storms. Local House members hoped the plan could be taken up Tuesday, but the two-part vote creates a new challenge.
Jonathan Tamari
WASHINGTON -- As Senate Democrats try to pass a $60 billion bill for Sandy relief and beat back hostile Republican amendments, New Jersey is missing one vote: Sen. Frank Lautenberg's.
The Democrat has not returned to Washington after the Senate's Christmas break, leaving Democrats with just a 52-47 edge. Working in their favor, though, is that any amendment to the bill requires 60 votes.
"Sen. Lautenberg is at home recovering from the flu and the Capitol physician advised him to continue resting and not return to the Capitol to vote unless absolutely necessary," said Lautenberg spokesman Caley Gray.

Jonathan Tamari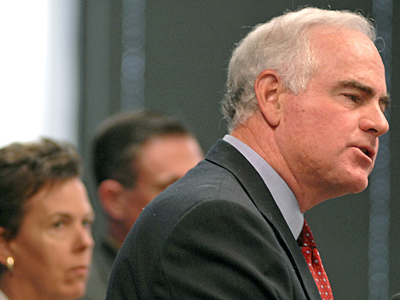 WASHINGTON -- U.S. Rep. Pat Meehan (R., Pa.) will take over as chairman of the House's Subcommittee on Cybersecurity, Infrastructure Protection and Security Technologies when the new session of Congress begins in January, he said in an interview Thursday.
Meehan was in Washington working with his staff to prepare to become chairman of the panel. In his first term in Congress, the former U.S. Attorney led the Subcommittee on Counterterrorism and Intelligence.
Both subcommittees are part of the House's Homeland Security Committee. The full committee chair, New York's Peter King, is expected to take over the counterterrorism and intelligence subcommittee.
Jonathan Tamari
New Jersey Sen. Frank Lautenberg, a longtime gun control advocate, blistered the National Rifle Association in a news release issued immediately after the group's Friday press conference.
"It is beyond belief that following the Newtown tragedy, the National Rifle Association's leaders want to fill our communities with guns and arm more Americans," Lautenberg said, responding to a proposal from NRA vice president Wayne LaPierre, who called for putting armed police in every school.
LaPierre blamed deadly shooting in part on the media's glorification of violence, video games, movies and music videos.

Jonathan Tamari
The $60 billion Sandy relief bill cleared a significant hurdle in the Senate Friday and Democrats predicted it could win approval in the chamber as early as Thursday, when Senators return from their Christmas break.
The Senate voted 91-1 to invoke cloture and set the stage for a final vote on the bill. In the arcane Senate, where filibusters so often derail legislation, getting over the 60-vote threshold to end debate and bring about a vote is often the biggest obstacle to passage.
Jonathan Tamari
Count Philly's Bob Brady and Allyson Schwartz among the Democrats urging a ban on assault weapons and high-capacity magazines. Each called for those moves today, shortly before President Obama's spokesman said the president also backs a ban on assault weapons and closing the so-called gun-show loophole that allows for firearms purchases without background checks.
"Too many Americans die each week from gun violence," Schwartz said on C-SPAN Tuesday morning, after calling for "common sense" gun laws in a speech on the House floor Monday night.