Archive: March, 2013
Jonathan Tamari
WASHINGTON -- Last week at the Heritage Foundation Sen. Pat Toomey (R., Pa.) touched on an issue that has often been used to paint Republicans as heartless: criticism of welfare programs that aim to help the poor. As he introduced his budget today, Rep. Paul Ryan, the Wisconsin Congressman who ran for vice president a year ago, went right back to the lightning-rod topic, returning to many of the same themes.
"We have put so much money into our welfare programs, into our poverty fighting programs, yet we have 46 million people living in poverty. It's among the highest rates of poverty that we've had in a generation," Ryan said at a morning news conference in the Capitol. "So rather than measure how much money are we spending in these programs, let's think about measuring: are we helping people? Are we getting people out of poverty?"
Jonathan Tamari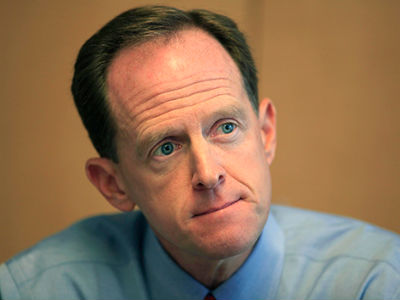 UPDATED with comments from Toomey below

WASHINGTON -- Pennsylvania Sen. Pat Toomey is among several Republicans scheduled to dine with President Obama in Washington tonight.
Toomey has been invited as part of an unusual outreach from Obama to rank-and-file Republicans. Obama has talked publicly about rallying a "caucus of common sense" as he tries to build support for his priorities, including a deficit reduction plan that includes a mix of increased tax revenue and spending cuts more targeted than under the sequester.
Jonathan Tamari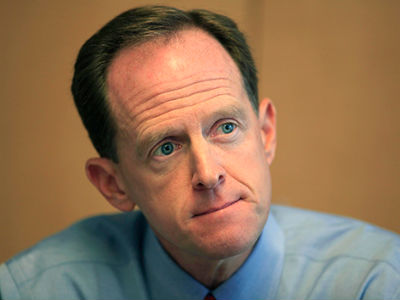 WASHINGTON -- A two-and-a-half hour dinner with President Obama Wednesday night was perhaps a first step toward finding common ground on some of the country's pressing fiscal issues, Republican Pennsylvania Sen. Pat Toomey said after he and several other Republicans met with the president.

"It was a candid and constructive conversation on both sides," said Toomey, one of a handful of Republican senators invited to dine with the president at the high-end Jefferson Hotel, a few blocks north of the White House. "Most of the discussion was about fiscal issues, although it did extend beyond fiscal and budgetary issues."

Jonathan Tamari
WASHINGTON – Sen. Bob Casey (D., Pa.) unveiled a plan Wednesday to boost early childhood education across the country, encouraging more students to enroll and increasing requirements for teachers.
Jonathan Tamari
WASHINGTON – As some new gun laws gain momentum in Congress, New York Mayor Michael Bloomberg is ramping up pressure on Philadelphia-area Republicans to support universal background checks.
Bloomberg's Mayors Against Illegal Guns released district-by-district polls Tuesday morning showing overwhelming support for that step in each of the seven Philly-area House districts controlled by Republicans.
Jonathan Tamari
WASHINGTON -- New Jersey Sen. Bob Menendez told reporters today he is looking forward to vindication from the courts as he faces accusations that he frequented prostitutes in the Dominican Republic.
Menendez spoke to reporters a day after an attorney released affidavits in which one of the women who claimed Menendez had paid for sex instead said the story was made up.
Jonathan Tamari
WASHINGTON -- One of the two women who videotaped allegations that New Jersey Sen. Robert Menendez paid her for sex has said in an affidavit that she was paid to make the story up, according to a report Monday in the Washington Post.
The woman also said she has never met nor seen the Democratic senator, the Post reported, citing court documents and two people briefed on her claim. Instead, in an affidavit she said she and a colleague were paid by a lawyer to make up the claims and read from a script, according to the Post.
Jonathan Tamari
WASHINGTON -- Democrats have come to accept that the sequester budget cuts are here to stay – at least for months, if not longer -- and Republicans have come to welcome them as a victory. The GOP might like to see more targeted cuts, and less of an impact on defense programs, but the $85 billion in spending reductions that went into effect Friday at least get the federal budget going in the direction they would prefer: down.
The new debate, as I wrote Sunday, is over how hard the cuts will hit and whether the political fallout is mild enough that the reductions become permanent, of if the reaction pushes lawmakers to eventually undo some cuts and replace them with new taxes. As is often the case, the lawmakers who eventually get put on the spot could be Philadelphia-area House Republicans who represent moderate districts, including several whose economies are closely linked with the military.