Archive: February, 2013
Jonathan Tamari
WASHINGTON -- The pressure is building on New Jersey Sen. Robert Menendez.
For the second time in less than two weeks he is on the front page of The New York Times, and not in a good way. The Times has another story today about efforts from Menendez's office to help the senator's friend and donor Salomon Melgen.
This comes after a Times editorial on Saturday called for Menendez to be stripped of his position as chairman of the Senate Foreign Relations Committee.
Jonathan Tamari
WASHINGTON -- As VP Joe Biden prepares for a trip to Philadelphia to push President Obama's proposals for new gun laws, a new poll shows that most Pennsylvania voters favor new restrictions on firearms.
The Franklin and Marshall College Poll found that 43 percent of registered voters in the state strongly favor "creating more laws that regulate gun ownership" and 15 percent somewhat favor such measures. That's compared to 28 percent who strongly oppose new regulations and 10 percent who somewhat oppose them.
Jonathan Tamari
WASHINGTON -- New Jersey Sen. Robert Menendez twice spoke to federal health officials about a Medicare billing dispute involving his friend and donor Salomon Melgen, the Washington Post reported today, raising more questions about the ties between the Democratic senator and South Florida eye doctor.
Menendez's interaction on the doctor's behalf -- once questioning the billing rules and once asking whether federal auditors had been fair to Melgen -- is now the second known time that Menendez has intervened to help Melgen, a major donor whose offices were raided by the FBI last week.
Jonathan Tamari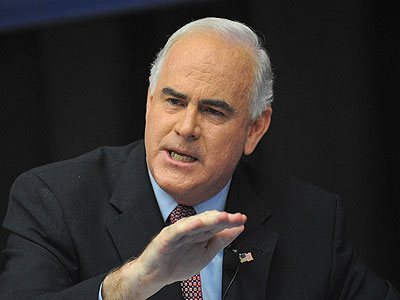 WASHINGTON -- Congressman Pat Meehan, a Republican from Delaware County, was one of four House members today to introduce a new law aimed at cracking down on gun trafficking and "straw purchases."
Notably, the law was backed by two Republicans -- including one who touted his membership in the NRA -- and two Democrats, representing a rare moment of bipartisan agreement on tightening gun laws, though they were coming together for what the sponsors conceded was a relatively narrow measure, especially compared to calls for broader steps such as universal background checks and bans on assault weapons and high-capacity clips.
Jonathan Tamari
One of the women alleged to be a prostitute connected to New Jersey Sen. Bob Menendez has denied the claim, which was first put forward by a mysterious e-mailer.
Yaneisi Fernandez told Spanish-language television station Univision she had never seen Menendez before.
Jonathan Tamari
New Jersey Sen. Robert Menendez fiercely denied allegations linking him to prostitutes today in his first extended comments to reporters since the accusations broke into widespread circulation last week.
He called the unconfirmed allegations "smears that right wing blogs have been pushing since the election" labeling them "totally unsubstantiated," in an on-camera interview with CNN.
Jonathan Tamari
Under fire New Jersey Sen. Bob Menendez got some key words of support Sunday from Senate Majority Leader Harry Reid, who said he had the "utmost confidence" in his fellow Democrat, even while confirming that the Senate ethics committee is taking a look at Menendez's actions.
"I have confidence he did nothing wrong, but that's what investigations are all about," Reid said.
He also indicated that Menendez will remain the chairman of the Senate Foreign Relations Committee, a post he was confirmed to last week, making him the face of U.S. foreign policy on Capitol Hill.
Jonathan Tamari
WASHINGTON -- The Senate Ethics Committee has an eye on the allegations surrounding New Jersey Sen. Bob Menendez, the panel's top Republican indicated, as news reports show that Menendez used a public hearing to advocate for a business tied to Salomon Melgen, a South Florida eye doctor now under federal investigation.
"We are aware of the news reports regarding the FBI raid on Dr. Melgen's office. The Ethics Committee will follow its established procedures in this matter," Sen. Johnny Isakson, a Georgia Republican, said in a statement. The Washington Post first reported Isakson's comments and wrote that a review is under way. Isakson is the committee's vice chair.