Archive: December, 2012
Jonathan Tamari
President Obama has requested a $60 billion supplemental spending bill to provide disaster relief to the northeast, according to the governors and Senators of New Jersey and New York.
The amount, less than what the two states have estimated in total damage but more than what was floated in news reports earlier this week, drew praise from officials in both states, but leaders warned that more may be needed, and at least one Republican Congressman criticized Obama for not offering enough help.

"Today's agreement ... will enable our states to recover, repair, and rebuild better and stronger than before," said a news release from Gov. Christie and New York Gov. Cuomo. "This package also includes funding to invest in essential mitigation and prevention efforts that will better protect our region against the devastating impacts of future superstorms."
Jonathan Tamari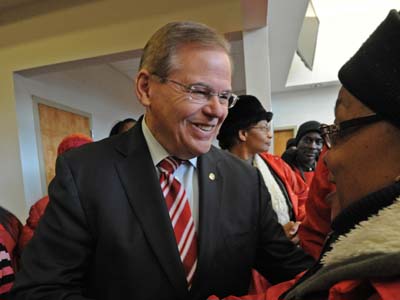 WASHINGTON -- New Jersey Sen. Bob Menendez would assume the chairmanship of the Senate Foreign Relations Committee if Sen. John Kerry joins the Obama administration, a Senate Democratic source said this week, confirming the succession plan that could elevate Menendez to newfound power.
Kerry currently chairs the committee, but is seen as a possible choice to become Obama's next secretary of state (the other person most often cited as a possible nominee, U.N. ambassador Susan Rice, faces intense opposition from Senate Republicans). Kerry has also been mentioned as a potential defense secretary. In either case, his departure would create a vacancy, and Senate President Harry Reid would name Menendez to fill the seat, the Senate source said.
Jonathan Tamari
UPDATE:
The four U.S. Senators from New Jersey and New York said $50 billion in new funds for relief from superstorm Sandy won't go far enough, if that is what the White House requests.
"While $50 billion is a significant amount of money, it unfortunately does not meet all of New York and New Jersey's substantial needs. While we know there will be additional supplementals, the Administration needs to come as close as possible to meeting our states' needs in the first request," said a joint release from Sens. Frank Lautenberg and Bob Mendendez, of New Jersey, and Chuck Schumer and Kristen Gillibrand, of New York.
They were responding to earlier reports from the New York Times and Associated Press that said President Obama will seek a relief package of between $45 and $55 billion for the region affected by Sandy. One Democratic aide said $50 billion is not an accurate amount, but local officials have not yet heard a definite amount.
Jonathan Tamari
South Jersey Congressman Rob Andrews was named co-chair of the House Democrats' Steering and Policy Committee this week, an appointment that gives him a say in shaping the caucus' policy stands and is indicative of his ties to Minority Leader Nancy Pelosi.
Allyson Schwartz, the Congresswoman who represents parts of Philadelphia and Montgomery County, was named one of two vice-chairs on the committee, adding to the region's influence on the policy panel.
Frank Pallone, of New Jersey, and Delaware's John Carney were also named as committee members.
Jonathan Tamari
WASHINGTON -- A few of the family members were together again, gathered Tuesday inside the U.S. Capitol, the building that may have been struck had their relatives not taken control of United Flight 93 and crashed it into a Pennsylvania field.
"It's good to be together again, as it always is," said Gordon Felt, wearing an American flag tie and 9/11 pin with the words "Never Forget."
Felt's brother, Edward, was a computer systems engineer on the Sept. 11, 2001 flight from Newark to San Francisco that was hijacked and turned toward Washington, headed toward the Capitol, authorities believe, before the passengers and crew on board fought for control, and flew it into the earth in Shanksville, Pa., killing everyone on board but sparing further harm in the nation's capital.
Jonathan Tamari
WASHINGTON -- FEMA has enough money to fund superstorm Sandy relief programs through early spring, the agency's head told Congress Tuesday, undercutting the messages from New Jersey lawmakers who have urged quick passage of a sweeping aid bill.
Fugate told a House committee that FEMA still has $4.8 billion it can distribute, according to the Associated Press.
New Jersey lawmakers last week pressed for quick approval of a supplemental spending bill to increase the amount of money FEMA has, saying it would be wrong for the issue to get caught up in fiscal cliff negotiations and costly to wait until the next session of Congress begins in January. Fugate's testimony indicates that there is still enough money for the near-term, even if Congress doesn't act immediately.