Archive: December, 2012
Jonathan Tamari
WASHINGTON -- Susan Rice's withdrawal as a candidate to be secretary of state could have a ripple effect that reaches New Jersey Senator Bob Menendez and PA Sen. Bob Casey, both Democrats. With Rice out of the running, Sen. John Kerry is expected to be nominated to replace Hillary Clinton in President Obama's cabinet. That would open up some key positions in the Senate.
Kerry chairs the Senate Foreign Relations Committee, and his departure for a cabinet post would put Menendez in line to take over the committee. A source confirmed to the Inquirer recently that the chairmanship would be Menendez's. A Kerry move would also open up a seat on the Senate Finance Committee, a powerful panel that oversees tax policy, and Casey could be in line to take that spot PoliticsPA reported today.
Jonathan Tamari
WASHINGTON -- New Jersey Sen. Bob Menendez came to the Senate floor today to call for reinstating a ban on assault weapons, banning high-capacity magazines and for "comprehensive, mandatory background checks," for gun buys as lawmakers across the country renewed calls for tougher gun laws.
"Let Newtown finally be the turning point when we are all willing to come together to do what is right," Menendez, a Democrat, said in a speech. He added, "we need to act immediately."
U.S. Rep. Rob Andrews (D., N.J.) backed those laws as well and said he believes this shooting, unlike others that have also been followed by calls for new gun laws, will lead to new restrictions because of the stark images of children shot and killed.

Jonathan Tamari
WASHINGTON -- U.S. Sen. Frank Lautenberg (D., N.J.) renewed his call for new laws to combat gun violence following today's school shooting in Newtown, Conn.
"This is a day of great sadness in America, and our hearts go out to the victims and their families. This latest shooting tragedy is an unthinkable act of violence carried out against young children and innocent people. Americans are sick and tired of these attacks on our children and neighbors and they are sick and tired of nothing being done in Washington to stop the bloodshed," Lautenberg said in a statement. "If we do not take action to address gun violence, shooting tragedies like this will continue. As President Obama said, we must act now 'regardless of the politics.'"
Lautenberg has often been a lonely voice on gun control, an issue that gets little traction in Washington but that he has steadily pushed. After the summer shooting at a movie theater in Colorado Lautenberg pushed his bill to ban the sale of high-capacity gun magazines.
Jonathan Tamari
WASHINGTON -- Congresswoman Allyson Schwartz got some added clout in the Capitol Wednesday when she was named to the influential House Ways and Means Committee.
The committee handles tax policy and has significant responsibility for Medicare -- two issues at the center of the debate on the fiscal cliff. An agreement involving tax reform or Medicare changes will most likely have to work its way through Ways and Means in the next Congress. Schwartz, a Democrat whose districts includes parts of Philadelphia and Montgomery County, said in a news release that she was "very proud to be reappointed" and that she looks "forward to working with my colleagues to grow the economy, strengthen the middle class and meet our obligations to our seniors and our future in a way that is fair, balanced and fiscally responsible."
"We have important work to do next year as we tackle comprehensive tax reform and ensure the solvency of Medicare and Social Security for our seniors. I am excited by the opportunity to ensure we enact smart tax policy that strengthens the middle class and makes the right investments in education and innovation to strengthen our economic competitiveness," she said.

Jonathan Tamari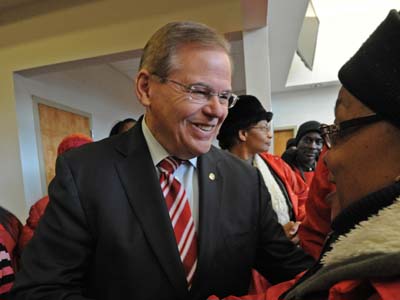 The U.S. Department of Homeland Security denied a report today that they delayed arresting an intern working for Sen. Bob Menendez (D., N.J.).
The intern, the Associated Press reported, was an illegal immigrant from Peru who was registered as a sex offender in New Jersey, though the crime in that case was unclear. The story said Homeland Security asked to have the arrest delayed until after Election Day -- when Menendez was re-elected -- but a spokesman denied that element of the story.
"The report is categorically false. ICE followed standard process in coordination with its federal partners and local prosecutors before taking appropriate enforcement action," said Peter Boogaard, a Department of Homeland Security spokesman.
Jonathan Tamari
Sen. Bob Menendez said today he did not know that one of his unpaid interns was an illegal immigrant and that he could not have known that the intern was a registered sex offender, because the person was a juvenile.
"We ask status of all of those college interns … (it) didn't indicate anything about his status and we certainly wouldn't have known through any background checks because he is a minor about any sex offender status." Menendez said in an MSNBC interview shortly after the Associated Press broke the news about the intern's recent arrest and pending deportation.
Jonathan Tamari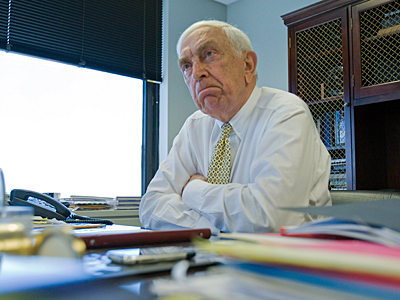 WASHINGTON -- He's not up for election until 2014, but Frank Lautenberg can't escape questions about his future these days.
On Sunday The Washington Post's The Fix blog listed Lautenberg as one of the top Senate Democrats to watch for a potential resignation. Tuesday's Roll Call has a story about the Senator's future, given his age (he'll be 90 when he has to run for re-election) and the hungry New Jersey Democrats lining up for a shot at his seat in Washington.
Jonathan Tamari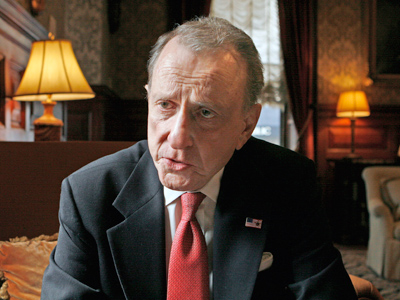 WASHINGTON - The Senate recognized the death of former Pennsylvania Sen. Arlen Specter Monday night, approving a resolution in his honor.
Specter "was admired for his independent decision making and willingness to cross party lines" and "advocated both for strong national security measures and the maintenance of civil liberties," the resolution read in part.
PA Democrat Bob Casey sponsored the measure, and it was co-sponsored by every member of the Senate. It passed by unanimous consent.