Archive: November, 2012
Jonathan Tamari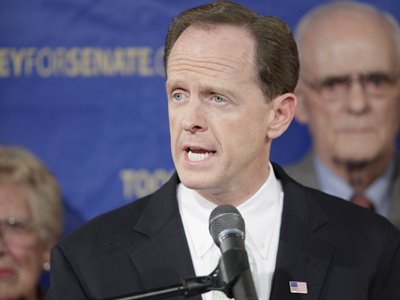 Sen. Pat Toomey (R., Pa.) has waded into the political furor surrounding the terrorist attacks on the U.S. embassy in Libya, co-sponsoring a bill calling for an investigation and report on the incident.
The bill also calls for a report on assaults in U.S. diplomatic posts in Yemen and Egypt.
"It is clear that Congress must reevaluate the security of our overseas diplomats and their facilities and investigate whether these attacks could have been prevented," Toomey said in a news release. "This is essential for the security of the men and women currently serving in our diplomatic posts around the world, and I urge my colleagues to support this bill."
Jonathan Tamari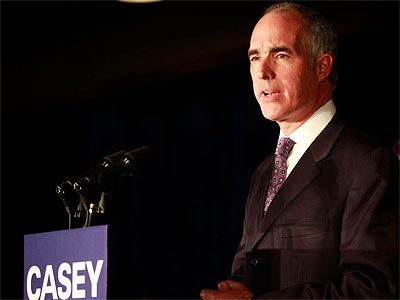 It's the tax break just about no one is talking about – but Sen. Bob Casey (D., Pa.) said that should change.
Jonathan Tamari
There he was, the tall, increasingly gray-haired President Obama, posing with the diminutive 16-year-old gymnast McKayla Maroney. Together, they mimicked the impudent "not impressed" facial expression Maroney made famous after winning only a silver in the vault, the event that was supposed to be her crowning moment at the London Olympics last summer. Together they pursed their lips and twisted them to the side in the universal sign for "is this really it?" The Obama-Maroney photo, taken in the Oval Office as she and fellow American gymnasts visited the White House last week, back-flipped its way through social media over the weekend.
My first thought was that Obama was finally showing us how he really felt during his first debate with Mitt Romney.
My second was that the photo captured a major factor that has separated Obama from his presidential rivals: cultural sensibilities are very much of and in the moment, while he's faced opponents who have felt very much like the past.
Jonathan Tamari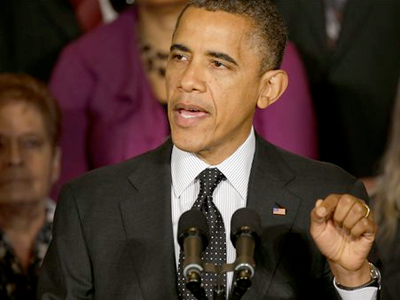 The fiscal cliff is the story of the moment and the next few months as taxpayers, businesses, defense contractors, local governments and social-service organizations across the country wait to see if they'll all be taking an economic hit as a result of tax increases and budget cuts – and if the debate over taxes and spending pushes the country back into another recession next year. Those are the expected outcomes if President Obama and Congress can't come up with a deal to avert those tax hikes and spending cuts.
But let's step back for a moment and explain what we're talking about, because the "cliff" is one of those Washington phrases that become so ubiquitous that we often gloss over it without explaining exactly what's going on. (In fact, the cliff itself is largely an amalgamation of those types of issues: it encompasses sequestration, the Bush tax cuts, the AMT, debt ceiling and the Doc Fix).
If you're a taxpayer, the stakes are clear: no deal means tax hikes on 90 percent of Americans, starting in January. In Monday's Inquirer I also wrote about the potential impact on local businesses and non-profits who are waiting out the uncertainty: a Burlington County, N.J. business that makes small lights for outdoors enthusiasts and the military (which could be impacted by defense cuts) and a Philly AIDS-prevention organization that could face budget cuts from reductions in domestic spending.
Jonathan Tamari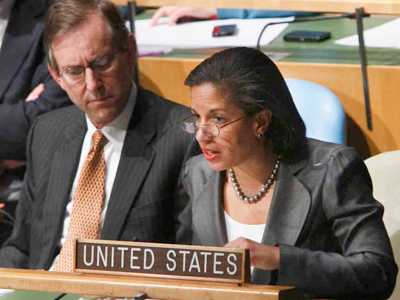 South Jersey Republican Congressmen Chris Smith and Frank LoBiondo warned President Obama Monday over naming Susan Rice as his new secretary of state, sharply criticizing her performance after the Sept. 11 attacks on the American embassy in Benghazi, Libya.
"We believe her misleading statements over the days and weeks following the attacks ... caused irreperable damage to her credibility both at home and around the world," said a letter signed by LoBiondo, Smith and 95 other Republican members of Congress. The letter was spearheaded by U.S. Rep. Jeff Duncan (R., S.C.). LoBiondo and Smith were the only members of the Philadelphia-area delegation to sign.

The letter criticizes Rice's public comments after the attacks, which killed U.S. Ambassador Chris Stevens and three other Americans.

Jonathan Tamari
If you're new to the U.S. Senate, what's the first thing you have to do?
Sen. Chris Coons, a Delaware Democrat who was sworn in just two years ago after a special election, spoke Tuesday afternoon to the incoming members of the Senate, offering his own advice about handling the new responsibility.
It came down to two big points: respond to your many bosses -- your constituents -- and get to know your fellow lawmakers.
Jonathan Tamari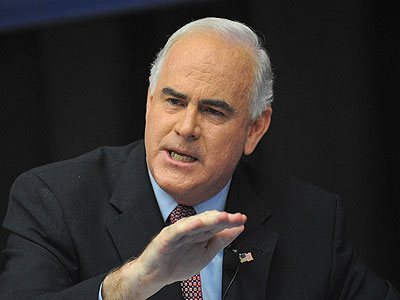 Congressman Pat Meehan wants to hear from David Petraeus – but not about the former CIA chief's affair. Meehan, a Delaware County Republican, says Congress needs testimony from Petraeus on the American response to the September terrorist attacks in Benghazi, Libya that left four Americans dead, including ambassador Chris Stevens.
Any investigation into Petraeus' affair will likely be brief, said Meehan, a member of the House Oversight Committee, which is reviewing the Benghazi response.
"I'm sure there's going to be some cursory investigation as to whether there was anything inappropriate done. General Petraeus is a person whose career to this point has been rather exemplary. I don't know if you'll see any great amount of pressing if he's able to demonstrate that nothing untoward happened as a result of that relationship," Meehan said in an interview Monday,
Jonathan Tamari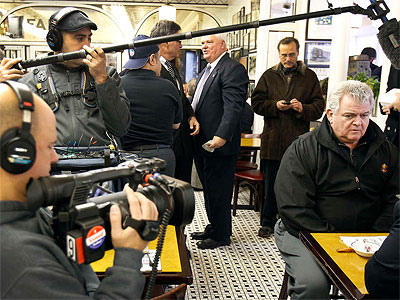 The election is over, and the gears of government are slowly creaking back into motion, beginning with lawmakers staking out positions on the fiscal negotiations that will dominate the next few months, and perhaps longer.
So today, as Washington girds for a debate on the size and scope of government and how to pay for it, Philly U.S. Rep. Bob Brady, the city's Democratic chairman, planted his flag on the left, declaring that he would not accept any cuts to Medicare, Medicaid or Social Security. Tuesday's election results, he said, show that the public is with him.
"I don't know what other message we could send them other than what we sent them on Tuesday … do not mess with our Social Security, do not mess with Medicare, do not mess with Medicaid," Brady said, standing with about 50 union members outside Social Security Administration offices on Spring Garden Street.